Hooks Set Strikeout Record in 3-2 Win
Pitchers fan 19, Matijevic's late double provides game-winner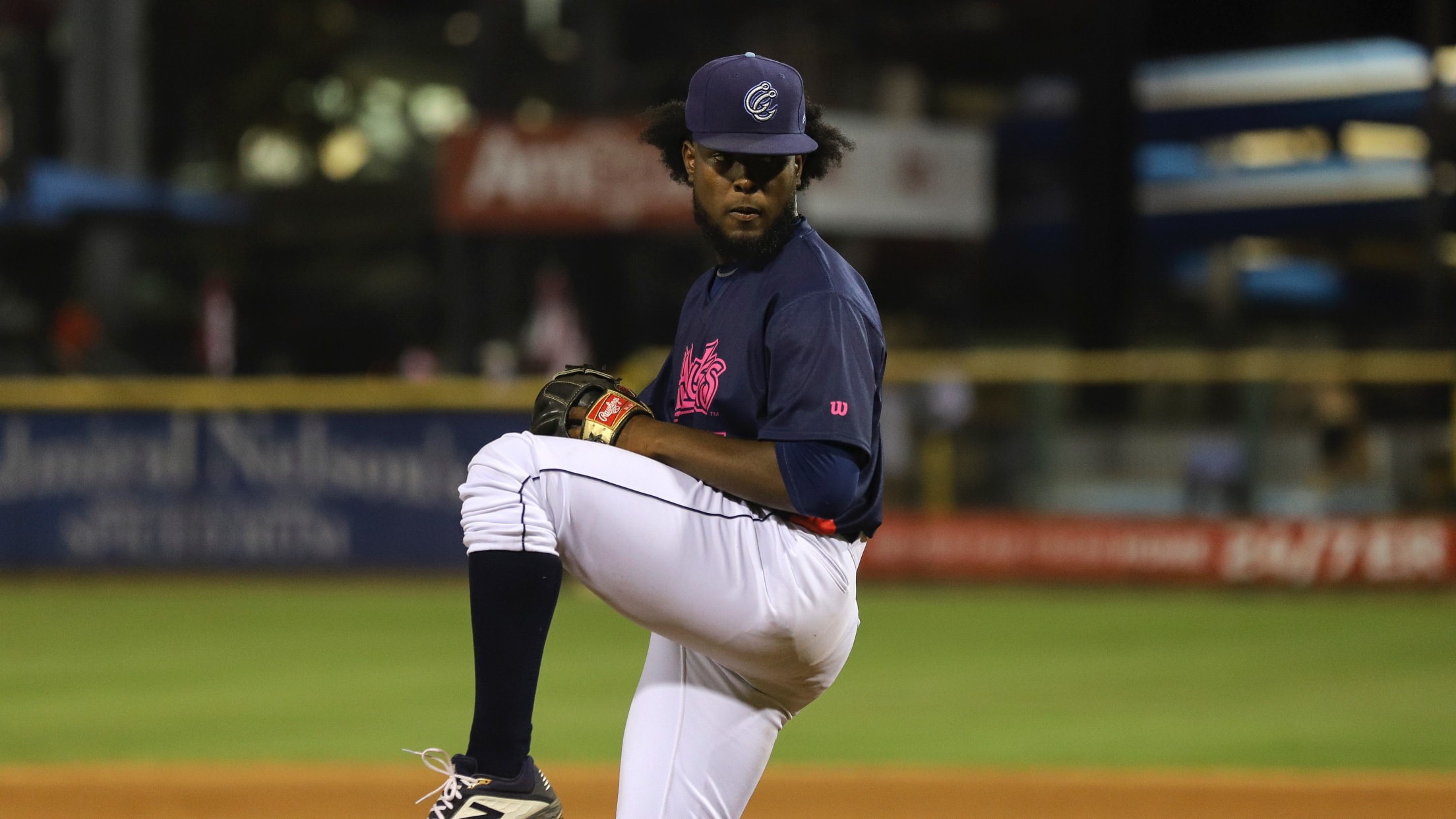 Cristian Javier punched out 10 batters over 4.0 innings in Saturday's 3-2 win. (Olivia Rook/Corpus Christi Hooks)
CORPUS CHRISTI - Back-to-back doubles by Bryan De La Cruz and J.J. Matijevic brought home the winning run in a tight 3-2 Hooks victory over the Midland RockHounds Saturday night at Whataburger Field.The combination of Bryan Abreu, Cristian Javier and Andre Scrubb set a nine-inning club record with 19 strikeouts
CORPUS CHRISTI - Back-to-back doubles by Bryan De La Cruz and J.J. Matijevic brought home the winning run in a tight 3-2 Hooks victory over the Midland RockHounds Saturday night at Whataburger Field.
The combination of Bryan Abreu, Cristian Javier and Andre Scrubb set a nine-inning club record with 19 strikeouts in the win. It matched a 19-punchout performance in 10 innings on May 11 versus Amarillo.
De La Cruz and Matijevic ignited the two-out rally against Midland's Seth Martinez to salvage the gutsy pitching display.
Mikey White had tied the game at deuces in the seventh with a solo home run (8), the lone damage to come against Javier.
Corpus Christi immediately jumped on Hounds starter Matt Milburn to start the game. Jacob Meyers led off with a single and was brought home on a Jonathan Arauz triple to the gap. Arauz would come home on a De La Cruz sacrifice fly for a 2-0 lead after the first.
Midland got one back in the third against Abreu, who struck out eight of the 19. Nate Mondou double with two away, then scored on an Edwin Diaz single.
The RockHounds loaded the bases in the fifth, but Javier struck out Greg Deichmann to keep the lead at the time. They'd load them again in the ninth, but Scrubb fanned Mondou to end the game.
Javier (W, 6-3) matched a career-high with 10 strikeouts, bringing his Double-A season total to 114 in 74.0 innings. He and Abreu allowed two hits apiece, albeit with five walks and a hit batter between them.
A win for the Hooks Sunday will give them the overall season tiebreaker over both Midland and Frisco. They will turn to Yohan Ramirez (2-4, 4.91) agaisnt Midland's staff ace, Brian Howard (7-7, 2.97). Astros mascot Orbit will be at Whataburger Field for the 2:15 p.m. contest and the first 2,000 fans will receive Orbit socks.