Tigers, Cherokees & Eagles Soar in Preseason Voting
Preseason Large School Softball All-Stars to be honored at winter banquet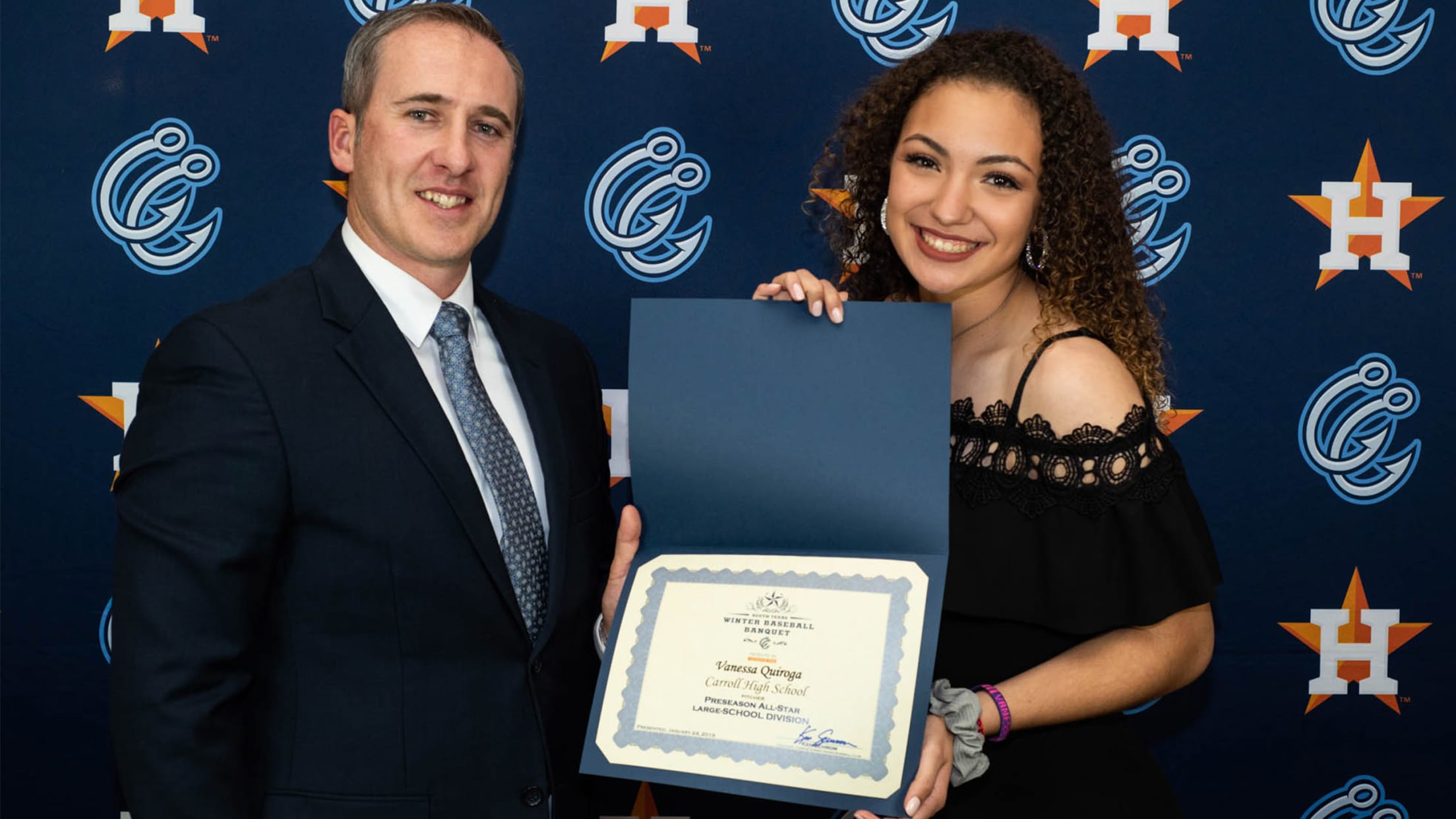 Carroll's Vanessa Quiroga receiving her certificate from Hooks General Manager Wes Weigle at the 2019 South Texas Winter Baseball Banquet
CORPUS CHRISTI - Carroll, Tuloso-Midway, and Veterans Memorial each placed three players on the large school softball division of the 2020 South Texas Preseason High School All-Star Team.Seven area schools fuel the 14-member all-star squad. The student-athletes will be honored January 30 at the Solomon P. Ortiz Center during the
CORPUS CHRISTI - Carroll, Tuloso-Midway, and Veterans Memorial each placed three players on the large school softball division of the 2020 South Texas Preseason High School All-Star Team.
Seven area schools fuel the 14-member all-star squad. The student-athletes will be honored January 30 at the Solomon P. Ortiz Center during the 16th South Texas Winter Baseball Banquet, which is presented by Whataburger.
The Carroll contingent is comprised of juniors: pitcher Vanessa Quiroga, second baseman Rhea Ann Avalos, and shortstop Linzee Leal. Quiroga and Avalos are both repeat preseason selections, with Quiroga earning unanimous District 30-5A MVP honors last year. Leal won first team all-district acclaim in 2019.
The Cherokees are represented by senior pitcher Breanna Reyna, senior outfielder Ysa Esquivel and sophomore catcher Reese Atwood. The T-M trio took home first team all-district honors in 29-5A a year ago. Reyna, who will be recognized for a third time at this year's winter banquet, and Esquivel are both recurring preseason picks.
Junior first baseman Mariah Vasquez, junior outfielder Cassie Cavazos and senior designated player Hailey Salinas represent Veterans Memorial. Vasquez, Cavazos, and Salinas earned first team all-district last year, with Vasquez receiving recognition on the Corpus Christi Caller-Times All-South Texas first team.
Senior pitcher Lizette Del Angel and sophomore outfielder Raegan Tennill helped lead Calallen to the state tournament a year ago. Del Angel was one of two pitchers named to the 29-5A first team all-district squad in 2019, while Tennill was tabbed the Caller-Times' 2019 All-South Texas Newcomer of the Year. Del Angel also received all-state honors by the Texas Girls Coaches Association.
King's Crystal Davila, who recently signed a letter of intent to play at the University of Houston, will make her third consecutive appearance at the South Texas Winter Baseball Banquet. Like last year, Davila is listed as the large school softball shortstop.
Senior Jadyn Wilson of Flour Bluff rounds out the preseason all-stars' pitching staff. Wilson was a second-team selection on the 29-5A all-district team last year.
Port Lavaca Calhoun's Paige Weaver, listed at utility, was a second-teamer in 30-5A in 2019.
The preseason all-star team was voted on by head coaches from the Coastal Bend's 14 5A high schools.
2020 South Texas Winter Baseball Banquet Preseason Large School Softball All-Star Team
Pitchers: Vanessa Quiroga, Carroll, Jr. Lizette Del Angel, Calallen, Sr. Jadyn Wilson, Flour Bluff, Sr. Breanna Reyna, Tuloso-Midway, Sr.
Catcher: Reese Atwood, Tuloso-Midway, So.
First Base: Mariah Vasquez, Veterans Memorial, Jr.
Second Base: Rhea Ann Avalos, Jr., Carroll
Third Base: Crystal Davila, Sr., King
Shortstop: Linzee Leal, Carroll, Jr.
Outfield: Raegan Tennill, Calallen, So. Ysa Esquivel, Tuloso-Midway, Sr. Cassie Cavazos, Veterans Memorial, Jr.
DP: Hailey Salinas, Veterans Memorial, Sr.
Utility: Paige Weaver, Calhoun, Sr.