Lambin's Coaching Career Shaped by Life-Changing Season in Japan
Former Wood Ducks Hitting Coach Played for the Chiba Lotte Marines in 2009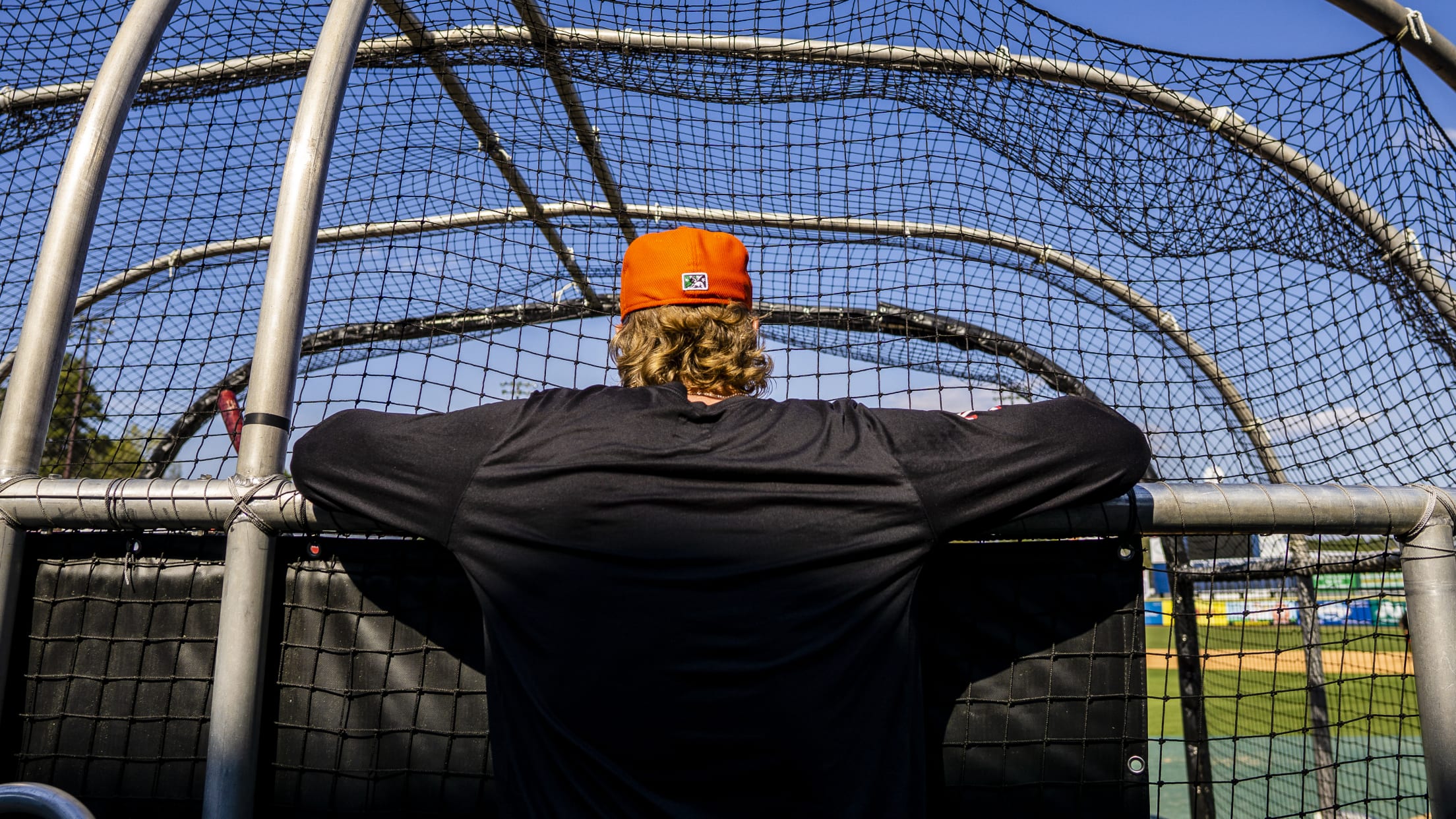 (Matthew Edwards)
With a crowded Sapporo bar clapping the beat and singing his song, Chase Lambin danced his dance. Snapping his fingers, swaying to the rhythm, and giving his patented heal slap, the crowd roared. He was nine years into his professional baseball career, and he had never been more famous or
With a crowded Sapporo bar clapping the beat and singing his song, Chase Lambin danced his dance. Snapping his fingers, swaying to the rhythm, and giving his patented heal slap, the crowd roared. He was nine years into his professional baseball career, and he had never been more famous or revered, as he danced the night away 6,700 miles away from his Houston, Texas roots.
The song ended, he dismounted, and tried to wrap his head round what had just transpired.
"I'm smiling from ear to ear. I'm in a bar in Japan…dancing on a table, and posing for pictures like I'm Tom Cruise. Who does that?" Lambin wrote in a blog that he kept throughout the season.
Drafted by the New York Mets in the 34th round in 2002 out of the University of Louisiana at Lafayette, Lambin's career included stops in Brooklyn, Port St. Lucie, Binghamton, Albuquerque, Syracuse, Omaha, New Orleans, and in 2009, Chiba Japan.
Lambin reached Triple-A for the first time in 2005, and knocked at the door of the major leagues for four straight years, prior to leaving the states. But like many players at that level, he was aware that other opportunities existed overseas, and referred to Japan as a "Golden Goose," never anticipating that his phone would be the one to ring.
During the 2008 season Lambin's phone did ring -- in his Memphis hotel room, before his Albuquerque Isotopes squared off with the hometown Redbirds. The initial call came from an international agent hoping to represent him, and following the season, another call came, this time it was an invitation to try out for the Chiba Lotte Marines, managed by former Major League player and manager Bobby Valentine.
There was a catch. Not only did they want him to fly out that weekend, it was Lambin who would have to pay for the ticket. He had recently gotten engaged to his now-wife Sara. At dinner with Sara he recounted the phone conversation, in which he'd informed the team that if they wouldn't pay for the flight, he was no longer interested. "She told me 'go book the ticket right now,'" Lambin recalls. "I was like 'no way.' But she believed in me, and knew I'd go over there and impress them." Needless to say, Sara persuaded him to book the flight, and not long after he crossed the Pacific for his tryout in November 2008.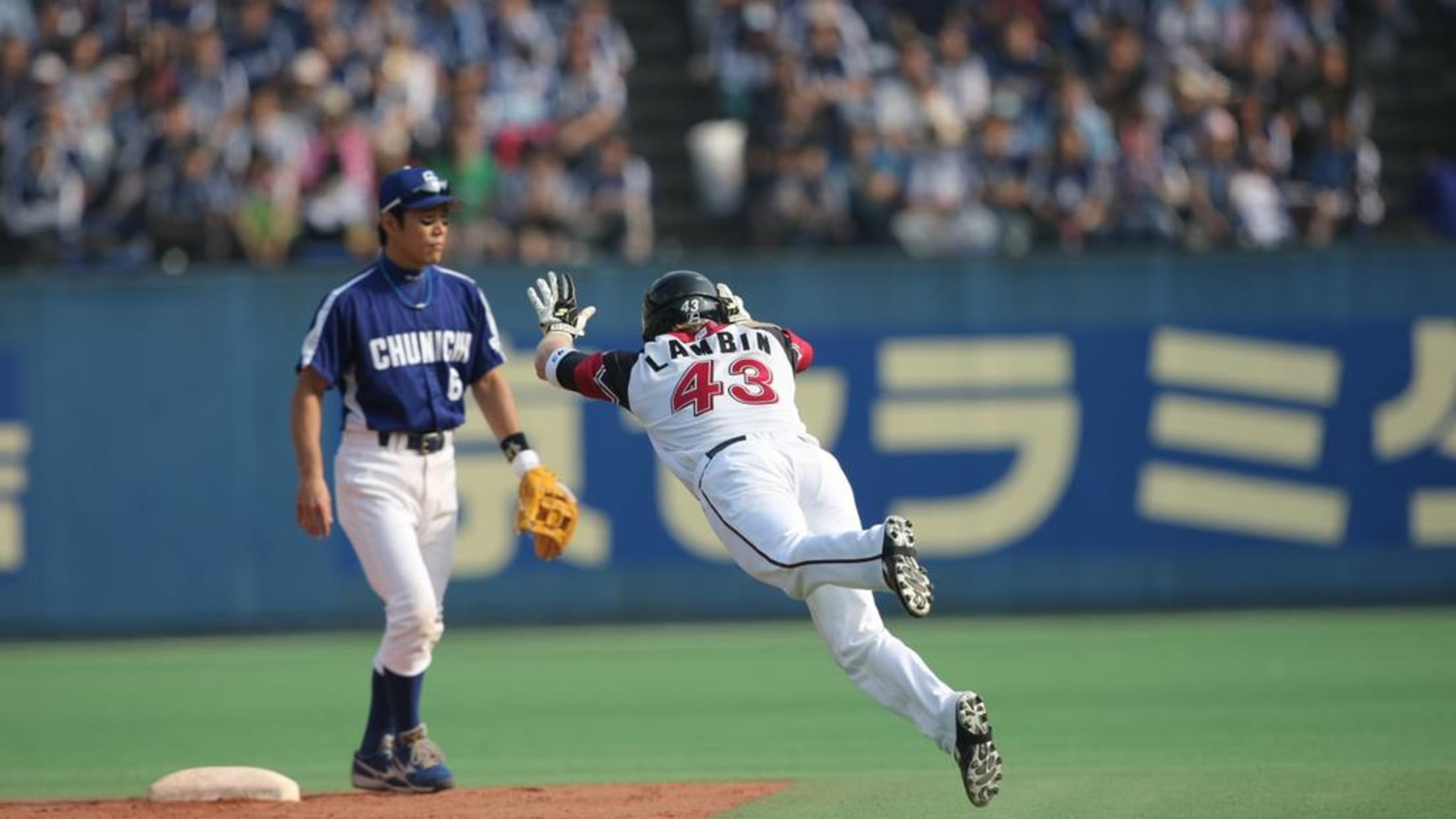 Just as Sara predicted, he impressed. Not only because he was diving for every ground ball in his area code, but because of the way he carried himself throughout the process. Before heading back to the states, Valentine called Lambin into his office and told him "One of my greatest pleasures in life is crossing paths with a person like you. It was been a delight watching you play and getting to know you." His contract didn't come that day, but hearing those words, from that guy, Lambin knew he had a pretty good shot at inking a deal.
Lambin signed the deal later that month, turning down his first Major League Spring Training invite, which came from the Chicago Cubs. It wasn't an easy decision, but he felt that playing in Japan could be a once-in-a-lifetime opportunity. Two days after he and Sara tied the knot, he was off to Chiba. Sara would join him six weeks later.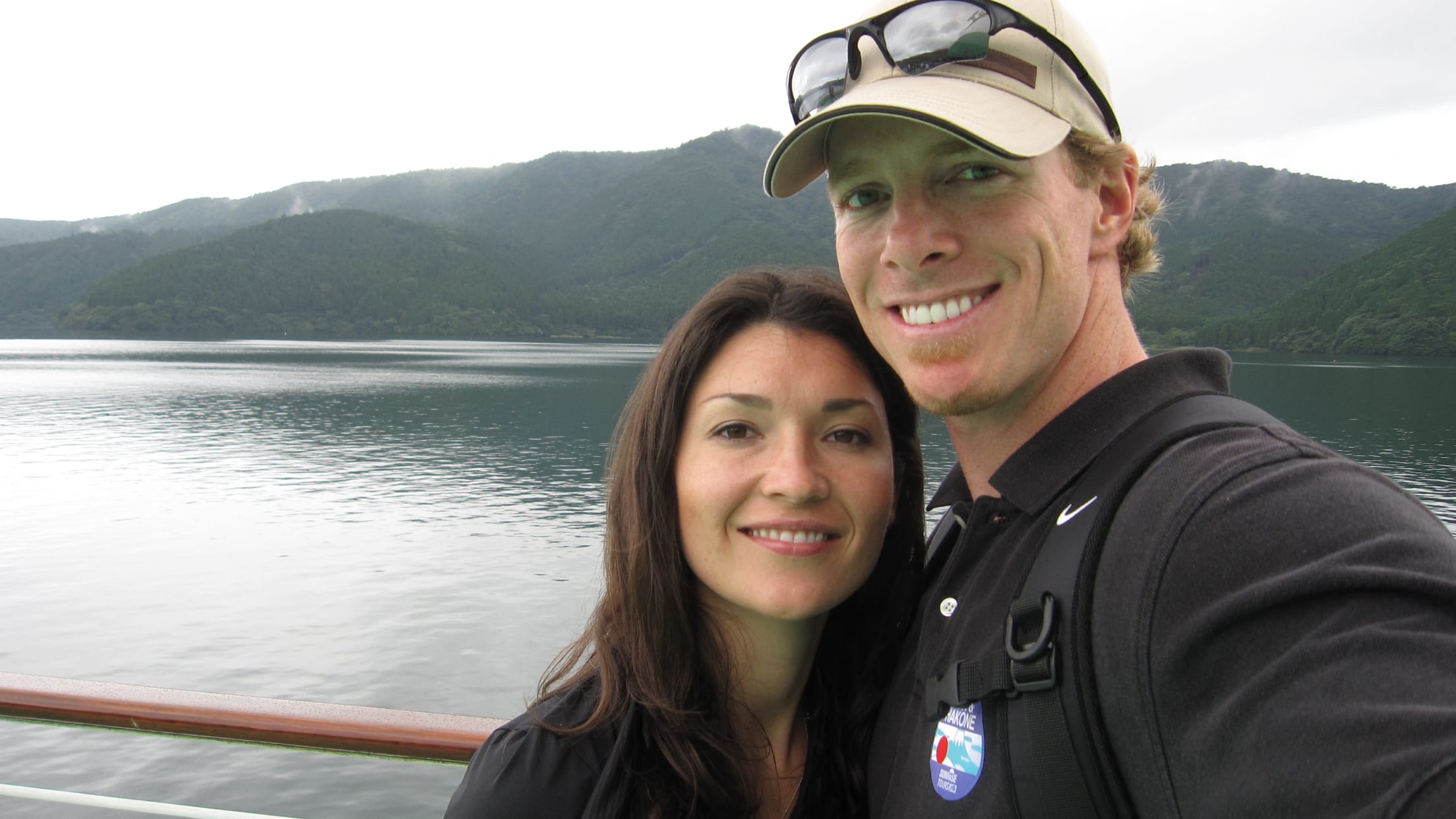 Lambin quickly befriended Gary Burnham, a fellow American and career minor-leaguer, whom he'd met at the tryout. When the two of them arrived at their five-star, beach-front hotel, there really wasn't much hesitation or anxiety about the experience. "We were like kids on a field trip," said Lambin. "It felt like it wasn't even real. We were more giddy than anything."
Lambin wanted to make sure to embrace the culture of Japan and assimilate the best he could, both on and off the field. This meant learning the rules, and lots of them, for all sorts of situations.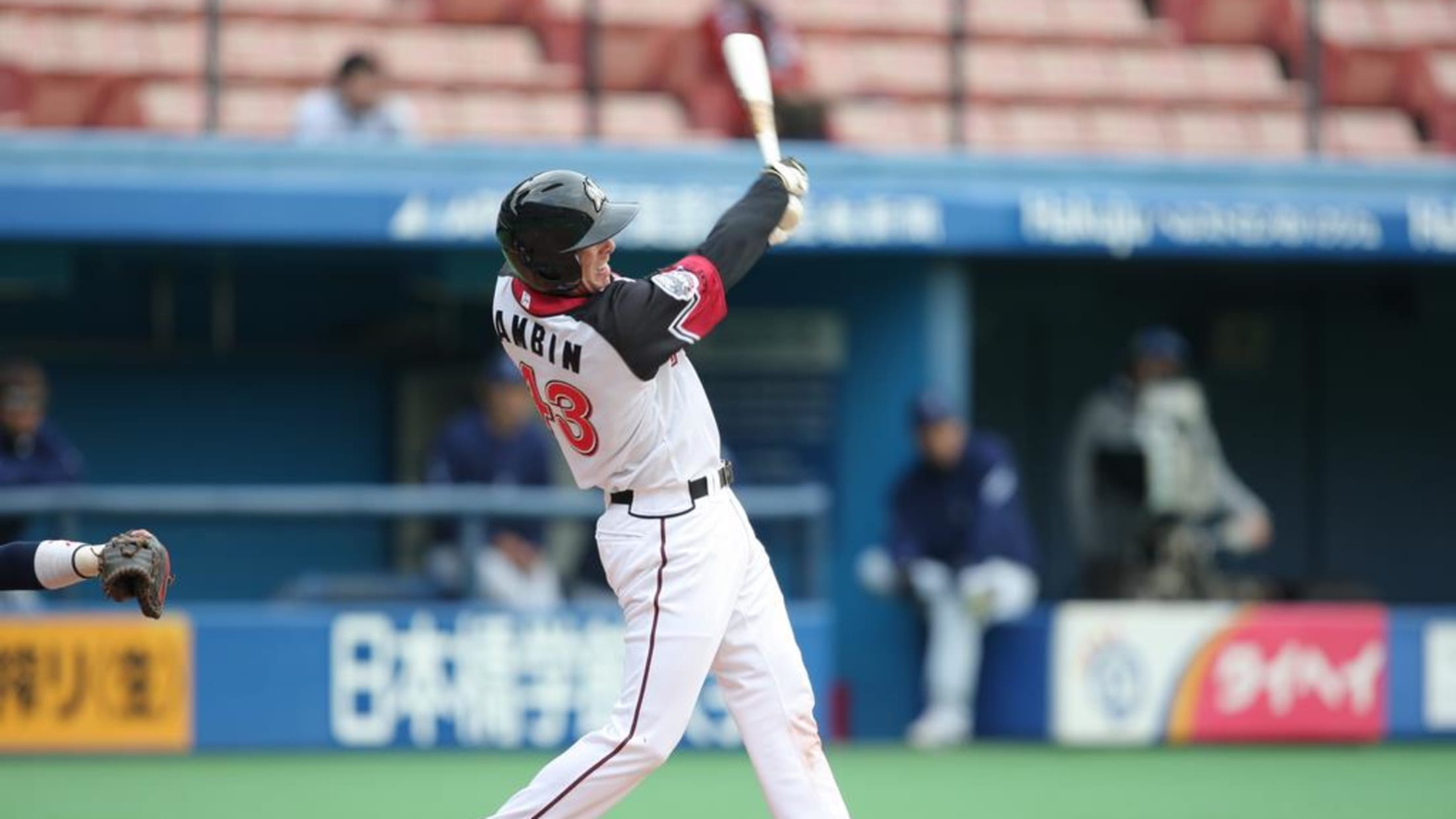 For example, on public buses, everyone sits in the same exact seat, every single day, and the bus is completely silent; that is, after Chase and Gary realized they were the only ones talking for the first two weeks of their stay. At the ballpark, your locker must be clean. You get a yellow card in your locker if it isn't. After two yellow cards, the third offense is a red card which means you must go in front of a board and receive your monetary punishment. And at home, you must sort your trash and recyclables into as many as 15 different cans in order to help a country that prides itself on immaculate cleanliness.
Some aspects of life were easier to catch onto than others. One particular struggle: the toilets! Lambin describes his initial experience:
"The bathrooms are in a community building across the street, and I really had to go. I walk into the bathroom and get really confused. There is a hole in the ground with some porcelain around it, and that's it! 'What? No toilet to sit on?' The most technologically advanced country in the world, and I have to squat like a bear in the woods."
Fortunately (or perhaps unfortunately) this was all a prank. Lambin would come to find out that the toilets in Japan actually were very technologically advanced. "There are fans, and water guns, and vibrations, but all of the buttons are labeled in Japanese, so it was trial and error trying to get the job done," Lambin chuckled.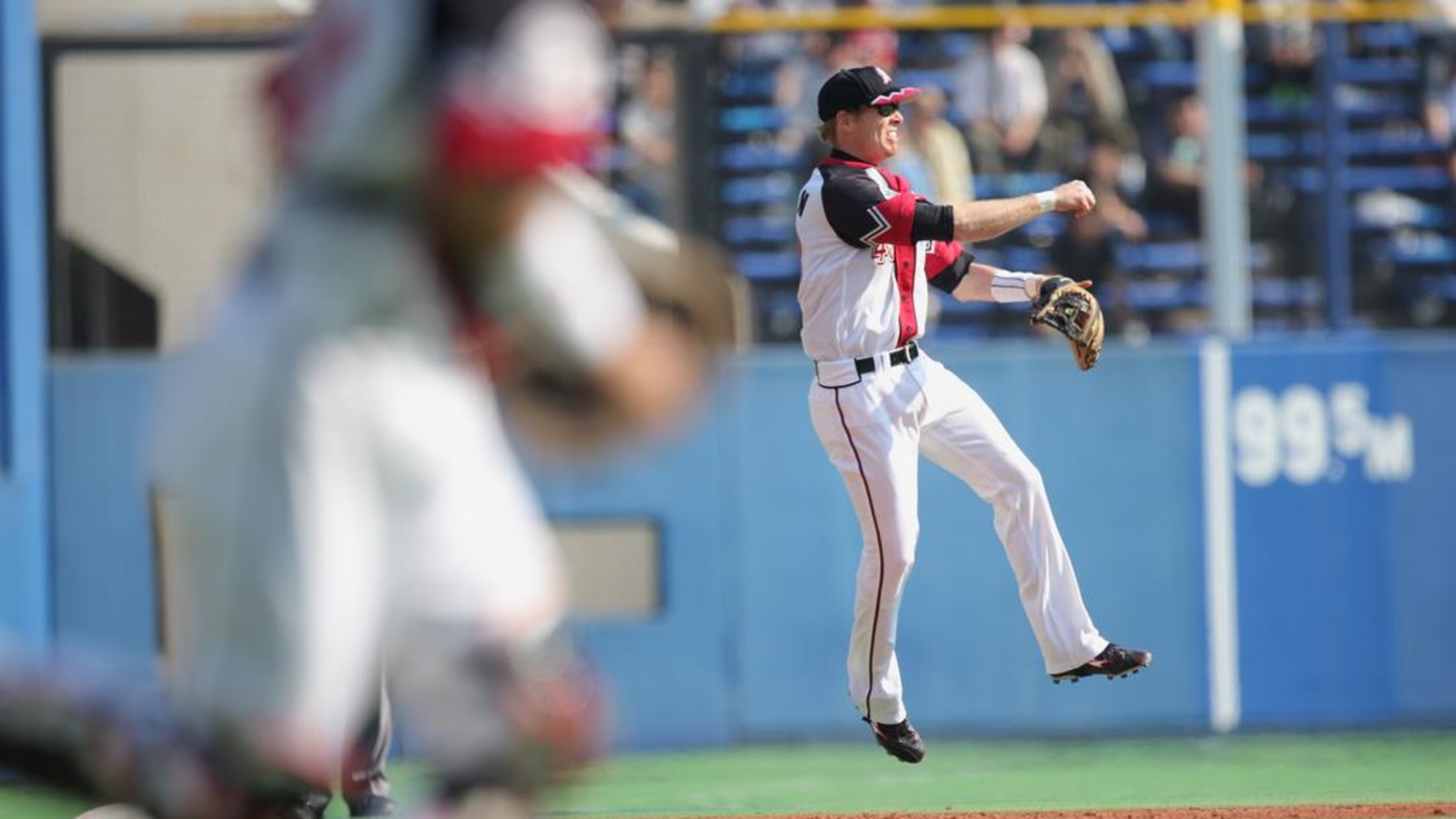 There was a similar learning curve on the field. Lambin batted a career-low .192 in 58 games, and defensively was asked to play positions which were unfamiliar to him. Not only was he not getting regular at-bats for the first time in his career (primarily as a fifth infielder), but everything else was different, too. The style of pitching was different, with pitchers apt to throw breaking balls in any count. They also tended to feature high-spin-rate fastballs up in the zone, as opposed to sinkers down in the zone, which was more common at the time state-side. The strike zone was bigger, there were often holes in the batter's box, and with a new diet, Lambin struggled to maintain his strength, losing 30 pounds that summer.
But even with the lows, there were some pretty significant highs. The first came on Mother's Day.
"We were facing an American pitcher by the name of Darrell Rasner. He was in the starting rotation the entire season for the New York Yankees [in 2008] and knew that he had a nasty cutter and a really good changeup. I took a fastball for ball one. I got another fastball the next pitch, right down the middle, and put every inch off my body into it. I hit it perfect, a majestic blast that sailed deep into the right field bleachers! The place erupted! I once again floated around the bases. This really got my juices flowing. I was a ball of energy the rest of the game. My next at-bat I worked the count to 2-2 and got another fastball out over the plate and smashed it off the right field wall."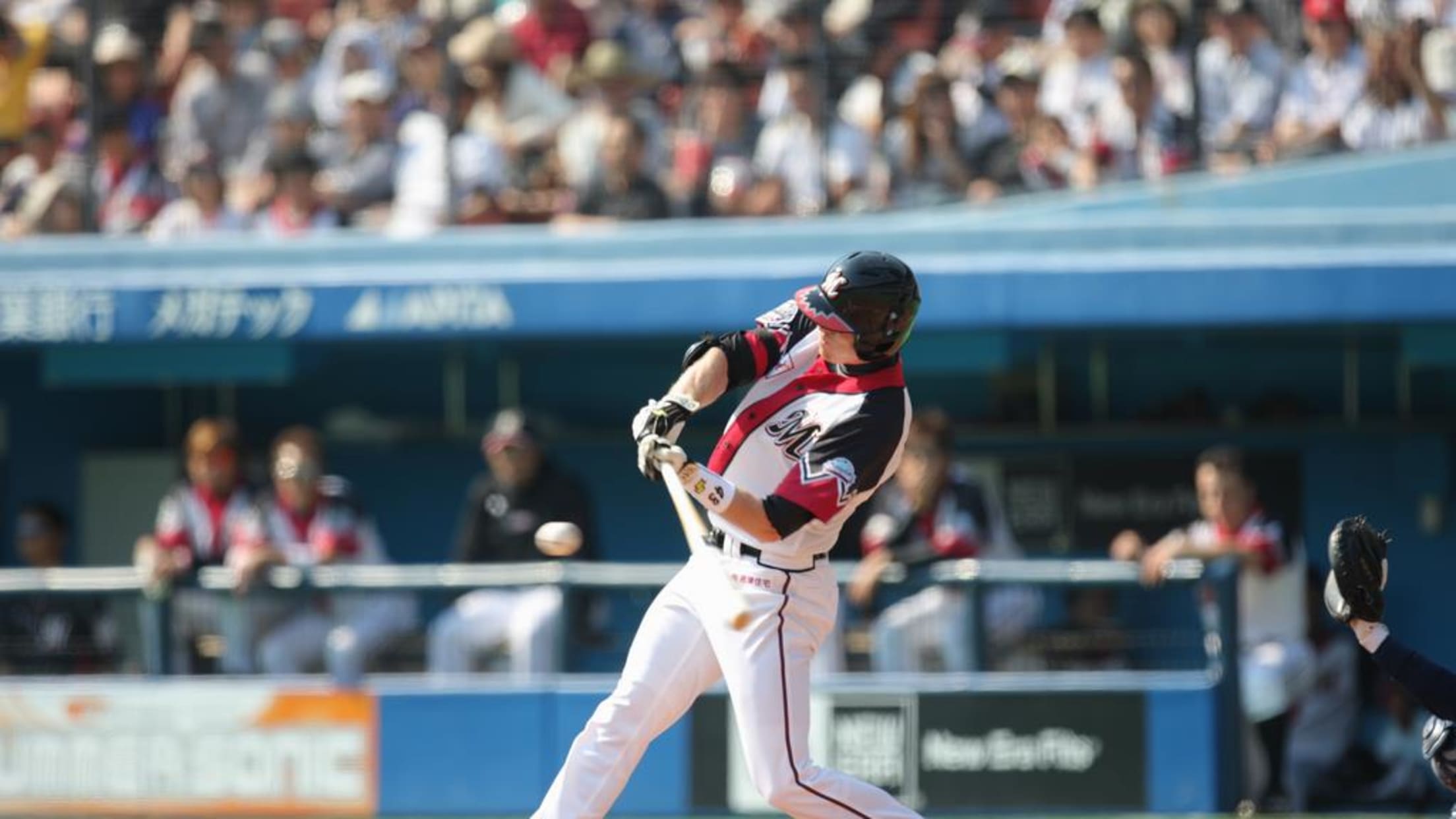 But his success that game was not just at the plate, he was also spectacular in the field.
"The first batter of the inning laces a liner to my left, I take one step and vault myself, completely outstretched, and I feel the ball rip into the pocket of my glove. I hear the crowd roar before I even hit the ground. (When you make a great play, they chant your name until you acknowledge the crowd. I, of course, give them a deep bow and a huge grin.)
Just when I think it can't get any more fun, the next batter smashes a ground ball to my left, between me and the first baseman. I have to take a deep angle to get to it. I field the ball in shallow right field, spin to my left and fire as hard as I can at our first basemen who was late getting to the bag because he went for the ball too. It's a bang-bang play and the umpire punches him OUT! The stadium COMPLETELY erupts!!! I throw my fist up and let out a Braveheart yell as I sprint full speed off the field yelling at the crowd and pumping my fist!"
This performance resulted in game MVP honors for Lambin, which meant being interviewed on the field with the fans chanting his name.
"I finish with a Blake McGinley heel slap dance move and raise the roof like I was Arsenio Hall! The crowd is going bonkers. Who knew I was such a ham?"
And that dance move would stick with him the rest of the season — after home runs, game MVP honors, and even on the tabletop of the bar in Sapporo.
Another memorable moment included a home run off of fellow American Scott Atchison to silence 50,000 fans at the historic Koshien Stadium in Osaka. Lambin also hit his first career grand slam, and over the course of his summer in Japan, had the opportunity to face the likes of Yu Darvish, Masahiro Tanaka, and Hisashi Iwakuma.
Perhaps the starkest contrast to baseball in America were the crowds. So hungry for the game, and so passionate that they create songs for every player on the team. "When you're hitting, your fans get to sing and dance, and when the other team's hitting their fans do it. So there's 18 half-innings of noise, and song, and music," said Lambin. "It was like pandemonium. There wasn't a second of silence, it was non-stop without a lull."
The games were long, regularly lasting over four hours. This was due in part to deep counts, but also in part to a pair of 15-minute intermissions. Fireworks were shot off every night in the fifth inning, and then another break was taken in the seventh for a balloon launch, where fans blow up a long balloon tube with air, but don't tie off the end, sending them whistling up into the sky.
"The first time I was out there, I was standing out there, I was standing in the middle of the field taking it all in, and then they all went off and I felt like it was raining," laughed Lambin.
But by experiencing the life and culture of the country, Lambin quickly realized that the pride and dedication of the Japanese people extended far beyond baseball. "They have a passion for what they do that's been passed down from generation to generation…what I think is most admirable is that whatever they do, they're going to do to the best of their ability, they don't half-step anything," said Lambin, noting the perfectly pressed clothes and posture of workers at McDonald's and never seeing as much as a piece of gum on the sidewalk.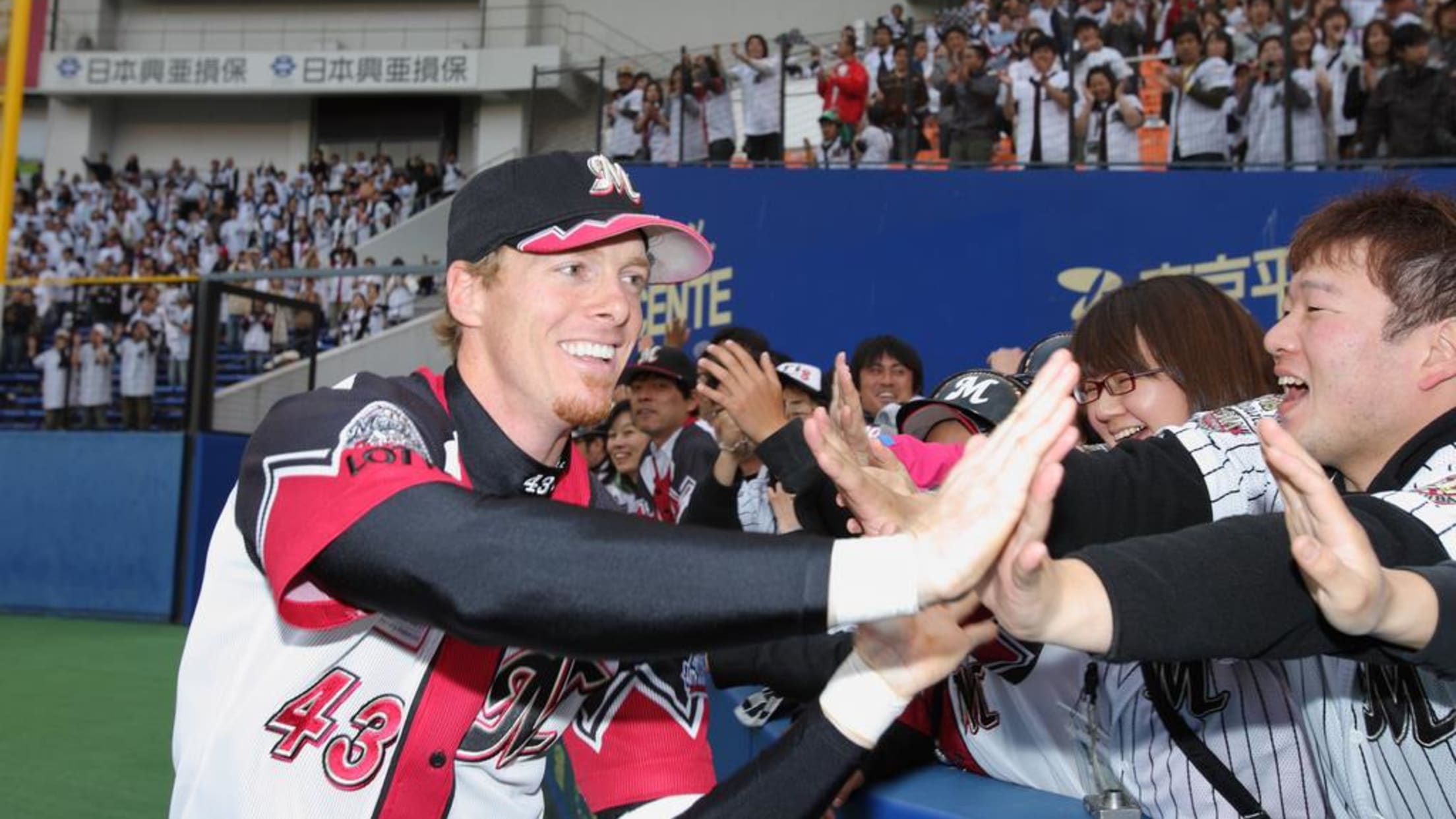 Like in the states, days off for players are few and far between. But understanding the fleeting experience he was living, Lambin took full advantage. He and Sara hiked mountains, visited waterfalls, and traveled by bike throughout the city of Chiba. Before departing the country, Valentine invited them to be part of a group to take a trip to Nikko, one of the most famous sites in Japan. They took a private tour bus to the Toshogu Shrine. It is where the original Shogunate lived back in the early 1600's. The title of Shogun was reserved for the most powerful ruler in Japan, who was protected by samurai warriors. They met the head priest of The Toshogu Buddhist Temple and Shrine, Inaba-san.
"This is a very special honor, because the priest usually only meets with heads of state and dignitaries. The last person to dine with him was the Prime Minister of New Zealand! The shrine is most famous for being the original location where the phrase, 'hear no evil, see no evil, speak no evil' comes from. The samurais were taught to never disclose any information they heard or saw, to protect the Shogun and his land."
They continued on up the mountain to a beautiful lake with mountains surrounding every side. They stayed the night in a luxury hotel, where they got to experience "onsens" (hot baths), extravagant meals, and spa-like treatment.
"Playing baseball in Japan can be extremely stressful and frustrating, but days like this put things in perspective and completely make up for the trying times. Life is about enjoying the journey, and I am so lucky to have people like my wife, Bobby, and Gary that embrace life's adventures and live life to the fullest."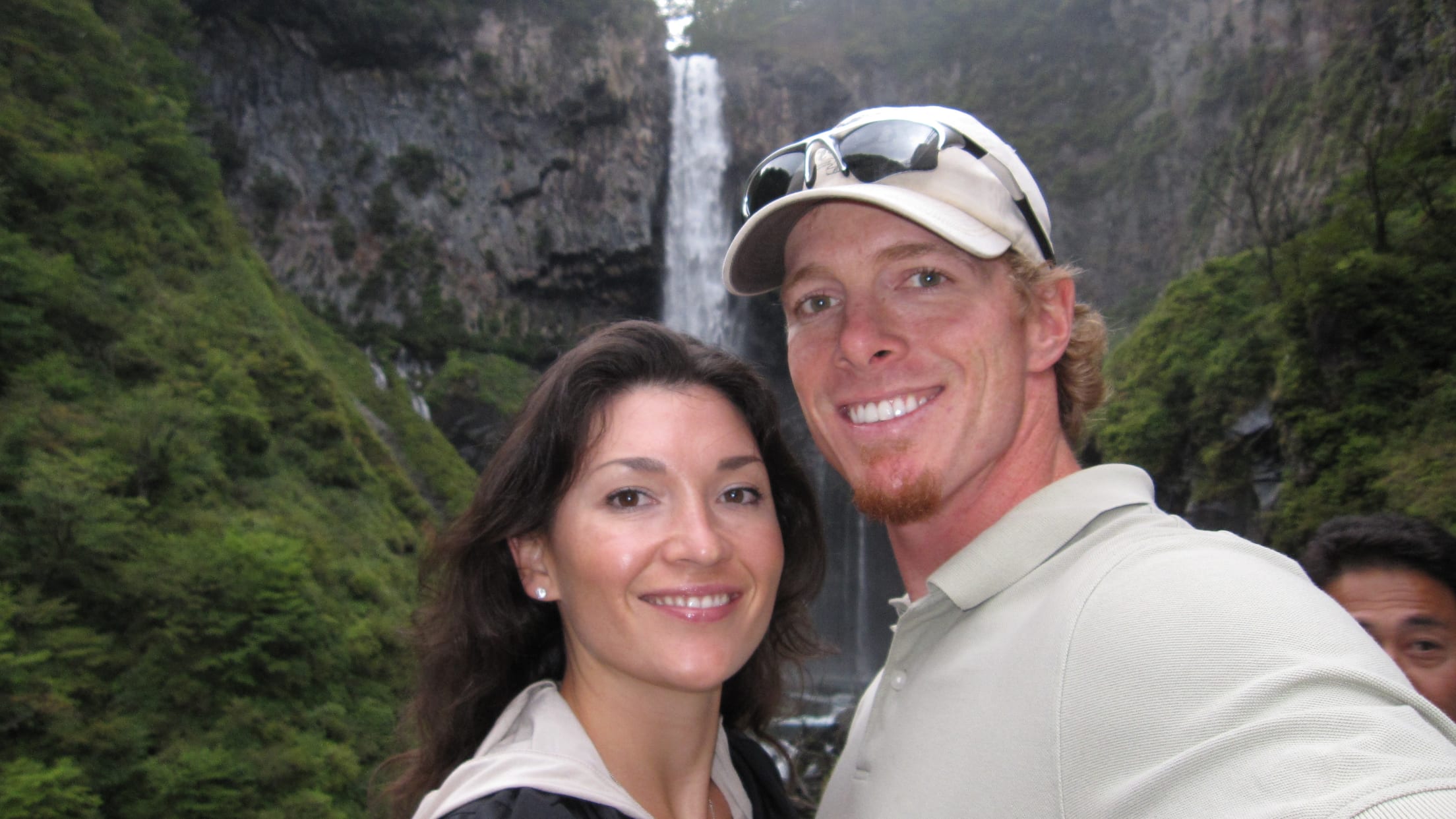 That was the mentality that Lambin carried with him when he returned to the states. He played five more seasons professionally before deciding to hang it up after the 2014 season, his second of two stints with the Sugar Land Skeeters of the independent Atlantic League. He penned a letter upon his retirement, which read in part:
"My wheels may not be completely off, but there are a lot of miles on these tires…My cup has runneth over with good times and good fortune. I have chased the coolest of dreams for the past 13 years, allowing me to travel the world, meet the most amazing cast of characters you could ever imagine, and push my mind and body to levels that most people could only dream of…I don't know what could ever replace the feeling of being completely at home while 'at work.'"
Fortunately, nothing had to replace that feeling, as Lambin joined the Texas Rangers as a minor league coach ahead of the 2015 campaign. Whether consciously or subconsciously he continues to draw on his experience in Japan, and in particular lessons learned from Bobby Valentine.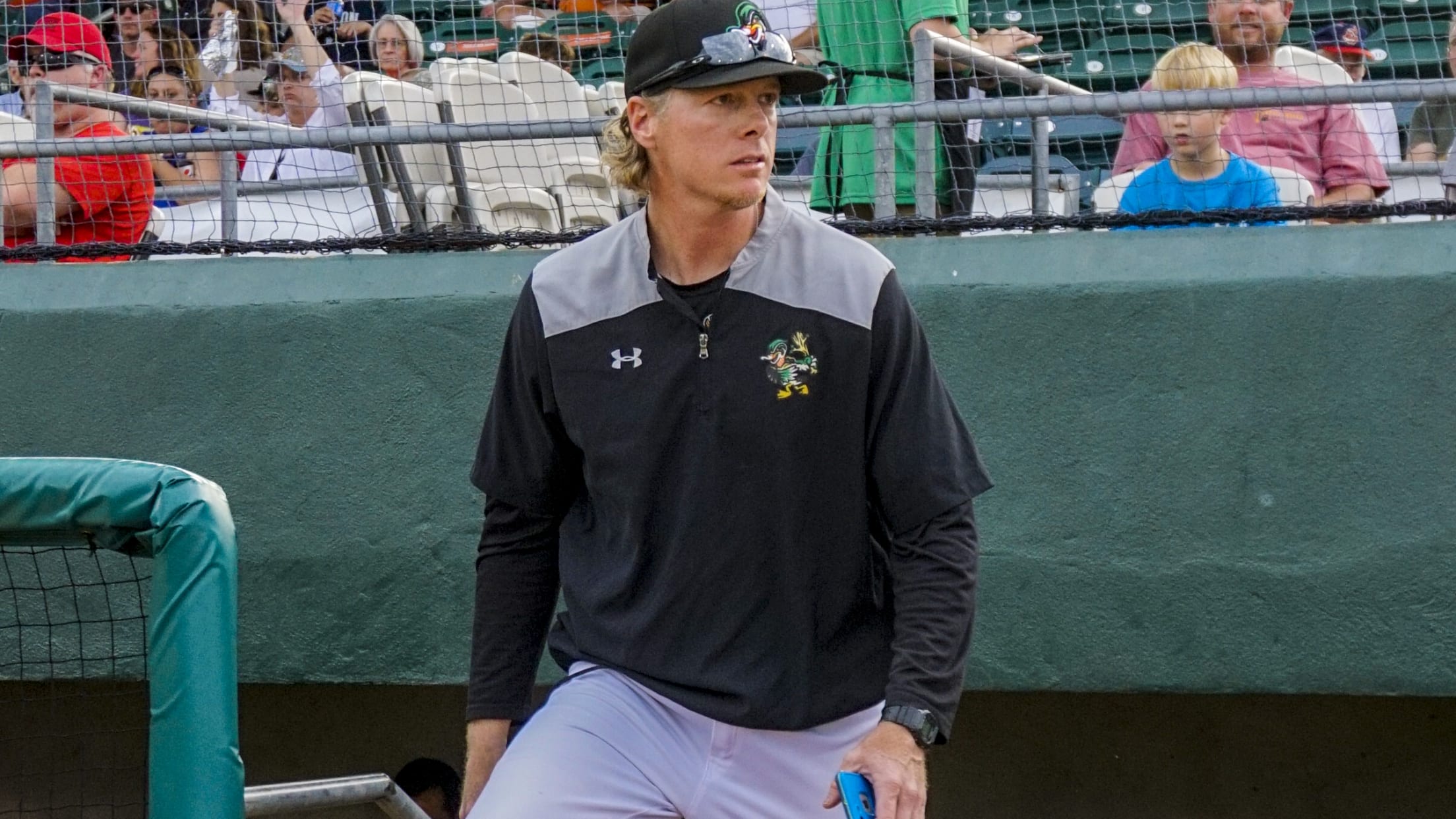 "Bobby is a great storyteller, and he has a way of relating anything to a story from his life to better paint a picture, whether it's trying to teach you something, or connect with you," said Lambin. "And his ability to do that and manage Major League teams, and even do so across a language barrier…he's very charismatic and genuine, and so thirsty for knowledge and experiences, it's contagious, and I feel like I've become the same way."
After spending 2019 with the Wood Ducks, Lambin is getting set to begin his first with the Triple-A Nashville Sounds. While he aspires to one day coach at the Major League level, he says his mentality as a coach is almost the exact opposite to what it was as a player.
"I think playing is innately selfish, you're like your own corporation (you, your numbers, your body, your production), I think coaching is innately selfless, serving others, pouring into others, you're trying to get other people to the big leagues, and the fulfillment I get out of that is much greater than when I played. I didn't think I would love something more than playing baseball, but I love coaching it even more, because of the fulfillment I get from serving others…empowering young men to do and be better through empathy, kindness, and service."
It's a perspective 40 years in the making, 18 of which have been spent in professional baseball. But it's also a perspective that, without a doubt, was molded and massaged during a life-changing season spent in Chiba, Japan.