The Links at Segra Stadium
BACK BY POPULAR DEMAND, The Links at Segra Stadium! This unique golf experience in downtown Fayetteville features a 9-hole, target-style course which will give golfers a 27 shot experience like they've never had before! From October 1-3, golfers of all ages and abilities will be able to take in the views of Segra Stadium while challenging themselves from different tee boxes located throughout the ballpark! This year's event features new hole placements, tee box locations, a variety of hole distances, a tenth tee box for a 50/50 golf shot ($5 per ball) and even a sand shot!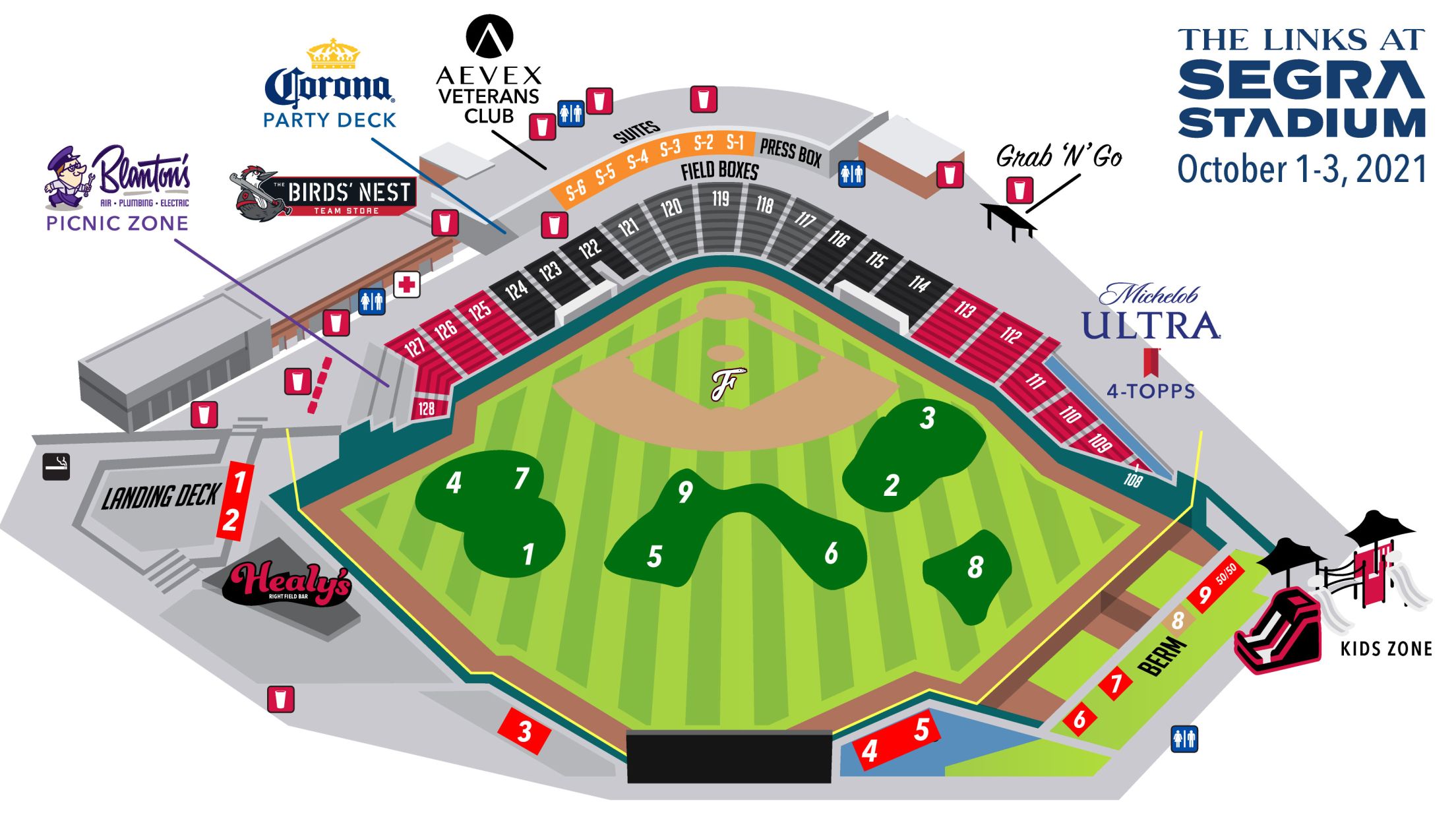 Scoring
The ballpark playing surface will have nine holes with flags cut into it. Each hole will lie in a larger "green" area that will be marked with spray paint. Golfers will tee off from nine platforms located around the outfield concourse. Each platform will have a color that will be designated with a colored hole on the field they will aim at. Scoring will be as follows: in the inner ring is a one, between the inner ring and the outer ring is a two, on the "green" is a three, on the field outside the green a four, and in the stands or anywhere else is a five.
Players will follow the concourse from hole 1 (Landing Deck) around the outside concourse to hole 9 (Kids Zone). Start times will be in shotgun format, so some groups may not start on hole one. If a group does not start on one, they will proceed around the concourse to nine, and then walk back around to hole one and finish the course up to the hole they started at.
This year we will be logging the best scores each day. The top round at the end of the night will win some great prizes!
All golfers will also have the opportunity to win some cash! We'll have a 50/50 hole at the end of the course. Anyone landing a ball on our 'F' logo, will have their name entered to win. We will pull the winner following the round on Sunday. Half the proceeds will also benefit The Woodpeckers Foundation.
The longest hole is 135 yards. Players are asked to use appropriate golf clubs for the hole lengths, no drivers or woods are permitted. Players **MUST** provide their own clubs. Hole 8 will have sand. Sand wedges will be allowed.
Pricing
To play The Links at Segra Stadium, the fee is $100 per group (maximum 4 golfers). Tee times will be made and paid online. Golfers will receive three shots per hole for a total of 27 shots. Available tee times are below!
*Golfers are asked to arrive 15 minutes prior to their tee time to check-in and proceed to their starting hole.
Food & Beverage
Golfers can pre-order food and beverage for their group. All orders must be made 24 hours in advance of the group's tee time. Please email [email protected] if you'd like to pre-order concessions.
Food and beverages will also be available on-site the day of your round at Healy's Right Field Bar.
Book Your Tee Time
Available Tee Times
| Friday, October 1st | Saturday, October 2nd | Sunday, October 3rd |
| --- | --- | --- |
| 3:30 p.m. - 5 p.m. | 12 p.m. - 1:30 p.m. | 11 a.m. - 12:30 p.m. |
| 5:30 p.m. - 7 p.m. | 2 p.m - 3:30 p.m. | 1 p.m. - 2:30 p.m. |
| | 4 p.m. - 5:30 p.m. | 3 p.m. - 4:30 p.m. |
| | 6 p.m. - 7:30 p.m. | |
| | 8 p.m. - 9:30 p.m. | |