Miller and Miracle Steal One Back on Wednesday Morning
Two in 8th and Two in 9th Cap 4-3 Win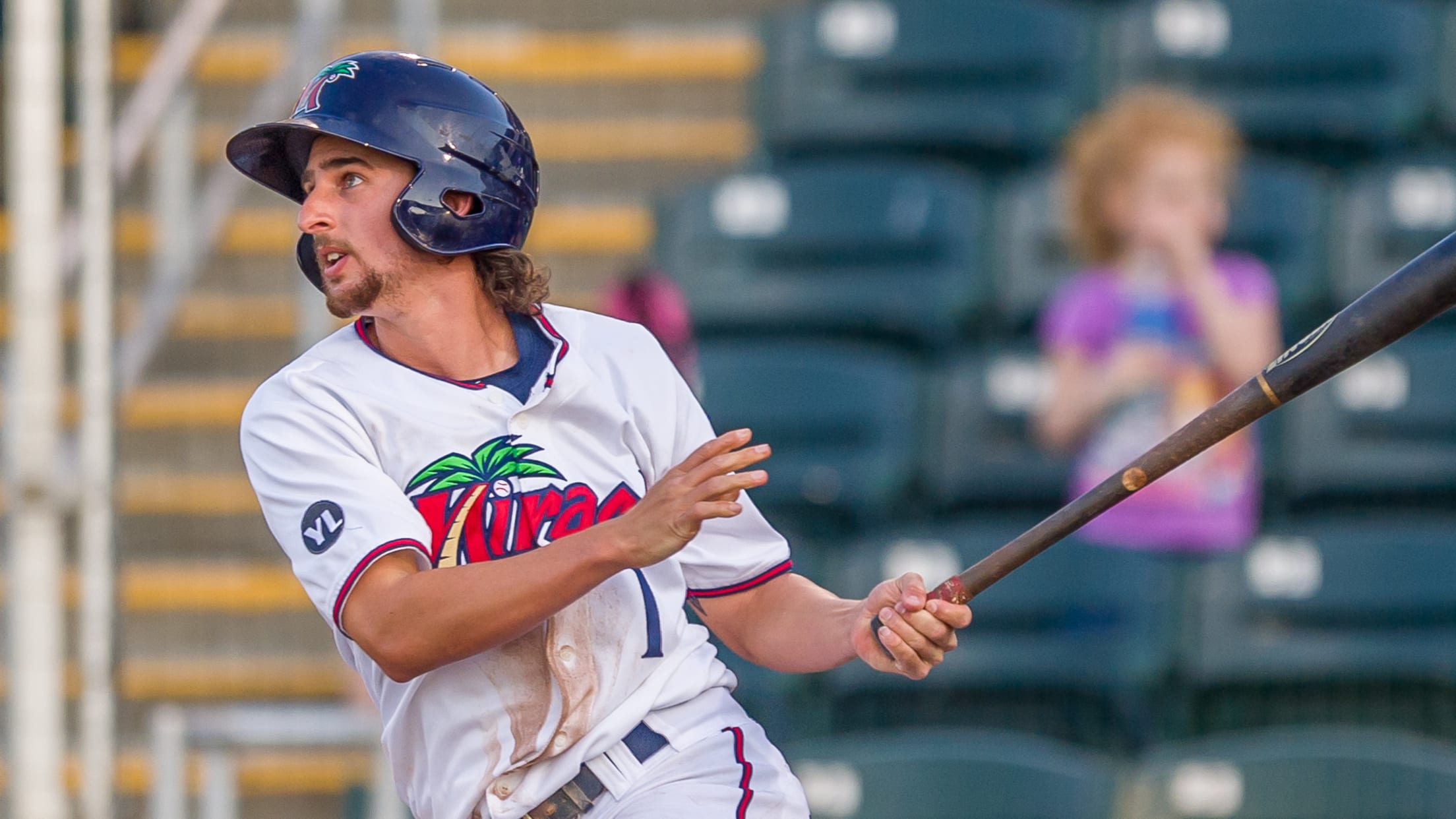 (Linwood Ferguson)
FORT MYERS, Fla. (July 19, 2017) - Down 2-0 in the eighth, the Fort Myers Miracle (18-7) scored two runs in the eighth and two in the ninth to defeat the Bradenton Marauders (15-10) 4-3 on Wednesday morning. Sean Miller's two-run bomb in the eighth tied the game as the Miracle
FORT MYERS, Fla. (July 19, 2017) - Down 2-0 in the eighth, the Fort Myers Miracle (18-7) scored two runs in the eighth and two in the ninth to defeat the Bradenton Marauders (15-10) 4-3 on Wednesday morning. Sean Miller's two-run bomb in the eighth tied the game as the Miracle stranded the bases loaded in the ninth to seal the win.
The starters cruised through the first half of the game, sending it scoreless to the bottom of the fifth. RHP Pedro Vasquez struck out seven over his five frames to keep the Miracle off the board. LHP Lewis Thorpe faced the minimum through four.
In the bottom of the fifth, Jordan George led off with a single and was sacrificed to second with a bunt. Ty Moore broke through with a double to give Bradenton the lead. They added a second run in the seventh with an RBI-single by Kevin Krause to score Mitchell Tolman. Thorpe finished with a season high seven innings, allowing the two runs while striking out seven.
In the top of the eighth, Kevin Garcia reached with a single against RHP Geoff Hartlieb (L, 1-2) who two batters later faced the leadoff man Miller. The Miracle second baseman jolted a ball down the left field line that left the yard to tie the game at two.
After RHP Tom Hackimer (W, 3-0) went 1-2-3 in the bottom of the eighth, the Miracle went to work offensively in the ninth. Jermaine Palacios led off with a single to bring Mitchell Kranson to the plate. Hartlieb tried a pickoff at first, but the ball sailed to right field allowing Palacios to get to third on the error. Kranson then doubled to right, giving the Miracle a 3-2 lead. With two outs, Jaylin Davis provided what proved to be a big insurance run with a bloop single to right to score Kranson.
Hackimer came out for the ninth and retired the first two batters in short order. He then hit Krause before walking Moore and Alexis Bastardo. In came LHP Sam Clay (Sv, 7) to face pinch hitter Will Craig who also walked to put the tying run at third and winning run at second in a 4-3 game for John Bormann. On a full count pitch, Bormann grounded to Brandon Lopez at third to end the game and even the three-game series at one.
The two teams will battle in the rubber match on Thursday night at 6:30 PM ET with RHP Cody Stashak opposing RHP Mitch Keller.
To stay up to date on upcoming promotional nights, follow the Miracle online at Miraclebaseball.com or through social media; Twitter: @MiracleBaseball, Instagram: fortmyersmiracle, Facebook: Fort Myers Miracle, Snapchat: ftmyersmiracle. To purchase tickets, visit MiracleBaseball.com/tickets. For further information or questions regarding the 2017 25th Anniversary Season, call the Miracle offices at (239) 768-4210.