Mussels Mash Four Homers in 8-3 Victory Over the Tarpons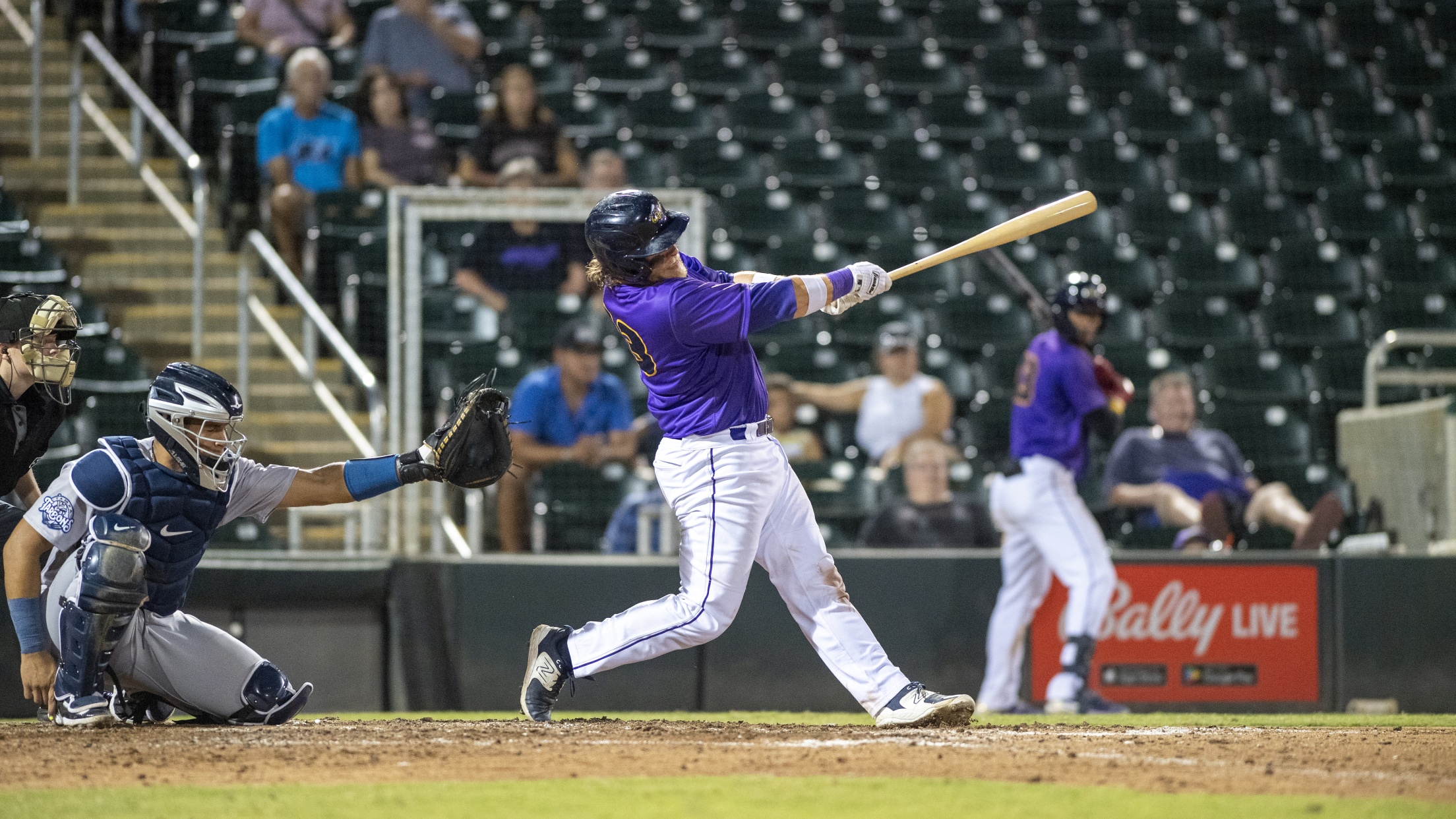 FORT MYERS, Fla. (May 10, 2023) – Andrew Cossetti launched two homers and the Mussels picked up their second consecutive win Wednesday after beating the Tampa Tarpons 8-3 at Hammond Stadium. The Mussels (15-14) connected on a season-high four homers, including back-to-back shots from Cossetti and Carlos Aguiar, as well
FORT MYERS, Fla. (May 10, 2023) – Andrew Cossetti launched two homers and the Mussels picked up their second consecutive win Wednesday after beating the Tampa Tarpons 8-3 at Hammond Stadium.
The Mussels (15-14) connected on a season-high four homers, including back-to-back shots from Cossetti and Carlos Aguiar, as well as a controversial three-run homer from Jorel Ortega.
Despite all the power displayed by Fort Myers, Tampa (11-18) struck first. In the top of the first inning, minor-league rehabber Christian MacLeod walked the initial three batters he faced to load the bases for the Tarpons. The next hitter Jared Serna scalded a ground ball to Mussels' second basemen Dalton Shuffield, who started a 4-3 double play to secure the first two outs of the ballgame. On the play, Brenny Escanio scored from third to give the Tarpons a 1-0 lead.
Looking to respond in the bottom of the same frame, Danny De Andrade walked with one out. Cossetti followed with a mammoth two-run blast to the left-center field concourse, giving the Mussels a 2-1 lead. Three pitches later, Aguiar smashed a towering flyball into the seats in right field to make it 3-1.
With the same score in the top of the fourth, Anthony Hall singled with one out. One hitter later, Nelson Medina belted an opposite-field home run to right center that tied the game at three.
During the Mussels' side of the inning, Shuffield and *Alec Sayre *singled to spark another rally. Two outs and a wild pitch later, Ortegaslashed a slicing line drive off the fair pole down the right-field line to give Fort Myers a 6-3 lead. The play was initially ruled a foul ball but was eventually overturned following an umpire meeting.
Ortega has now collected extra-base hits in each of his last three games and has driven in four over the first two games of the series. He has been retired in just three of his ten plate appearances this week.
In the bottom of the seventh, Cossetti powered another homer onto the berm to give him his second of the game and the Mussels a 7-3 advantage. He leads the Florida State League with six round-trippers and 29 RBI this year.
Fort Myers added one more in the bottom of the eighth and pushed their lead to five after *Maddux Houghton *tripled to center and *Dillon Tatum *doubled him in a batter later.
*Zebby Matthews *(3-1, 3.10 ERA) was stellar in relief for the Mussels, tossing 4.2 innings on only 52 pitches. He recorded four punchouts and allowed just two hits.
Left-hander *Develson Aria *(0-0, 4.41 ERA) will get the nod for Fort Myers at 7p.m. on Thursday,opposed by LHP Brock Selvidge (1-2, 4.01 ERA) for Tampa. Coverage begins at 6:45 p.m. on the Mighty Mussels Baseball Network.