Mussels Throw Fourth No-Hitter in Three Seasons to Sweep Tampa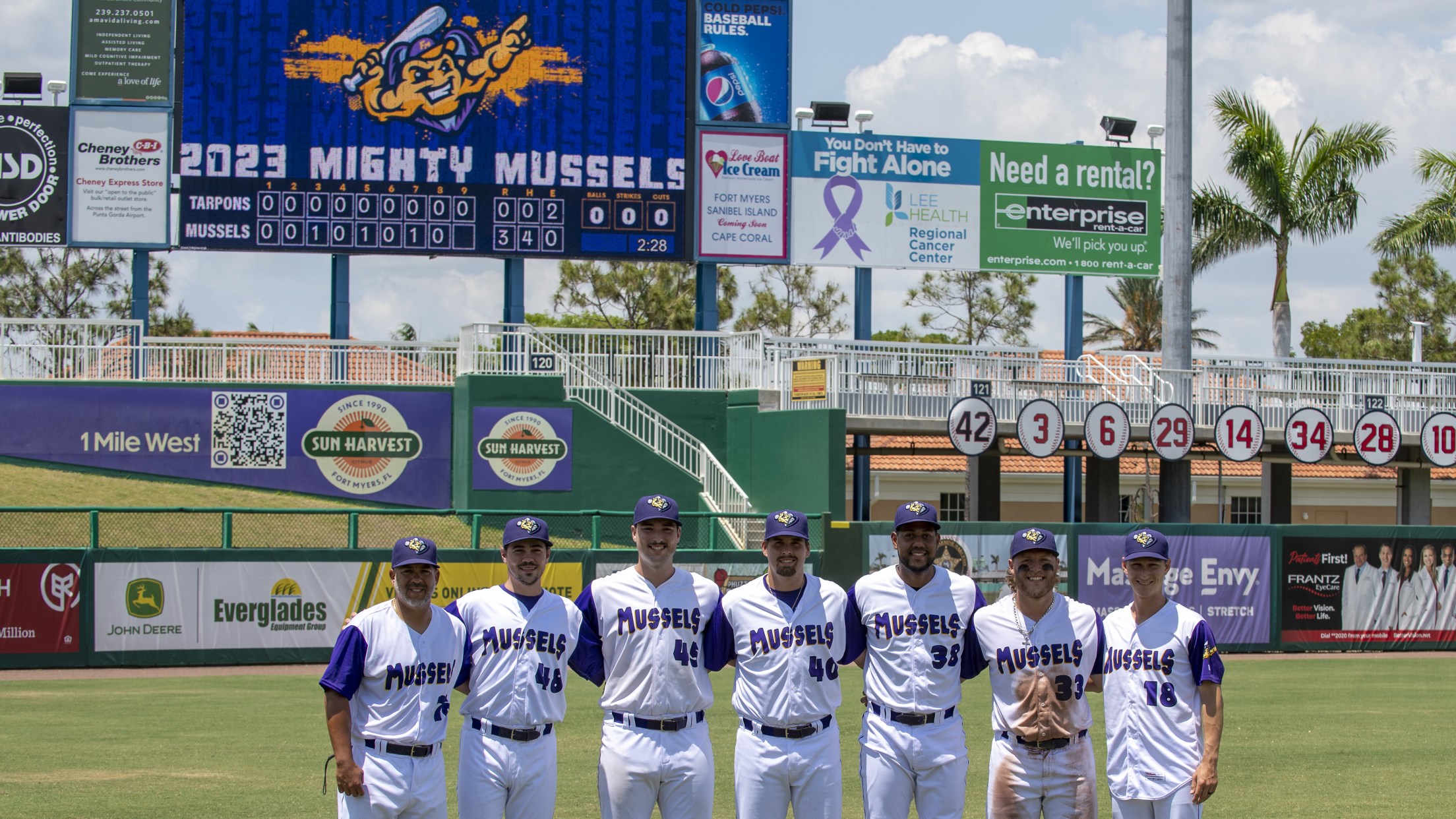 (Left to right) Richard Salazar, Ben Ethridge, Cory Lewis, A.J. Labas, Gabriel Yanez, Andrew Cossetti and Jared Gaynor pose in front of the scoreboard after the team's Mother's Day no-hitter over Tampa.
FORT MYERS, Fla. (May 14, 2023) – Cory Lewis, A.J. Labas, Gabriel Yanez, and Ben Ethridge combined for the Mighty Mussels' fourth no-hitter in the last three seasons Sunday, shutting out the Tampa Tarpons to seal a six-game sweep with a 3-0 win at Hammond Stadium. The Mussels' (19-14) pitching
FORT MYERS, Fla. (May 14, 2023) – Cory Lewis, A.J. Labas, Gabriel Yanez, and Ben Ethridge combined for the Mighty Mussels' fourth no-hitter in the last three seasons Sunday, shutting out the Tampa Tarpons to seal a six-game sweep with a 3-0 win at Hammond Stadium.
The Mussels' (19-14) pitching staff finished just one batter over the minimum, coming within one block of a perfect game. The lone Tampa (11-22) baserunner came in the eighth inning when Daury Arias reached first on a wild pitch after striking out swinging.
"We went three sliders in a row," Mussels' catcher Andrew Cossetti said about the wild pitch. "I didn't have the best setup to get in front of it. I think I got caught on my knee and unfortunately, it skipped away. That's something I'll definitely be thinking about, but I'm still excited we were able to pull away with the no-hitter."
Despite the wild pitch, Fort Myers pitching coach Richard Salazar credited Cossetti with navigating the four pitchers through Sunday's history-making effort.
"I think it was the group of five," Salazar said. "Cossetti was a big part to stay with the plan and master it. We stayed with the plan and the guys just executed and dominated. At the end of the day, we had a good result."
The starter Lewisled the way, tossing 5.2 perfect innings with seven strikeouts. The Twins' ninth round pick in 2022 needed just 73 pitches to retire all 17 batters he faced.
"Everything was working," Cossetti said about Lewis. "The biggest factor was him being able to throw all of his pitches in any count. He really just stuck to the game plan."
Lewis used 12 knuckleballs as part of his five-pitch mix, getting three whiffs and four strikeouts on his signature pitch. It averaged 83.4 mph and topped out at 84.7.
"Anytime you've got an outlier pitch like that, you've got to throw it," Cossetti said. "I want him to be able to use it, and he used it beautifully today. We got a lot of swings and misses and a lot of weak contact. Even just using it to keep guys off balance, it works really well."
VIDEO HIGHLIGHTS: Our guys were dealing this afternoon! Here were some of the top moments in today's no-hitter!

Audio: @JohnVittas3 @Max_Tanzer
Video: @TwinsPlayerDev pic.twitter.com/f3RfKo4RLR

— Fort Myers Mighty Mussels (@MightyMussels) May 15, 2023
After Lewis completed the fifth inning, Labas began warming and Fort Myers manager Brian Meyer approached Lewis.
"He asked how I felt, and I told him I felt pretty good and that I was ready for the next inning," Lewis said.
He proceeded to retire the next two batters before Meyer turned to Labas.
"It definitely feels pretty good," said Lewis. "It means that all the work we have been putting in through spring training and the first three or four weeks of the season has been adding up and showing in the results."
Labas needed just 12 pitches to get the next four outs before Yanez entered for the eighth. After Arias reached on the wild pitch, Yanez induced two groundouts and a fly out to keep the no-hit bid alive.
"We fell behind 2-0 a decent amount, but being able to throw a slider or changeup in that count kept us ahead of the hitters," Cossetti said. "Both those guys were able to stay consistently in the zone and keep us in the ballgame."
Ethridge entered for the ninth and quickly ended any drama, getting three fly outs on just six pitches to seal the no-hitter.
"For one, I'm excited watching my buddies go out there and just fill up the strike zone and getting out after out," Ethridge said. "It's pretty amazing to watch that happen. As the innings get later you know you have a chance to go in, you sit there and anticipate it. I was walking to the dugout, I was talking to Cory about it, and then I was told to go get stretched and I was like 'Alright, here we go.'"
The final out came on Jared Serna's flyout to center field, as Fort Myers' center fielder Maddux Houghton glided over to the gap in right center to snatch the final out.
The dominant performance also secured the six-game sweep for the Mussels, and they finished the series with two shutouts while limiting Tampa to just one earned run over their final 41 innings pitched.
Offensively, the Mussels got things started in the bottom of the third when Yohander Martinez and Dillon Tatum drew consecutive walks to begin the frame. The next hitter, Jorel Ortega lined a base hit to left to score Martinez and give the Mussels a 1-0 lead.
In the bottom of the fifth, both Martinez and Tatum began the inning with two more walks. After back-to-back strikeouts, Cossetti singled on a grounder deep in the six-hole. After Tampa's shortstop Brenny Escanio slipped in his throwing motion, his throw to first was offline which allowed Martinez to score Fort Myers' second run of the day.
Still leading by two in the bottom of the seventh, Dalton Shuffield reached on a dropped third strike and Cossetti walked. One batter later, Shuffield took off to steal third. Tarpons catcher Agustin Ramirez airmailed the throw into left field which allowed Shuffield to score the Mussels' third run.
After the Miracle went 10 years without a no-hitter, the Mighty Mussels have now tossed four in two and one-quarter seasons.
"The guys are doing a great job in the past," said Salazar. "We have a great group of guys that are achieving their different goals and are mastering attacking the zone and going right at hitters. The goal is to go four pitches or less and that's what they've been doing well."
The Mussels will enjoy an off-day Monday before beginning a six-game series against the Lakeland Flying Tigers at Joker Marchant Stadium at 6:30 p.m. on Tuesday.