TinCaps Best of the Decade: OPS Leaders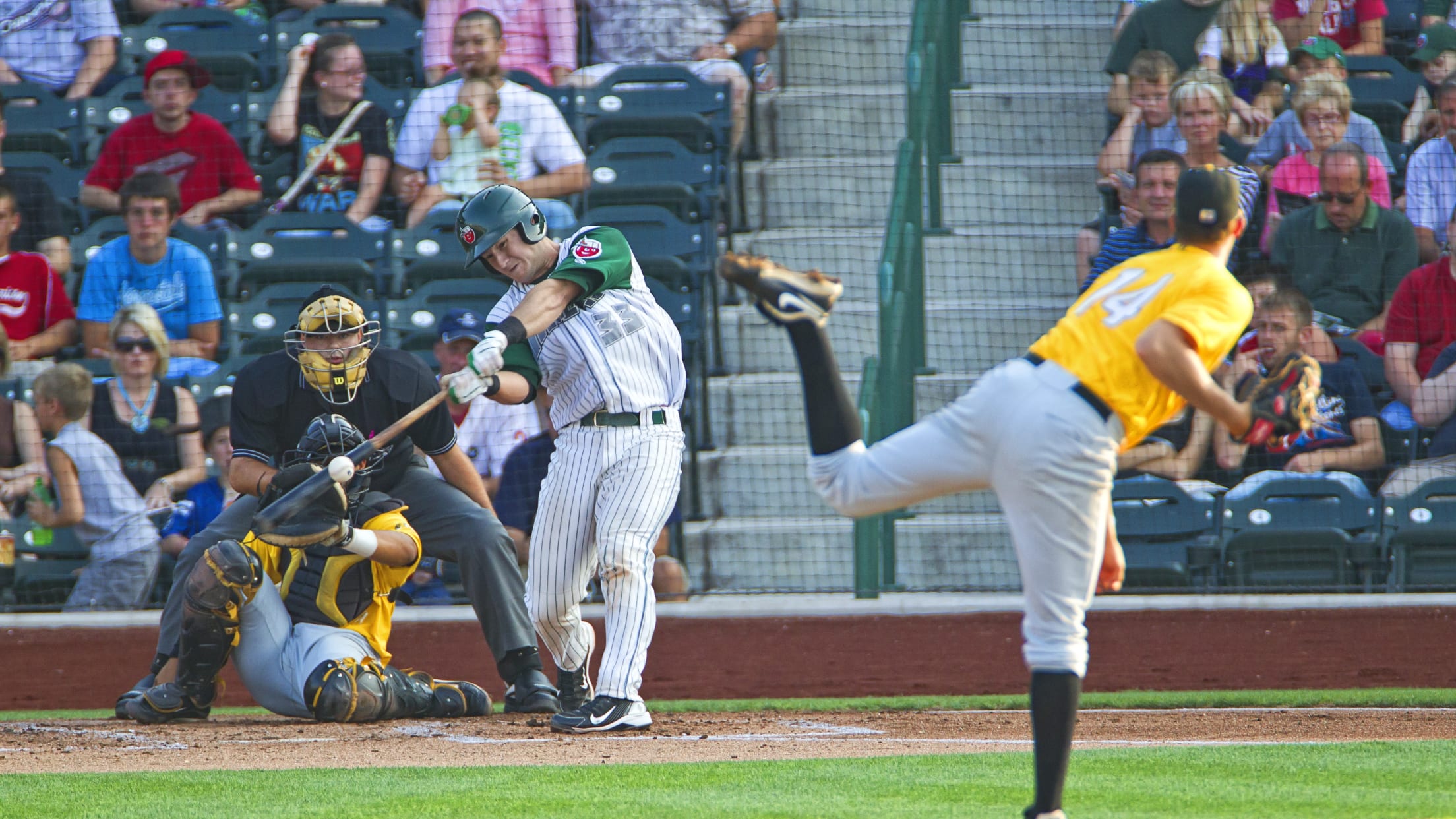 Jason Hagerty (Jeff Nycz)
FanGraphs.com is an incredible resource for baseball fans. In case you aren't familiar, not only does FanGraphs track just about every stat imaginable, the site also produces content in the forms of articles and podcasts. While FanGraphs leans into analytics, it's not just about numbers, but storytelling, too. And even
FanGraphs.com is an incredible resource for baseball fans. In case you aren't familiar, not only does FanGraphs track just about every stat imaginable, the site also produces content in the forms of articles and podcasts. While FanGraphs leans into analytics, it's not just about numbers, but storytelling, too. And even when the stories are stats-focused, they offer lessons in learning more about how the game is evaluated by MLB front offices these days.
In my role covering the TinCaps, FanGraphs has become essential to check on a daily basis. Though Minor League Baseball employees are given access to a portal of stats through Major League Baseball, there is a limit to what's offered there. For example, stats are provided in traditional categories like home runs for batters and strikeouts for pitchers, but only as totals. In MiLB especially, with players often coming and going, totals obviously don't suffice to offer a full picture. Let's say a player, such as Luis Patiño in 2018, arrives in mid-May. It's an uphill climb for an 18-year-old to rack up the innings necessary to stand out as a league-leader in Ks when he's more than a month behind the competition. That's why it's helpful that FanGraphs allows you to search by filters, like plate appearances or innings pitched. Better yet, they offer "advanced" stats -- think as simply as K/9 instead of just total Ks. (In case you're wondering, Patiño ranked 27th in total strikeouts with 97 in 83.1 IP. Meanwhile, his 10.58 K/9 ranked 3rd among pitchers with at least 80 IP -- behind only a 22-year-old and 23-year-old; no one else under 20 years old appeared in the top 30.) They also delve into sabermetric stats like FIP for pitchers and wRC+ for batters, but we'll save that for later.
Another recent TinCaps example that shows the value of advanced stats offered publicly by only FanGraphs is Blake Hunt's 2019 season. The Padres catching prospect was slashing .192/.301/.312 (.613 OPS) through his first 35 games. At that point, despite making routinely hard contact, Blake's BABIP (Batting Average On Balls In Play) was .214 — the third lowest in the Midwest League. But from Memorial Day Weekend on, things ticked up and over his final 54 games, he slashed .293/.349/.423 (.772 OPS). Hunt finished the season with a BABIP of .302, which is around "average." If you didn't know what his BABIP was, you may have been inclined to write his season off. However, by knowing his BABIP was about 86 points below average in late May, you figured he was primed for some "luck" to start going his way.
These are fairly basic observations made by a broadcaster who's no mathematician. It just goes to show how FanGraphs can help make anyone sound like they know what they're talking about (which is indeed helpful when you're charged with trying to know what you're talking about on air for three hours a day during the season).
We're still only scratching the surface of what makes FanGraphs amazing, but coverage of prospects is on the list, too. While the primary prospects-coverage sites usually provide reports on 30 players at a time, FanGraphs gives perspective on 50-plus San Diego prospects.
Maybe the greatest testament to the quality of FanGraphs is that multiple staff members have been hired by MLB teams in recent years. Among them is Dave Cameron, who went from serving as a senior writer and managing editor for the site to a front office analyst for the Padres.
Unfortunately, like so many others, FanGraphs is hurting as a result of the current pandemic. That's why we figured this would be a good time to point out its wonderfulness, while simultaneously utilizing its wonderfulness to take a numbers-based review of the last decade of TinCaps baseball. Yes, yet another perk of FanGraphs is that you can sort through a range of years, going back to 2006.
Let's start on offense, with OPS, or On-Base Plus Slugging. (Consider this series an entry-level endeavor into sabermetrics.)
TinCaps Single-Season OPS Leaders (2010-19)
| Ranking | Name | Year | Age | OPS |
| --- | --- | --- | --- | --- |
| 1. | Jason Hagerty | 2010 | 22 | .917 |
| 2. | Fernando Tatis Jr.* | 2017 | 18 | .910 |
| 3. | Rymer Liriano* | 2011 | 20 | .882 |
| 4. | Alberth Martinez | 2013 | 22 | .837 |
| 5. | Yeison Asencio | 2012 | 22 | .827 |
| 6. | Nate Freiman* | 2010 | 23 | .826 |
| 7. | Trae Santos | 2015 | 22 | .814 |
| 8. | Ronnie Richardson | 2014 | 24 | .800 |
| 9. | Austin Allen* | 2016 | 22 | .790 |
| 10. | Jake Bauers* | 2014 | 18 | .789 |
*Reached Major League Baseball
Click here for the full rankings.
Notes:
58 players had the requisite number of plate appearances in their season to "qualify" for this list
If we lowered the minimum number of plate appearances to 100, the highest is Trea Turner, who as a 21-year-old in 2014 posted a .976 OPS in 216 PA
Qualified players not in this top 10 who've reached MLB: Jace Peterson, Franmil Reyes (twice), and Mallex Smith, Rico Noel, Josh VanMeter, Dustin Peterson, and Franchy Cordero
If we expanded this search to the entire Midwest League, Hagerty ranks 5th, Tatis 8th, and No. 1 is on Josh Whitaker, who had a .957 OPS with Burlington (A's) in 2011; he never made the big leagues
Ironically, around the time we were writing this piece, the voice of the Lansing Lugnuts, Jesse Goldberg-Strassler, tweeted about a Hagerty home run in 2010 being the most impressive he's ever seen in-person.
A Fort Wayne catcher named Jason Hagerty hit one to the right of our RCF scoreboard, out of the park, and off into the distance. I never saw a downward trajectory. It zoomed up and out. Mind you, right-center is 412 ft. to the wall.

I've still never seen anything like it.

— Jesse Goldberg-Strassler (@jgoldstrass) April 18, 2020
Next thing you know, former 'Caps broadcaster Dan Watson looped Hagerty himself into the conversation.
That is something I'll never forget. I just wish it was on video. I really enjoyed being in Ft. Wayne and the Midwest League!

— Jason Hagerty (@JtHagerty11) April 18, 2020
In a subsequent message, Hagerty added:
Being born and raised in the Midwest, I felt at home in Fort Wayne. I was spoiled to be able to play at Parkview Field. It was always packed with very loyal and knowledgeable fans. The TinCaps organization is full of classy individuals that made my season so enjoyable. I grew as a player with a huge help from our coaching staff. Our hitting coach, Tom Tornincasa, helped me learn the value of plate discipline and so much more. It allowed my career to take off and to have the season that I did. That summer is something I will never forget, and I learned valuable lessons that I pass on to younger players as I start my coaching career at the University of Missouri.
Congrats to Jason not only for that unbelievable season in 2010, but on his new role as an assistant in the SEC. Primarily a catcher, and a switch-hitter at that, he played in the Padres' organization through 2016, topping out in Triple-A.