Homers Topple Rome in 'Dads Victory
Crawdads Take Opener 7-3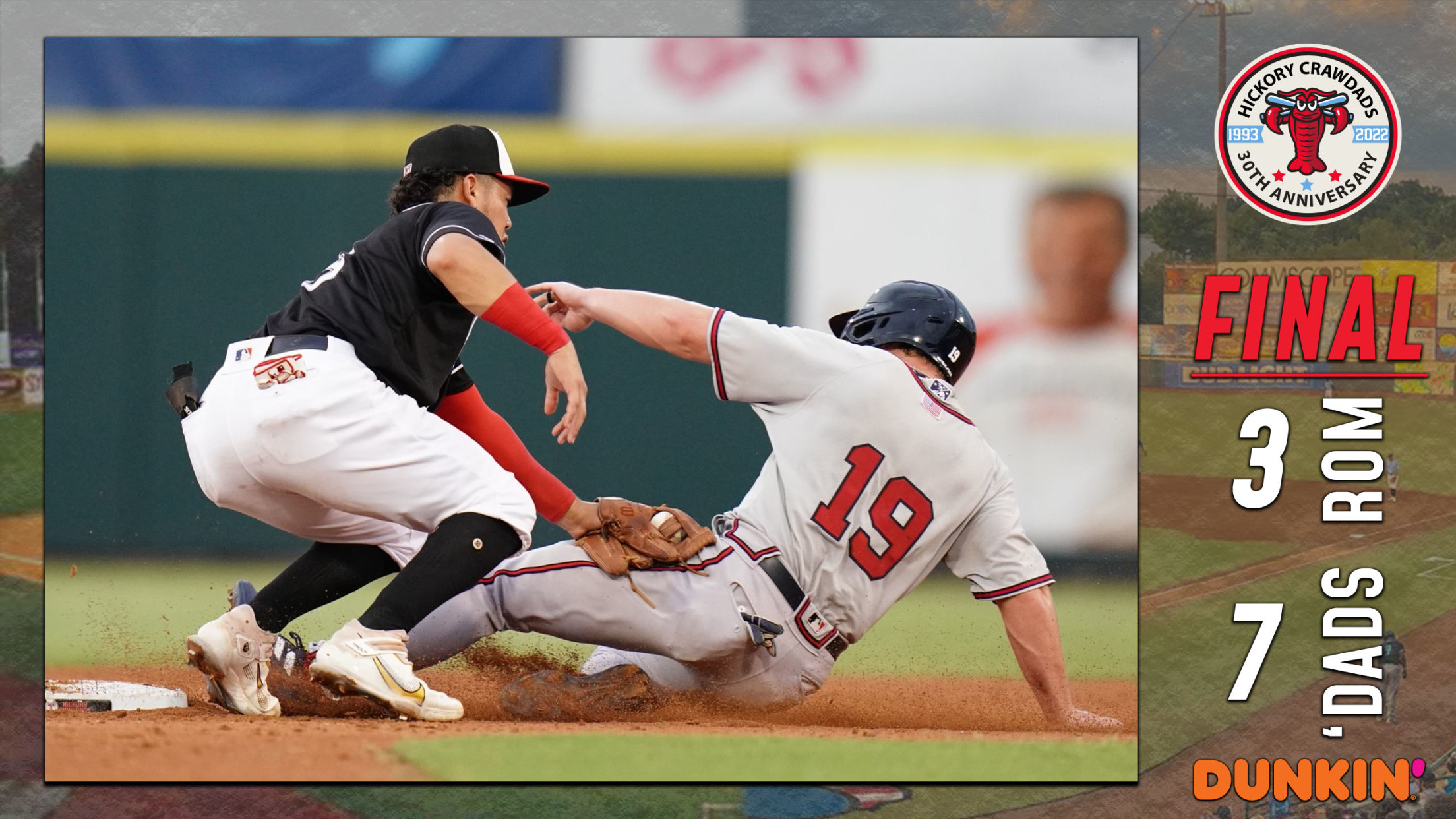 Hickory, NC- The Crawdads rode hot bats to a 7-3 victory in the series opener against the Rome Braves. The Braves got early momentum as the first batter of the game singled and came around to score as the next batter homered. Crawdads starting pitcher Nick Krauth settled down to
*Hickory, NC- *The Crawdads rode hot bats to a 7-3 victory in the series opener against the Rome Braves.
The Braves got early momentum as the first batter of the game singled and came around to score as the next batter homered. Crawdads starting pitcher Nick Krauth settled down to retire the next three hitters and get out of the inning.
The 'Dads wasted no time erasing the deficit, scoring two of their own in the home half of the first. Thomas Saggese hit his 11th homer of the season for the first run. Three pitches later, Evan Carter drilled a homer to left to tie the score. The homer was also Carter's 11th of the year, tied for second on the team.
The Crawdads' bats kept rolling in the second, scoring two more. Cristian Inoa led off the inning with a double. Chris Seise gave the 'Dads the lead with a base hit to center that brought Inoa in from second. Frainyer Chavez grounded out but was able to move Seise to third on the play. A wild pitch allowed Seise to score to give the 'Dads a 4-2 lead.
Rome got a run in the fourth inning but still trailed by one.
The Crawdads put up three more in the sixth inning to take a 7-3 lead. Inoa homered to left to start off the inning. Seise collected a base hit and stole his second base of the year to get into scoring position. Keyber Rodriguez doubled to right, putting runners on second and third. Aaron Zavala hit into a fielder's choice and a throwing error on the play let both runners score as the ball rolled into centerfield.
The series will continue tomorrow evening with a 7pm game. It will be a Kids Win Wednesday presented by Arby's as well as Wine Wednesday by Catawba Farms and Carolina Vines. Tomorrow evening will also be the Night of Horrible Promotions so fans should prepare for a full slate of mediocre (at best) promotions throughout the game.