Hops CFO Laura McMurray Named NWL Woman Executive of the Year
McMurray Eligible to Win National Woman Executive of the Year Honors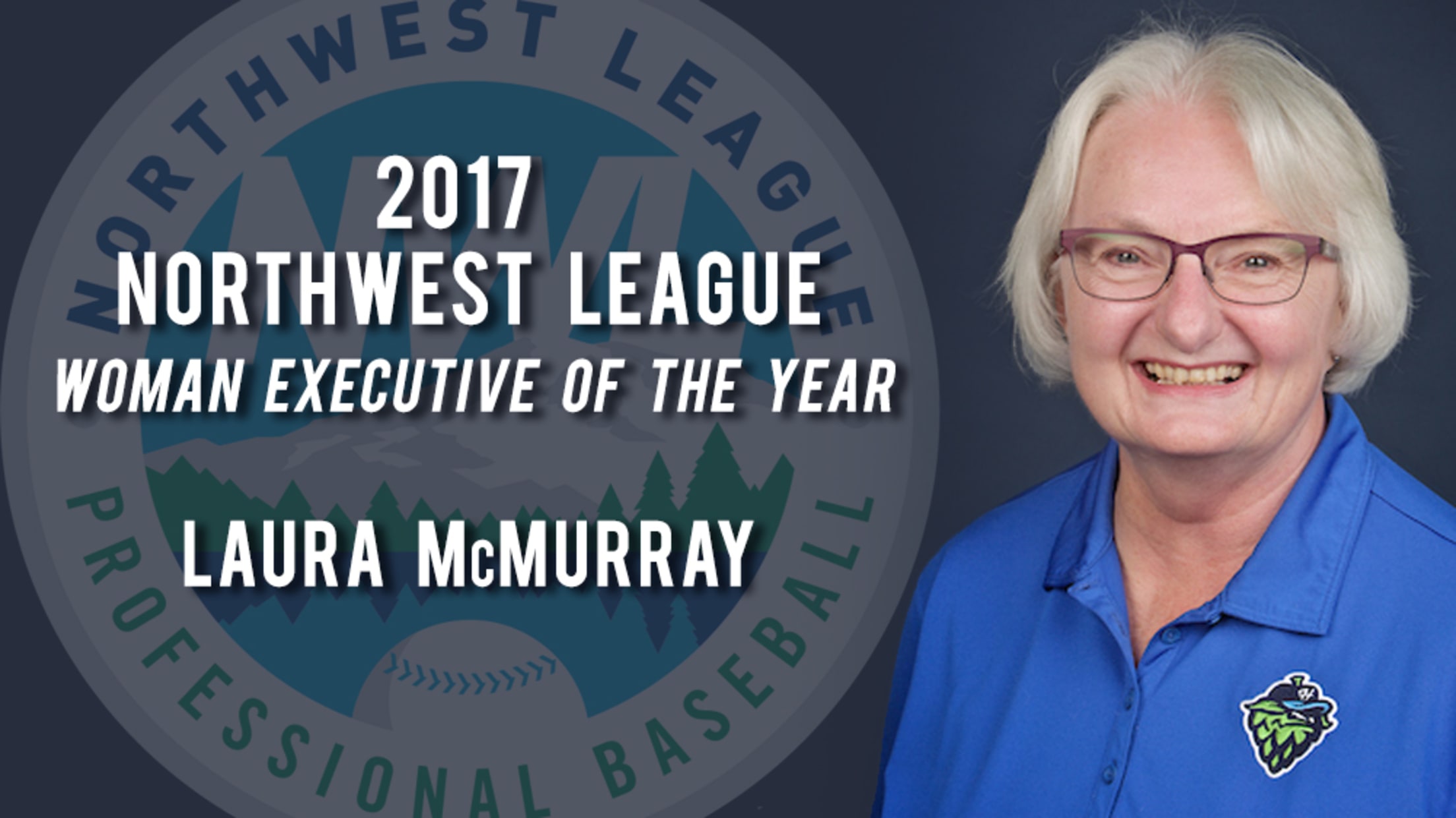 SPOKANE, WA (October 11, 2017) - At today's Northwest League annual meeting, Hillsboro Hops (@HillsboroHops) Chief Financial Officer Laura McMurray (@LauraMcMurray8) was named the Northwest League Woman Executive of the Year. As NWL Executive of the year, McMurray is also nominated for the national 2017 Rawlings Woman Executive of the
SPOKANE, WA (October 11, 2017) - At today's Northwest League annual meeting, Hillsboro Hops (@HillsboroHops) Chief Financial Officer Laura McMurray (@LauraMcMurray8) was named the Northwest League Woman Executive of the Year. As NWL Executive of the year, McMurray is also nominated for the national 2017 Rawlings Woman Executive of the Year Award to be announced at the Baseball Winter Meetings in December in Orlando, Florida.
Laura and her husband Mike joined the ownership group of the franchise in 1999. Over her nearly 20 years as majority owner and CFO of the team, Laura has overseen numerous changes in franchise executives and even a territorial relocation from Yakima, Washington, to Hillsboro, Oregon.
Laura handles all daily accounting, serves as the team's purchasing and payables agent, manages human resources, creates financial statements and prepares tax materials. She is also actively involved in franchise planning and budgeting.
Her efforts to promote franchise growth while maintaining fiscal responsibility has led to a front office staff with four people in 2012 to 16 this fall. She and Mike are in the Hops office every day and have always resided within the community in which they own teams. Laura has yet to miss a single Hops home game.
"We are all so proud of Laura and thankful to our NWL peers for recognizing her. She works tirelessly behind the scenes keeping us fiscally responsible and positioning us to grow as an organization. There is no one more deserving of this ultimate league award," said Hops President K.L. Wombacher.
In addition to her contributions to the Hops, Laura has become an active member within Hillsboro's philanthropic community. She serves on the board of the Washington County Family Justice Center to assist victims of domestic violence, is a member of the Hillsboro Schools Foundation grant committee, and is a constant volunteer with Centro Cultural, a support organization for Latino families in Hillsboro.
Laura and Mike are the proud parents of one daughter, Katey, who resides in Phoenix.