New TV Partnership with ROOT SPORTS Announced
Five Hops Games to Be Shown in HD Throughout the Pacific Northwest During 2019 Season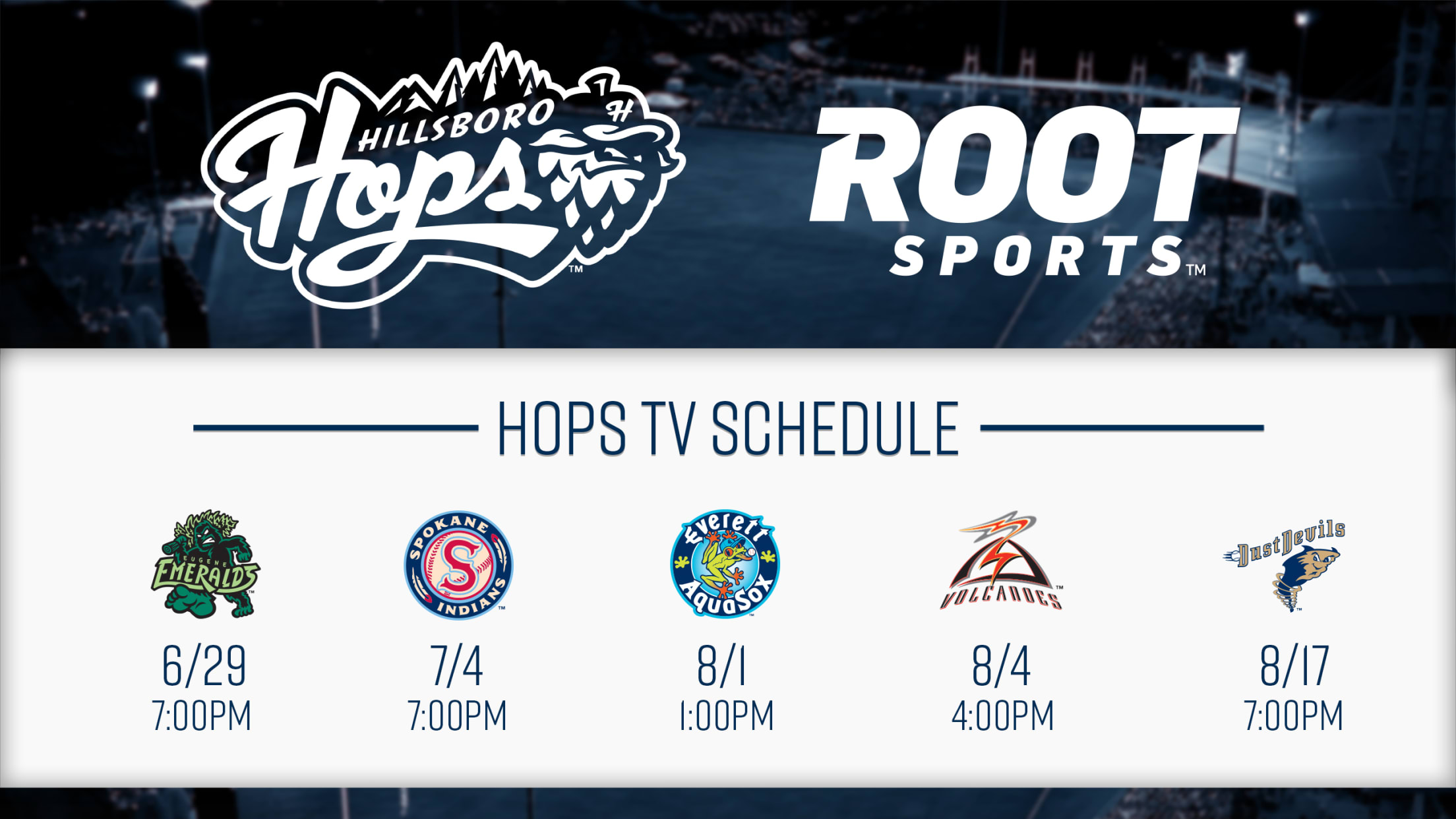 HILLSBORO, OR (June 11, 2019) -The Hillsboro Hops (@HillsboroHops) announced a new TV partnership with ROOT SPORTS (@ROOTSPORTS_NW) in which five Hops games will be shown on the network during the 2019 season. Rich Burk, the voice of the Hillsboro Hops, will call the action for Hops games on ROOT
HILLSBORO, OR (June 11, 2019) -The Hillsboro Hops (@HillsboroHops) announced a new TV partnership with ROOT SPORTS (@ROOTSPORTS_NW) in which five Hops games will be shown on the network during the 2019 season. Rich Burk, the voice of the Hillsboro Hops, will call the action for Hops games on ROOT SPORTS.
All games will be shown in HD and will be broadcast to ROOT SPORTS' five state footprint which includes Oregon, Washington, Idaho, Montana and Alaska. ROOT SPORTS can be seen in Portland on channels 734 on Comcast, 687 on DirecTV, 426 on Dish Network and 576 on Frontier Fios.
Hillsboro Hops TV schedule on ROOT SPORTS for 2019 Season:

Saturday, June 29th - Eugene Emeralds @ Hillsboro Hops - 7:00pm PT
Thursday, July 4th - Spokane Indians @ Hillsboro Hops - 7:00pm PT
Thursday, August 1st - Everett Aquasox @ Hillsboro Hops - 1:00pm PT
Sunday, August 4th - Salem Keizer Volcanoes @ Hillsboro Hops - 4:00pm PT
Sunday, August 17th - Tri City Dust Devils @ Hillsboro Hops - 7:00pm PT
"While we've had a TV deal in place for a few years, we set out to expand our reach this year," said Hillsboro Hops President K.L. Wombacher. "ROOT SPORTS welcomed us with open arms from the first conversation and we're excited to develop a mutually beneficial partnership. Being on the same station as the only MLB team in the entire Northwest will allow us to expand our brand significantly."
"We're thrilled to have the Hillsboro Hops join the ROOT SPORTS lineup this season. It's always exciting to start a new partnership with a first-class organization," said Mark Jorgensen, General Manager at ROOT SPORTS.