Tim Kane: Hook for a Day
Topps' Make Your Pro Debut Winner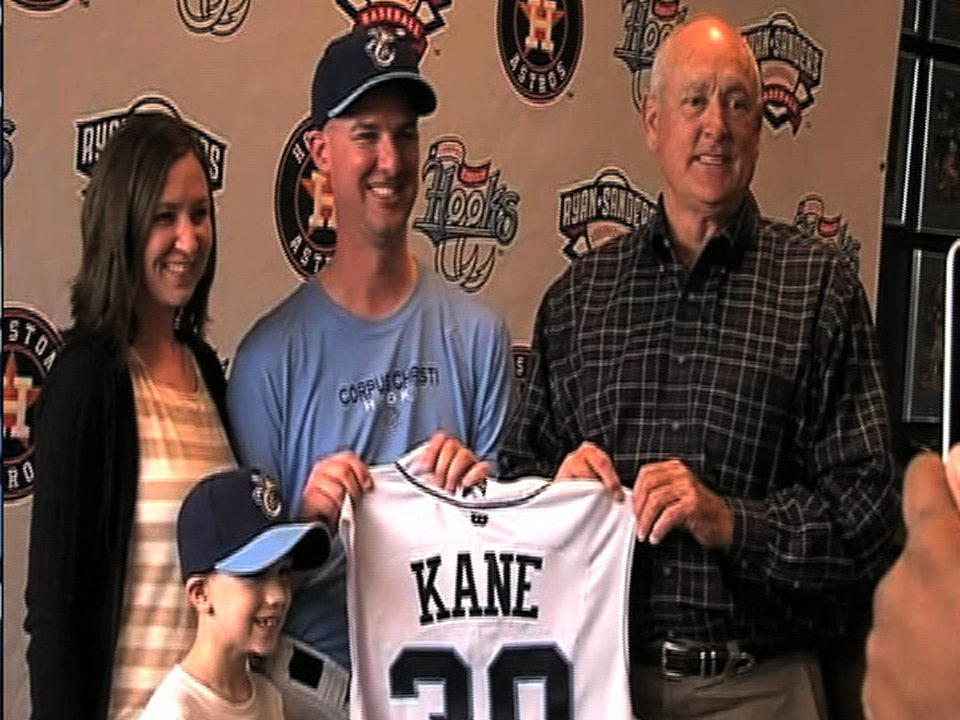 By Corpus Christi Hooks | April 15, 2013 9:46 AM ET
CORPUS CHRISTI - Tim Kane of Millersville, Md., is in the Hooks pipeline.
Kane joins team managing partner Nolan Ryan for a press conference Thursday at Whataburger Field, where he'll sign a one-day contract with the ball club. It's part of the Topps Company's Make Your Pro Debut contest.
In a winning essay submitted to Topps last fall, Kane emphasized the importance of baseball in his bond with son Peyton, 8.
"Baseball is the bond we've shared since the day he was born," Kane wrote. "I have kept a scrapbook of all the baseball game tickets and box scores… Recently we began to collect baseball cards together. Since we attend minor league games regularly, I thought Topps Pro Debut would be the perfect set to collect together. Words can't describe the joy on my son's face when he opens a pack of cards and gets a player we have seen play…"
The Kanes' passion for our pastime has paid off in a number of ways. Tim, wife Danielle and Peyton fly into town Wednesday. That evening they dine with Hooks founder/CEO Reid Ryan and team president Ken Schrom.
Thursday brings a tour of Whataburger Field and the press conference. Tim goes from there to a team meeting, batting practice, hanging out with the Hooks in the clubhouse, and watching the Corpus Christi-Frisco game from the dugout, pressbox and owner's suite.
Tim will also present the Hooks' lineup card at home plate. Peyton tosses a ceremonial first pitch.
In the wake of his family's visit to the Coastal Bend, Topps memorializes Tim's journey with an official "Pro Debut" baseball card, unveiled in the 2013 minor league release of "Topps Pro Debut."
"From the time we heard about this project with Topps and major and minor league baseball, we wanted to be involved," Schrom explained. "Our sport has always resonated with young families and we're delighted to provide a memorable experience for the Kanes seasoned with South Texas hospitality."
This story was not subject to the approval of the National Association of Professional Baseball Leagues or its clubs.
View More