The Ballpark At Jackson Honored As Professional Field Of The Year
Generals grounds crew recognized after impressive first season under Eric Taylor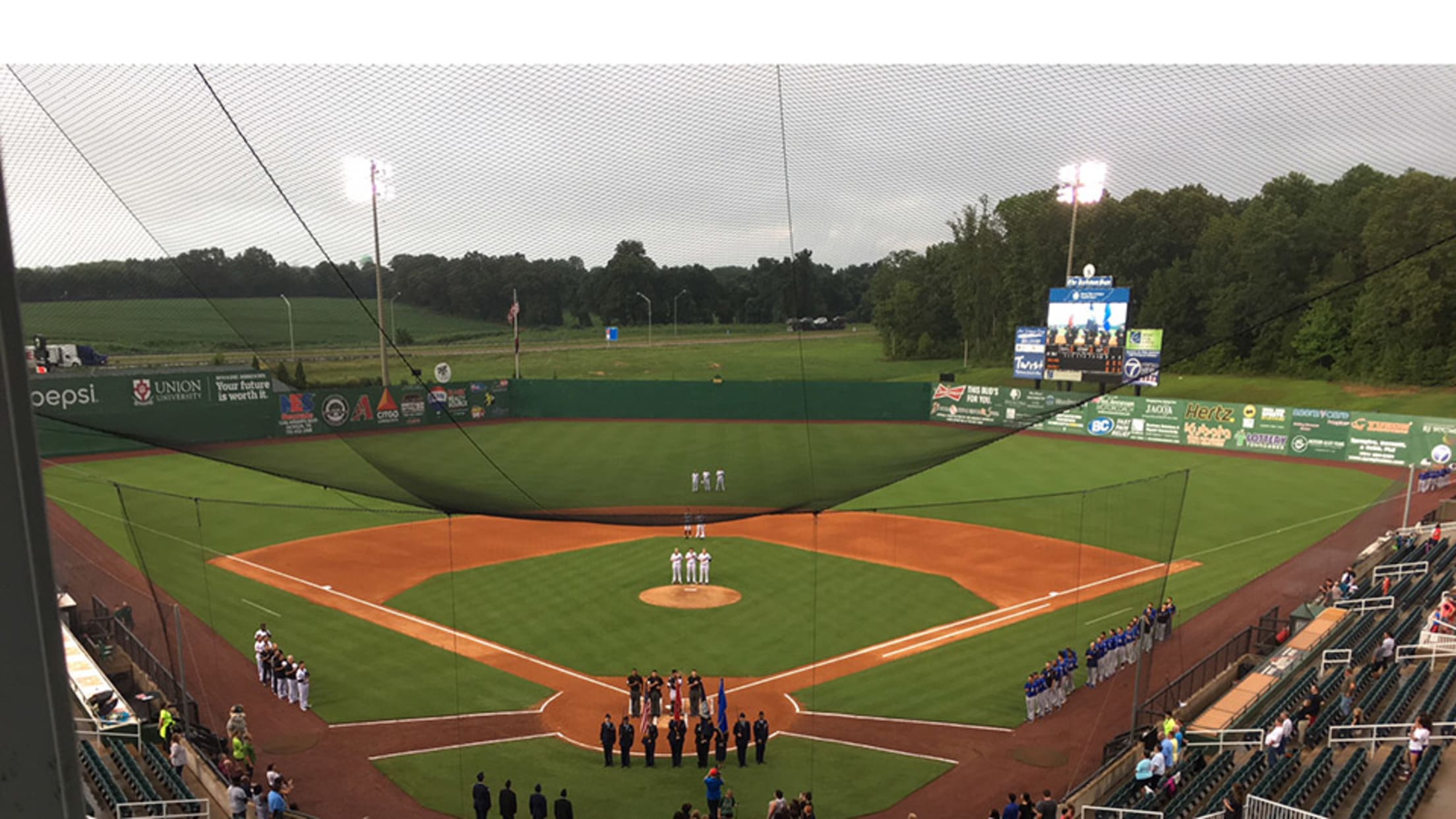 The Ballpark at Jackson, overseen by first-year sport turf manager Eric Taylor in 2017, was recognized as the Tennessee Turfgrass Association's Professional Sports Field of the Year. (Tyler Springs)
Jackson, Tenn. - The Tennessee Turfgrass Association recognized the Jackson Generals this week, saluting the work of the Generals grounds crew by naming The Ballpark at Jackson as the 2017 Professional Sports Field of the Year. The Ballpark's playing surface, overseen by first-year sports turf manager Eric Taylor, hosted 69
Jackson, Tenn. - The Tennessee Turfgrass Association recognized the Jackson Generals this week, saluting the work of the Generals grounds crew by naming The Ballpark at Jackson as the 2017 Professional Sports Field of the Year. The Ballpark's playing surface, overseen by first-year sports turf manager Eric Taylor, hosted 69 home baseball games during the 2017 Minor League Baseball season, as well as numerous off-season and non-baseball events. Ten other professional fields were nominated.
"This is a fantastic honor, and it speaks definitively to the hard work of our grounds crew," Jackson general manager Nick Hall said. "Eric Taylor deserves one hundred percent of the credit for keeping our playing surface in outstanding condition throughout a grueling Tennessee summer. He and his crew have made it a versatile surface that can withstand a range of different events. We could not be prouder of the way it looks and plays."
In spite of several rain-delayed contests, The Ballpark At Jackson went four straight months without having to host a Generals double-header. Only one of the Generals' 70 scheduled home contests did not get played. The Ballpark also served as the site for Jackson's 25th annual SportsPlus Football Jamboree, the 2017 Billy Schrivner High School All-Star Baseball Game, several amateur baseball exhibitions, youth baseball camps, picnics, boy scout camp-outs, and daily practice throughout the Generals' 140-game season.
"To be honored in this way is overwhelmingly cool for our crew," Generals sport turf manager Eric Taylor said. "It takes a team effort to be the best, and I cannot thank my guys enough for their day-in, day-out commitment to details. They poured their energy into this all summer, and for The Ballpark at Jackson to be named the best speaks incredible volumes on their behalf."
Taylor, a native of Hokes Bluff, Ala., came to Jackson in 2017 from the Birmingham Barons. His 19-year career in turf management includes a stint with the Atlanta Braves, as well as the Bethpage "Black" Course in Long Island, New York, which hosted the 2002 and 2009 U.S. Open golf championships. The Generals' 2017 grounds crew featured Braxton Baugus, Hayden Baugus, Jonathan Newcom, Brian McDowell, Philip Orange, Colton Jones, Clay Thomas, and Zach Robinson.
"I also want to appreciate the Generals' front office and staffers who made themselves available to help when I needed it," Taylor said. "This field is essentially our home for many months of the year, and we care about it immensely. I am excited to build on our success in 2017 and make The Ballpark at Jackson even better in 2018."
The Generals will open their 2018 campaign at their award-winning home field on April 5 at 6:05 pm CT against Jacksonville. For further information on tickets or merchandise, contact the team by calling (731) 988.5299 or go online to jacksongeneralsbaseball.com!