Frias's Walk-Off Single Leads Captains to Mother's Day Victory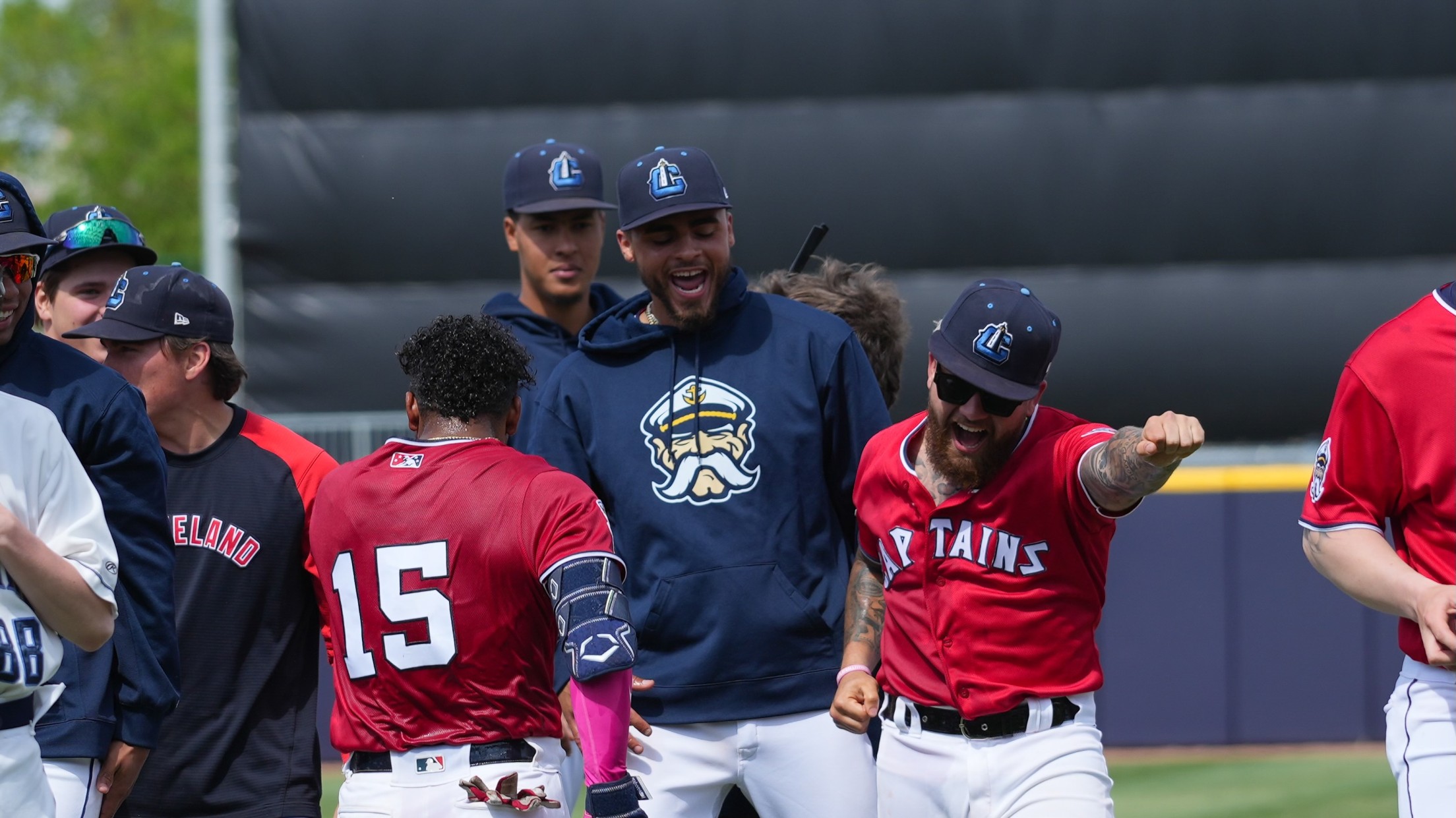 EASTLAKE, Ohio –The Lake County Captains (17-15) snapped a two-game losing streak by defeating the Great Lakes Loons (21-12) by a final score of 3-2 on Sunday afternoon at Classic Auto Group Park in Eastlake. This victory marks Lake County's 11th come-from-behind victory of the season. In the bottom of
EASTLAKE, Ohio –The Lake County Captains (17-15) snapped a two-game losing streak by defeating the Great Lakes Loons (21-12) by a final score of 3-2 on Sunday afternoon at Classic Auto Group Park in Eastlake. This victory marks Lake County's 11th come-from-behind victory of the season.
In the bottom of the ninth inning, with the bases loaded and no outs, Captains third baseman Dayan Frias broke a 2-2 tie with a walk-off single to deep right field. This was his first career High-A walk-off hit, and Lake County's third walk-off victory of the season.
The Captains began the frame with a leadoff walk from designated hitter Milan Tolentino. Then, right fielder Joe Lampe would hit a single and steal second base, giving Lake County runners on second and third with no outs in the inning.
In the ensuing plate appearance, first baseman Will Bartlett would draw a walk to load the bases, extending his on-base streak to 12 games. Shortstop Yordys Valdes would then be hit-by-pitch, bringing home a run to tie the game. Frias's single would immediately follow, as Great Lakes failed to record an out in the home half of the ninth inning.
After failing to score first in each of their previous 10 games, the Captains would begin the scoring in the bottom of the second inning, when catcher Joe Donovan would hit into a fielder's choice double play to end the frame.
With runners on second and third, Donovan hit a hard ground ball to Loons shortstop Alex Freeland, who would eventually tag Dayan Frias out in a rundown between second and third. Freeland would then throw to third baseman Luis Diaz, who would tag Donovan out at the second base bag.
Following scoreless third and fourth innings from both sides, the Loons would tie the game in the top of the fifth, when catcher Dalton Rushing would hit a sacrifice fly to right field off of Lake County starting pitcher Ryan Webb.
The left-hander would not allow a hit in his first 4.1 innings pitched. He would pitch 5 innings on the day, allowing 3 hits and one earned run. Webb would also surrender a season-high 5 walks for his second consecutive start, while throwing 4 strikeouts in 92 pitches.
Great Lakes would then add another run in the sixth, as three straight walks from would load the bases. In the ensuing plate appearance, Captains reliever Sergio Morillo would commit a balk, which allowed the go-ahead run to score. The right-hander would pitch one hitless, scoreless inning of relief, allowing one walk and throwing 2 strikeouts.
Soon after, Lake County reliever Lenny Torres Jr. would pitch 2 additional scoreless innings of relief, allowing 2 hits and 2 walks. He would leave the bases loaded for the Loons in the eighth. The Captains would also not put any runs on the board in both the seventh and eighth innings.
In the top of the ninth, Lake County reliever Tyler Thornton (3-0) would strike out the side in order. The Loons would not hit a home run for the first time in this series, which broke a 13-game streak of Lake County pitching allowing at least one home run.
Following a travel off-day, the Captains will begin a 13-game road trip to Michigan on Tuesday night. They will open a seven-game series against Lansing, which will be followed by a six-game series against West Michigan. First pitch for Tuesday night's game against the Lugnuts is scheduled for 6:00 PM. Coverage of the game can be found on both the Bally Live app and MiLB.tv, as well as through @LCCaptains on Twitter and Instagram.