Odell Beckham Jr. announced as latest addition to Landry softball game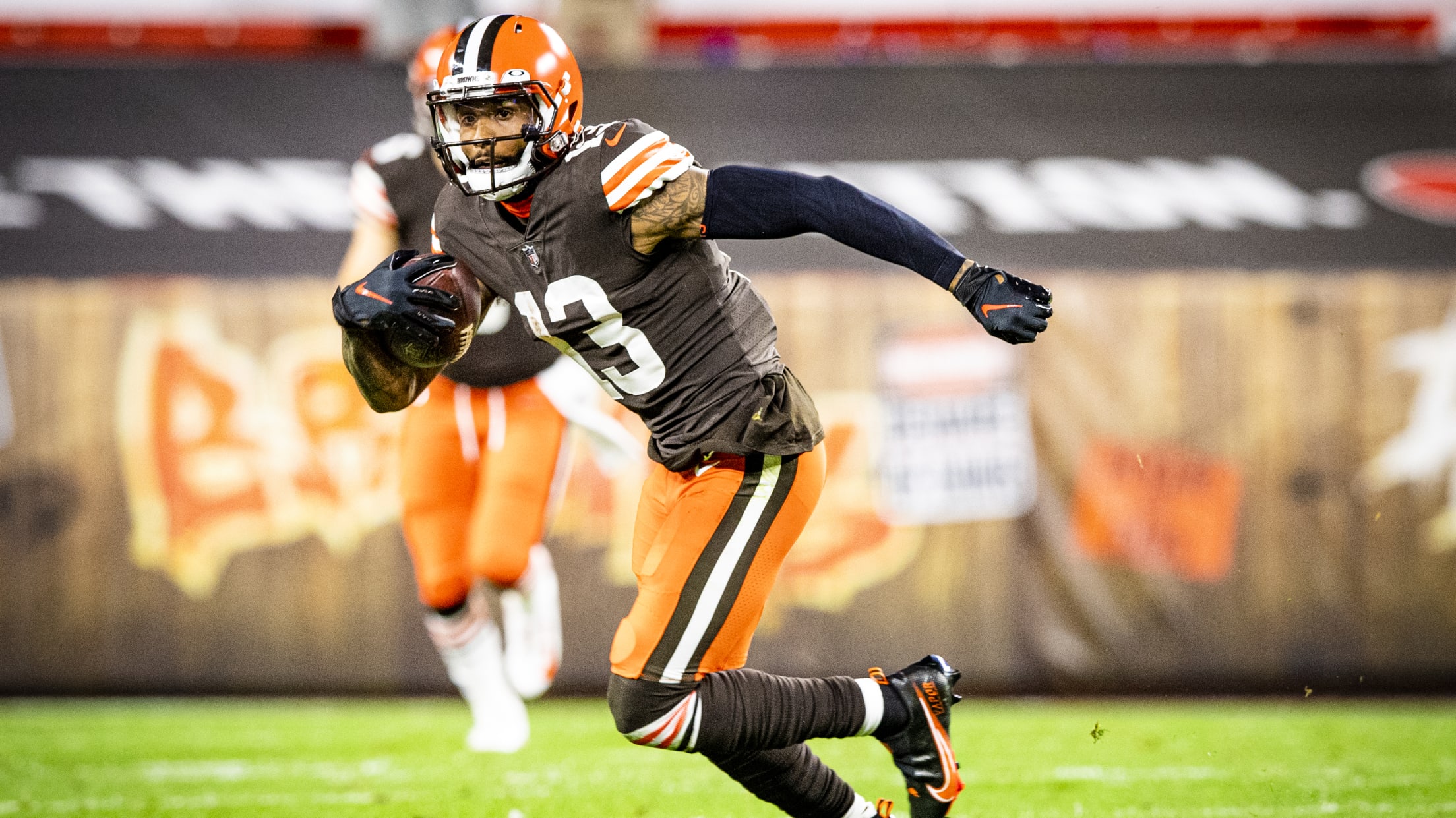 Cleveland Browns Wide Receiver Odell Beckham Jr. will join a list of star athletes and celebrities at the Jarvis Landry & Friends Celebrity Softball Game, presented by Lake Health. (Matt Starkey - Cleveland Browns)
(Eastlake, OH) – Clear Vision Marketing Group and the Lake County Captains are excited to announce that Cleveland Browns Wide Receiver Odell Beckham Jr. will be the latest edition to the star-studded roster at the 2021 Jarvis Landry & Friends Celebrity Softball Game, presented by Lake Health. Beckham will join
(Eastlake, OH) – Clear Vision Marketing Group and the Lake County Captains are excited to announce that Cleveland Browns Wide Receiver Odell Beckham Jr. will be the latest edition to the star-studded roster at the 2021 Jarvis Landry & Friends Celebrity Softball Game, presented by Lake Health. Beckham will join Landry, Browns Quarterback Baker Mayfield and many more star athletes at the charity softball game on June 12.
A three-time Pro Bowler, Beckham has posted five 1,000-yard seasons in seven NFL campaigns. During his first season with the Browns in 2019, Beckham racked up 1,035 receiving yards. Prior to his time in Cleveland, Beckham spent five seasons with the New York Giants and was the NFL Offensive Rookie of the Year in 2014. In college at Louisiana State University, Beckham combined with Landry to form one of the most dangerous wide receiver tandems in college football. The pair combined for 2,345 receiving yards and 18 touchdowns during their junior season at LSU, when Beckham was named a First-Team All-American and First-Team All-SEC selection, while Landry garnered Second-Team All-SEC honors.
The softball game will feature two Pro Bowl captains in Landry and Kansas City Chiefs Tight End and Cleveland native Travis Kelce. Landry and Kelce will select their teams from a list of current star athletes, all-time great former athletes and celebrities.
A full updated list of participants can be found here
Bleacher tickets for the event are currently on sale for $17. Select box seats are available for $22. Tickets for all sections are available for purchase at CaptainsBaseball.com or JarvisLandrySoftball.com.
Gates to Classic Park will open at 2 p.m. In addition to the celebrity softball game, the 2021 event will feature a fundraising initiative for the Jarvis Landry Building Winners Foundation, as well as a home run derby and awards ceremony. Proceeds from the event will also benefit the Lake Health Foundation.
All participants are subject to change.
About the Captains
The Lake County Captains are the High-A affiliate of the Cleveland Indians. For more information, visit the Captains' website at www.CaptainsBaseball.com, Facebook page at www.Facebook.com/CaptainsBaseball, Twitter @LCCaptains and Instagram @LCCaptains. Fans can also get the latest Captains news and offers by signing up for the Captains' newsletter, The Anchor.
About the Jarvis Landry Building Winners Foundation
The Jarvis Landry Building Winners Foundation (JLBWF) is a nonprofit organization dedicated to positively impacting the lives of children and families facing socioeconomic disparities and/or chronic health conditions (Cystic Fibrosis). Founded by NFL superstar Jarvis Landry in 2020, the foundation's mission is to empower, engage and excite those communities through a variety of life-changing programs, special events and charitable initiatives held throughout the year in the greater Cleveland, Miami and New Orleans areas. To learn more about JLBWF, please visit: https://iamjarvislandry.com/the-foundation
About the Lake Health Foundation
Lake Health Foundation is the philanthropic affiliate of Lake Health, a not-for-profit corporation that serves the health and medical needs of the residents of Lake County and the surrounding areas. On behalf of the system, the Foundation accepts contributions and efficiently uses these donations to positively impact the health of our community. Dedicated to redefining health care in Northeast Ohio, Lake Health provides patient- and family-centered care that promotes a lifetime of health and wellness. Lake Health delivers progressive, compassionate health care through 11 state-of-the-art facilities staffed by more than 600 physicians and 3,000 health care professionals. To learn more, visit https://lakehealth.org/or follow @LakeHealth on Twitter.