Improbable defeat for JetHawks Wednesday
Storm score 10 runs with two outs in ninth inning, win in extras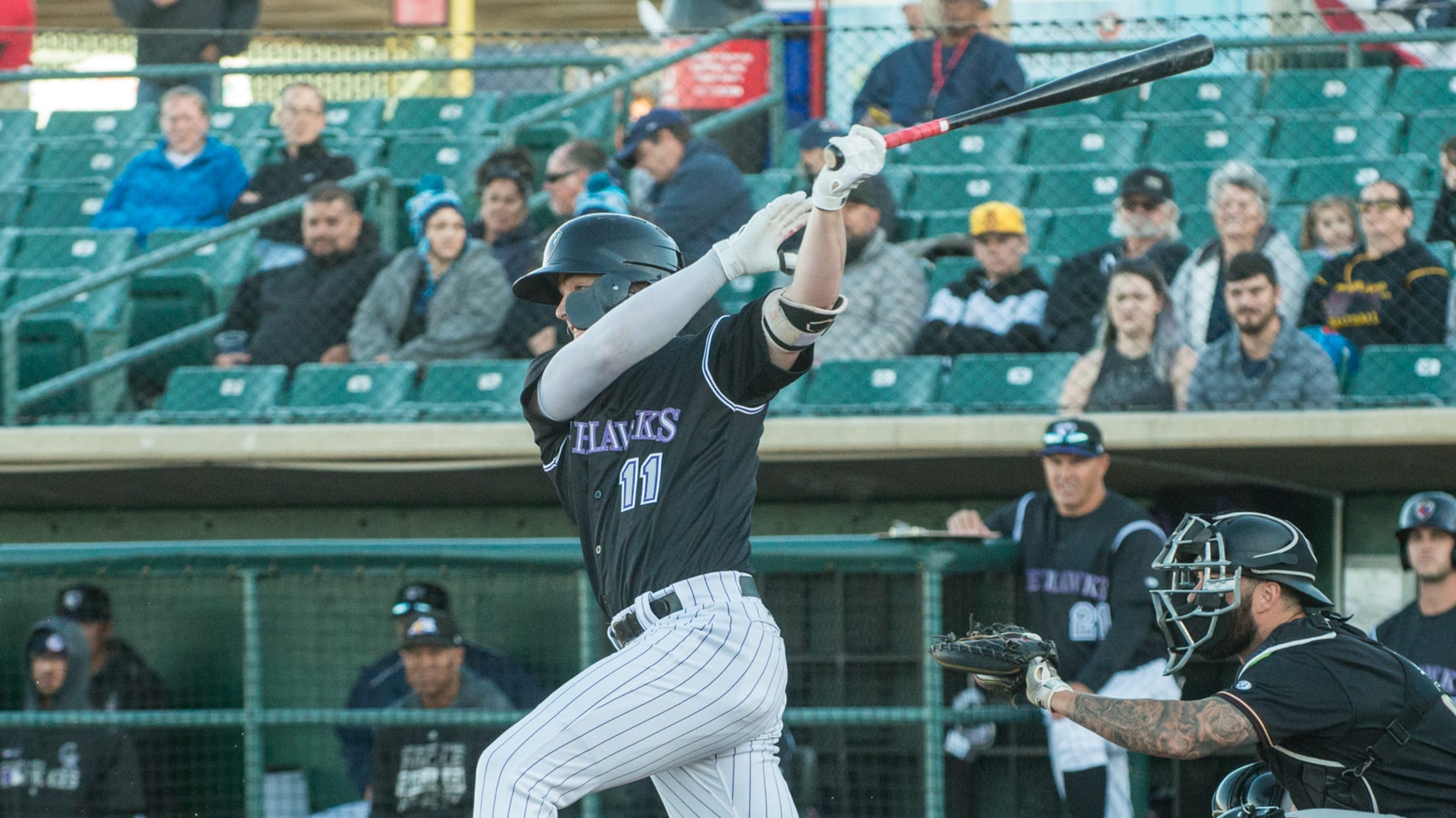 (K. Ross Way)
LANCASTER, Calif. - The JetHawks snatched defeat from the jaws of victory Wednesday night at The Hangar, giving up 10 runs with two outs in the top of the ninth inning en route to a 14-13 loss in ten innings against the Lake Elsinore Storm. With one on and two
LANCASTER, Calif. - The JetHawks snatched defeat from the jaws of victory Wednesday night at The Hangar, giving up 10 runs with two outs in the top of the ninth inning en route to a 14-13 loss in ten innings against the Lake Elsinore Storm. With one on and two outs in the ninth inning, 11 straight Storm batters reached to tie the game and force extra innings.
Lancaster (27-25, 61-59) led, 13-3, going into the ninth inning. Victory was all but assured. The Storm (27-25, 62-58) had one man on base with two outs. That's when the rally started.
Eleven consecutive batters reached for the Storm in the inning as they scored ten runs to tie the game. Five runs were charged to Austin Moore, Robert Tyler allowed three runs and Tommy Doyle gave up the final two runs. Gabriel Arias tied the game with a single to centerfield.
The Storm sent 15 batters to the plate in the inning, scoring ten times on seven hits and five walks. It is the most runs that the JetHawks have allowed in an inning this season.
Lake Elsinore took the lead, 14-13, in the tenth inning on a Tirso Ornelas RBI single off of Nick Kennedy (1-3). The JetHawks loaded the bases in the bottom of the inning, but Casey Golden flied out against Fred Schlictholz (1-0) to end the ballgame.
It marks the biggest blown lead for the JetHawks in 2019. Lancaster lost a nine-run lead in a defeat to Modesto back in April.
The JetHawks scored nine runs in the bottom of the sixth inning, seemingly putting the game out of reach. LeeMarcus Boyd, Matt Hearn, Luis Castro and Casey Golden each drove in two runs in the frame. Golden capped off the rally with a two-run home run, his 23rd of the season. It matched Lancaster's largest inning of the season.
Lancaster was poised to go ahead of Lake Elsinore in the overall standings. They now trail the Storm by two games. Rancho Cucamonga has a two-game edge in the Second Half standings.
Somehow, there is a rubber game on Thursday night. Lefty Colten Schmidt (1-3) starts for Lancaster against Gabe Mosser (2-0). First pitch is at 6:35 pm.
JetHawks single game tickets, group tickets, ticket packages and season tickets are on sale now. Visit jethawks.com or call (661) 726-5400 for more information.