A-Rod returns to Trenton, homers
Embattled Yankees slugger resumes rehab, goes 1-for-2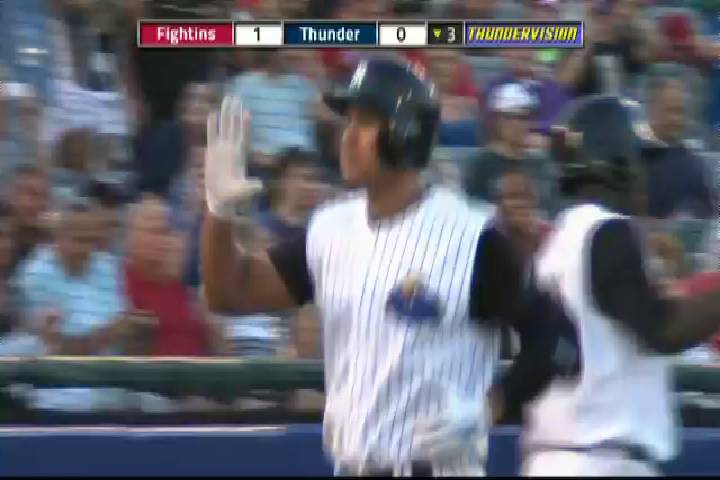 By Danny Wild / MiLB.com | August 2, 2013 7:07 PM ET
Amid all the drama, Alex Rodriguez stepped back into the spotlight on Friday night and produced another chapter in the unfolding story that's been looming over the baseball world for weeks.
Facing a potential lifetime suspension from Major League Baseball, Rodriguez hit a long two-run homer as he resumed a rehab assignment with Double-A Trenton. He finished 1-for-2 with a walk in five innings as the Thunder beat Reading, 6-2, in front of a standing-room-only crowd at Arm & Hammer Park.
"I'm ready to go," Rodriguez told a news conference attended by nearly 100 reporters. "I'm 100 percent."
Rodriguez, scheduled for three at-bats and five innings at third base, worked a five-pitch walk from Phillies top prospect Jesse Biddle in the first as Trenton loaded the bases but did not score. Leadoff man Ramon Flores singled to open the bottom of the third before Rodriguez sent a 2-0 pitch from Biddle over the high wall of advertisements at Arm & Hammer Park to give the Thunder a 2-1 lead.
Friday's game came one day after Rodriguez played in a simulated game that was closed to the media at the Yankees' complex in Tampa, Fla. Assuming he gets through the weekend without any setbacks or suspensions, he could rejoin the Yankees on Monday in Chicago.
"Unless I get hit by lightning, and these days, you never know," Rodriguez said.
Working his way back from a strained quad muscle, he said he will start for Trenton again on Saturday before working out on Sunday. While he plans to travel to Chicago, his future beyond this weekend remains extremely cloudy.
Rodriguez, 38, is among a group of 14 players linked to the shuttered Biogenesis drug clinic in Florida and could face a lengthy suspension from the Commissioner's Office as early as Sunday or Monday. Friday's game comes near the end of a long week in which his attorneys promised to appeal any suspension and simultaneously attempted to negoiate a settlement that would spare Rodriguez the threat of a lifetime ban.
According to CBSSports.com, A-Rod said he's already looking beyond the weekend.
"I'm prepared to play five more years, especially the way my body is reacting," he said.
Rodriguez, who struck out looking on a curveball from Biddle in the fifth, made a pair of nice defensive plays at third and showed no signs of the injured quad while running the bases. After his third plate appearance, he gave his batting gloves and bat to some young fans near the Trenton dugout before walking down to the right field corner and signing autographs for fans, drawing a tail of police officers and photographers. It was reported that some 150 credentialed media members attended the game.
Rodriguez received mixed reactions from the capacity crowd of 8,080 in all three of his plate appearances, although he got a standing ovation while rounding the bases on his second Double-A homer of the season.
Rodriguez played in two games for Trenton on July 15-16 during a 13-game rehab stint before moving up to Triple-A Scranton/Wilkes-Barre as he worked his way back from offseason hip surgery. That's when things took a turn for the weird as the three-time American League MVP reported discomfort in his quad and was diagnosed by the Yankees with a Grade 1 strain. He disputed the injury when he had his MRI independently viewed by a doctor, who seemed to support Rodriguez's contention that the injury wasn't as severe as first reported.
Since then, the chaos surrounding Rodriguez has focused on his looming suspension. Some reports suggest that MLB may look to suspend him for the remainder of the season and all of 2014, while The New York Daily News reported that Major League officials believe their evidence against A-Rod "would warrant lifetime banishment." Rodriguez has denied all allegations and vowed to appeal any ban.
Rodriguez said he felt he was being singled out during the investigation over Biogenesis.
"I think it's pretty self-explanatory," he said, according to the Daily News. "I think that's the pink elephant in the room. When all this stuff is going on in the background and people are finding creative ways to cancel your contract, that's concerning for me."
Rodriguez suggested the case against him goes beyond a simple drug suspension.
"There is more than one party that benefits from me not ever stepping back on the field," he said, according to WFAN radio. "That's not my teammates. And that's not the Yankees fans."
Despite the drama, Rodriguez reiterated he's ready to play.
"There is a process. I'm excited about the way I feel tonight and I'm going to keep fighting," he said.
Danny Wild is an editor for MiLB.com. This story was not subject to the approval of the National Association of Professional Baseball Leagues or its clubs.
View More