Adames, Isotopes complete triple play
Rockies No. 20 prospect drives in two runs, moments after rare feat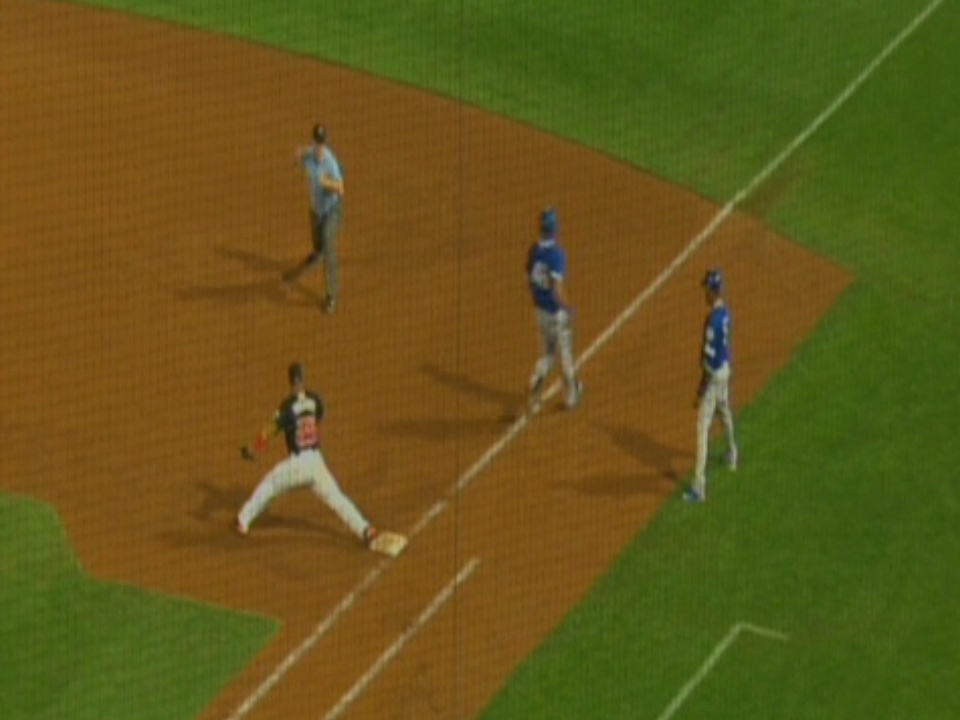 By Robert Emrich / MiLB.com | August 27, 2015 1:44 AM
Cristhian Adames had a pretty big night Wednesday, with most of the action taking place in a span of about 10 minutes.
The Rockies' No. 20 prospect took part in an around-the-horn triple play, then drove in a pair of runs as Triple-A Albuquerque rallied past Oklahoma City, 11-6, on Wednesday.
With the game tied, 5-5, in the top of the seventh inning, Albuquerque's Jose Tabata hit a ground ball to third baseman Rafael Ynoa, who stepped on the bag and threw to Adames, who was waiting at second base. The 24-year-old second baseman fired to first baseman Wilin Rosario to complete the second triple play in the Pacific Coast League this season and the Isotopes' first since Sept. 10, 2009.
"It was a really good timing because the game was tied and it was a big play for us," Adames said through teammate Jair Jurrjens, who served as translator. "I was just waiting for the ball to make a good transfer to complete the triple play."
In the bottom of the frame, Adames smacked his second single of the night to drive home Ynoa and Trevor Story, extending Albuquerque's lead to 8-5.
"I was just trying to put good contact on the ball," Adames said. "The pitcher [Chris Anderson] made two good changeups on me and when he tried to go three times, I was expecting it and was able to put a good swing on it."
The native of the Dominican Republic ranks third in the PCL with 142 hits and is tied for fifth with a .315 batting average.
Rosario slugged a three-run homer that capped a five-run sixth and lifted the Isotopes into a 5-5 tie. Since being sent to the PCL on July 30, the big league veteran has five long balls and 16 RBIs in 24 games.
"The homer was a big 'AB' for us because he tied the game for us," Adames said. "To have him on the team is really helping me. I'm picking his brain because he played at the level I want to play. To have conversations on the bench with him is helping my game."
Story -- the Rockies' 11th-ranked prospect -- collected three hits and three RBIs and scored twice batting just ahead of Adames, his double play partner.
"It's really helping me out because when I go to hit, the pitcher has used all his pitches against Trevor and he's always on base and in scoring position," Adames said. "I have a better idea what the pitcher is throwing at the plate."
Tim Wheeler slugged a two-run shot and Ynoa scored twice out of the leadoff spot for Albuquerque.
Nelson Gonzalez (4-3) gave up a hit and two walks while striking out one over two scoreless innings to get the win.
Dodgers No. 12 prospect Scott Schebler slugged a solo homer for Oklahoma City.
Robert Emrich is a contributor to MiLB.com. Follow him on Twitter @RobertEmrich. This story was not subject to the approval of the National Association of Professional Baseball Leagues or its clubs.
View More