Aggressive Crawford dominates for 'Caps
Tigers' No. 3 prospect surrenders two hits over six scoreless innings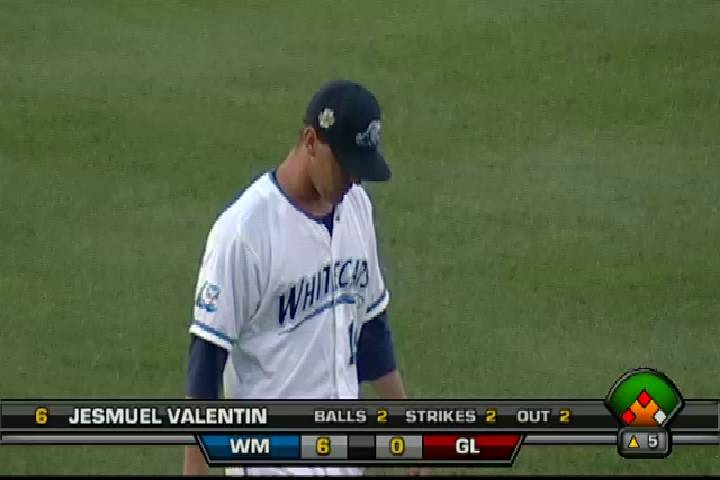 By Mark Emery / MiLB.com | July 24, 2014 11:57 PM ET
Jonathon Crawford is approaching his game a little differently than he was toward the beginning of this season, and the early returns have been strong for the right-hander.
Detroit's third-ranked prospect turned in six scoreless frames Thursday in Class A West Michigan's 5-1 win at Clinton. He surrendered just two hits and two walks while striking out five, ending with six groundouts and two flyouts.
"I'm probably a little more aggressive than I was in the first half," said Crawford, who has won all three of his decisions since the break. "I'm not trying to think about my stuff, and just go after the hitters and attack them and get ahead, get an early ground ball. That's kind of my mentality right now. It's worked the last two outings."
The 2013 first-round pick (20th overall) has won back-to-back starts for the first time in his professional career. Facing Peoria last week, he allowed just one run on four hits and a walk in five innings.
On Thursday, Crawford (6-2) yielded his lowest hit total of the year while shrinking his ERA to 2.99. He threw 46 of his 66 pitches for strikes during his fifth scoreless appearance of 2014.
"It was just one of those days where I had a good feel for the slider, and I jumped ahead of the batters. Things went my way when I did that," the 22-year-old said. "I felt like my stuff was the same as my last outing. But overall, yeah, my stuff was better than it had been, like five outings ago."
The University of Florida product finished June with a 2.60 ERA, but that figure jumped to 3.15 after he was tagged for six runs in five innings vs. Lansing on July 3.
"Baseball is completely stats-oriented, so yeah, I pay attention to it a little bit," Crawford said. "I try not to pay too much attention to it, just because if you get wound up in all that bad things can happen. I kind of keep an eye out on that and check on it, then you have to completely forget about it and go back to work the next day."
Crawford faced just two more than the minimum for six innings, benefiting from 4-6-3 double plays in the second and third. Marcus Littlewood accounted for both of Clinton's hits.
Raph Rhymes and Jeff Holm posted a pair of RBIs apiece for the Whitecaps.
"Our hitters have been doing really well this time of year," Crawford said. "They've been picking it up. And the defense is awesome and playing really well. You can pitch real comfortably when you have those two things on the mound."
Not to mention all the ways the right-hander helped himself.
"Going out there and giving up two hits, it was really good," he said. "It kept me in the windup. I was able to get in a groove, and good things happened after that."
Clinton starter Edwin Diaz (3-6) allowed four runs on four hits and two walks in just 1 2/3 innings. It was the shortest outing of the season for Seattle's No. 4 prospect.
Mark Emery is a contributor to MiLB.com. Follow him on Twitter @Mark_Emery. This story was not subject to the approval of the National Association of Professional Baseball Leagues or its clubs.
View More