Aguilar going off since return to Clippers
Indians prospect homers twice, drives in six in third game back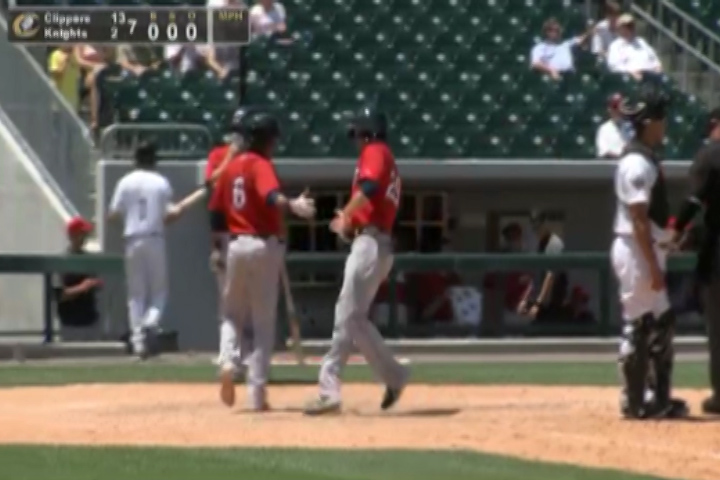 By Sam Dykstra / MiLB.com | June 10, 2014 5:42 PM ET
Sometimes, it's enough to just be there.
Since May 14, Indians No. 16 prospect Jesus Aguilar has made two trips to the Majors -- the first of his baseball career -- but didn't find much success or playing time during either sojourn, going just 3-for-16 with two RBIs, three walks and six strikeouts in eight games. The Tribe optioned the corner infielder back to Triple-A Columbus last week with Carlos Santana (concussion) returning from the disabled list and the hot Lonnie Chisenhall (.385 average in 51 games) proving he can play both first and third base.
On Sunday, Aguilar homered in his first at-bat back with the Clippers, and on Tuesday, he again showed why he's capable of slugging his way right back to the big leagues.
Aguilar went deep twice and tied a career high with six RBIs to lead Columbus to a 14-2 shellacking of Charlotte at BB&T Ballpark. In his three games since returning to Triple-A ball, he is 6-for-13 with three homers and nine RBIs.
"He didn't get a chance to play a whole lot up there, so now that he's back, he can do what he does every day, which is put a good swing on the ball," said Clippers hitting coach Jim Rickon. "He doesn't have the pressure of trying to make it to the Majors for the first time anymore. He knows he's capable of moving up. Now, he can just focus on improving so that he can end up staying in the Majors for good."
The 23-year-old right-handed slugger's roundtrippers were both three-run shots. His first broke the game open in the fourth when he connected on a 1-0 changeup from Knights left-handed starter Charlie Leesman and sent it over the wall in center to extend the Columbus lead to 8-2. He followed that up with another blast in the seventh, this time on a 2-0 fastball from right-handed reliever Maikel Cleto.
Those were the ninth and 10 home runs of the season for Aguilar. His success since his return to Triple-A, while noteworthy, is nothing out of the ordinary for him. With a 3-for-5 showing that also included a first-inning single Tuesday, he is batting .300 for the season and ranks sixth in the International League with a .395 on-base percentage, second with a .556 slugging percentage and third with a .951 OPS. Despite the increase in level of competition, those numbers are up across the board from his 2013 campaign with Double-A Akron, when he put up a .275/.349/.427 slash line with 16 homers in the Eastern League.
Though he may not rank among Francisco Lindor and Clint Frazier on the Indians prospect landscape, Aguilar is proving that he's capable of showing impressive totals and putting up impressive numbers in the higher levels of the Minors.
"He's still a young player," Rickon said. "He's still developing mentally and trying to have a consistent approach every time he's up there. Right now, it's all about not getting caught up in any particular moment and trying to do too much. As he grows and goes through more at these higher levels, it's stuff he's getting better and better at. Wherever he finishes the year, whether it's here or up there, that'll be something he'll try to work on."
As it stands, it will likely take another injury for Aguilar to rejoin the big club in the near future, given their logjam at the corners and DH. But the fact that he's already had his taste of two separate cups of coffee should work wonders.
"It's huge to be there," Rickon said. "Of course, it can go both ways. For some guys if they don't play a lot or don't play well, it can affect their confidence for a while. But our organization does such a great job of communicating with the player, letting them know what their role is, what they need to work on. ... The whole thing helps keep them positive, and you're seeing that here with Jesus."
Getting his first start of the season in left field, Indians No. 7 prospect Jose Ramirez, who also struggled, going 2-for-25 in an 11-game stint with the Tribe in early May, went 3-for-4 with a solo homer, two walks and three runs scored from the top of the Clippers lineup Tuesday. The 21-year-old switch-hitter has multiple hits in four of his last seven games and is 12-for-26 (.462) in that span.
"He's a guy that's got good hands and sees the ball really well. Overall, he just knows what he's doing at the plate," said Rickon. "Sometimes, he'll run into the occasional home run like he did today, but overall he's a fun player that provides a real energy spark from the top of the lineup, and that's huge for any team."
Sam Dykstra is a contributor to MiLB.com. This story was not subject to the approval of the National Association of Professional Baseball Leagues or its clubs.
View More