Astros promote Singleton to Majors
First baseman will bring power, patience to Houston lineup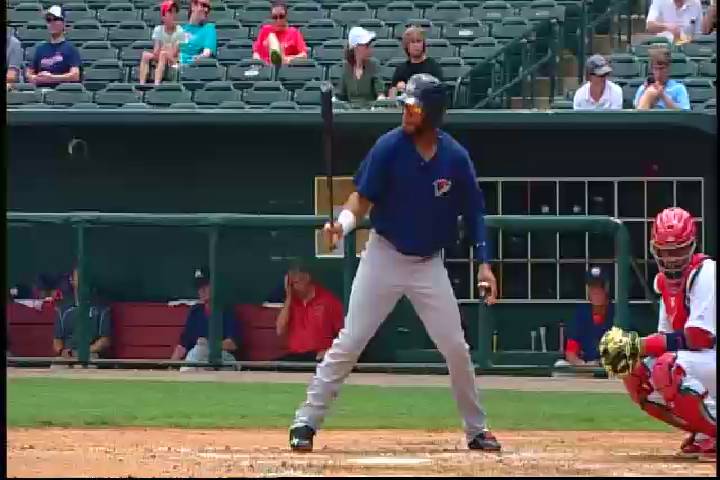 By Sam Dykstra / MiLB.com | June 2, 2014 2:10 PM ET
The next shoe in the Astros rebuilding process has just dropped.
Houston will promote first baseman Jon Singleton to the Majors in time for the team's game Tuesday against the Angels, according to the Houston Chronicle's Evan Drellich.
The Astros' No. 3 prospect, whom Houston acquired from the Phillies in the Hunter Pence deal back in July 2011, last played for Triple-A Oklahoma City on Saturday, going 2-for-4 with a home run, three RBIs and one walk. After putting up a .293/.398/.646 slash line with nine homers in April, Singleton had cooled in both the hitting (.248 average) and power (five homers and .438 slugging percentage) departments in May. However, he continued to show incredible control at the plate, walking 24 times last month compared to 21 strikeouts and notching a .397 on-base percentage that was just below his .398 mark in April.
On the whole, the left-handed slugger's 54 games in the Pacific Coast League this season represented a nice bounce-back campaign for the 22-year-old. Singleton struggled with a .220 average, .687 OPS and only six homers in 73 games with the RedHawks last season after coming back from a 50-game drug-of-abuse suspension at the beginning of the year. He addressed the suspension in an Associated Press story last offseason that concluded with Astros general manager Jeff Luhnow saying, "My expectation is that with everything that happened to him, we want to build up the positives from the end of last year. And get off to a real good start in Triple-A and then force his way onto the roster in Houston."
Now that he has achieved each of those objectives, Singleton will join former RedHawks teammate and fellow Astros wunderkind George Springer, who may be the early favorite for AL Rookie of the Year thanks to a powerful performance (10 homers) in 41 games since his own promotion. Singleton is primed to bring plenty of his own power and a solid approach to first base, where the Astros could certainly use some. Jesus Guzman and Marc Krauss have received the bulk of the time at the position, but neither player owns an average higher than .208 and the two have combined for only six homers this season.
News of Singleton's move went beyond a simple promotion story Monday when Yahoo Sports' Jeff Passan reported that the first baseman and the Astros have agreed on a five-year deal that includes three club options. The deal guarantees Singleton $10 million and could net him up to $35 million if all the options are exercised and he receives other bonuses and awards. According to Passan, he becomes the first player with no Major League service time to accept such a deal. By doing so, Singleton gets guaranteed money but also gives up potentially one year of free agency, when in theory he could make a lot more money on the open market.
As noted by FOX Sports' Ken Rosenthal, the Astros tried a similar tactic with George Springer in the offseason, offering the outfielder a four-year, $7.6 million deal that could have escalated to $23 million. Springer declined the deal.
Sam Dykstra is a contributor to MiLB.com. This story was not subject to the approval of the National Association of Professional Baseball Leagues or its clubs.
View More