Austin starting to bring Thunder at plate
Yankees No. 5 prospect doubles, goes deep in first two at-bats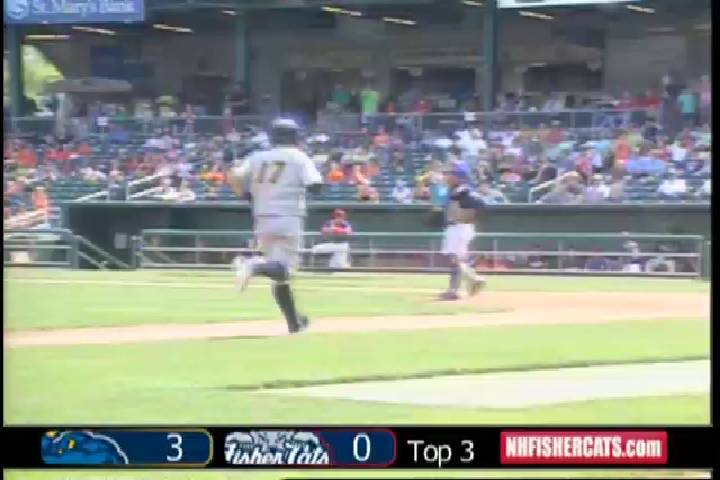 By Sam Dykstra / MiLB.com | July 23, 2014 5:52 PM ET
When you're on a streak like the one Tyler Austin is on, you want to build on that momentum as quickly as you can.
Like, say, the first two at-bats.
That's all it took for the Yankees' No. 5 prospect to show just how hot he is at the plate right now as he doubled, homered and drove in a season-high four runs in Double-A Trenton's 5-2 win over New Hampshire on Wednesday.
The table was set for Austin to have an impact early. Cleanup hitter and first baseman Peter O'Brien drove in Mason Williams with a double off Fisher Cats left-handed starter Matt Boyd (1-4) to opening the scoring and put two runners in scoring position with only one out. Six pitches later, the right-handed Austin smacked a two-run double the opposite way to give the Thunder an early 3-0 advantage.
"In that situation, I'm just trying to get one of them in," Austin said. "It found a hole [in the outfield], and luckily, they were both able to score. It always feels good to start the game off well, and we were just kind of off and running from there."
Immediately following an O'Brien single in the third innings, Austin stepped up again and saw seven pitches (four of which he fouled off) before getting one he liked -- a 3-2 fastball, middle-in, that he sent over the left-field wall for his fifth home run of the season and first since July 9.
"I think I got to see all of his pitches in that one at-bat, so I had a good handle on what he was working with," said the Trenton right fielder. "I finally got one I could handle, and I just got lucky that I was able to put it over the wall."
The homer gave the Thunder a 5-0 advantage in the third frame, and that was all the offense the team or Austin would produce on the afternoon. The 22-year-old outfield prospect finished 2-for-4 with four RBIs, his highest output in the category since he plated five for Trenton back on April 14, 2013.
With his two hits Wednesday, Austin now has multiple hits in five of his last nine games and is batting .438 with a homer, four doubles and eight RBIs in that span. As a result, his slash line has risen from .244/.306/.356 through July 13 to .265/.322/.387 following Wednesday's performance.
Those numbers are starting to resemble more of what he put together for Trenton last season, when he had a .265/.351/.378 line but was limited to 83 games due to a right wrist injury. But they still aren't overall up-to-par with the outfielder who rose up prospect boards back in 2012 when he was named Yankees Minor League Player of the Year after batting .322 with 17 homers, 80 RBIs and a .960 OPS in the system's lower levels.
The wrist problems a season ago were partly to blame for his 2013 drop in production, and this season, Austin believes he put a little too much pressure on himself in his second full season at Double-A ball. He attributes recent work in the cage with hitting coach Marcus Thames as the reason why he's been able to put his previous mediocre performances behind him.
"I think everybody goes through that stuff, and it only makes you worse. Lately, it's been the opposite for me in terms of trying to do too much," he said.
"I'm just trying to make sure I have the same approach every time I step up. During a hot streak, you can get a little overconfident, and that's when mistakes happen, and then you're heading the other way. Right now, it's all about continuing to go up there and repeat what I'm doing right now."
Thunder starter Zach Nuding (6-2) allowed only one run on seven hits and a walk and fanned four Fisher Cats in eight innings to take the win. O'Brien finished 3-for-3 with two doubles, a walk, an RBI and two runs scored.
Sam Dykstra is a contributor to MiLB.com. This story was not subject to the approval of the National Association of Professional Baseball Leagues or its clubs.
View More