Axelrod throws two-hit shutout for Bats
Right-hander goes the distance in his first career nine-inning gem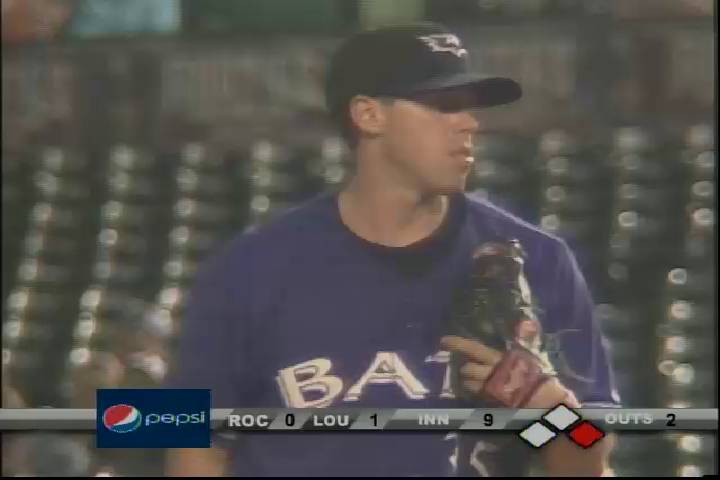 By Ashley Marshall / MiLB.com | August 5, 2014 11:38 PM ET
Dylan Axelrod spent six years with the Chicago White Sox, the organization for which he made his Major League debut. But when he was traded to the Cincinnati Reds over the All-Star break, it was time to move on.
Axelrod considers it a clean break and a fresh start.
The 29-year-old allowed two hits and a walk while striking out five batters over nine innings Tuesday at Louisville Slugger Field in the Triple-A Bats' 1-0 win over the Rochester Red Wings.
"I just threw a lot of strikes and got ahead," said Axelrod. "They are a very aggressive team, so I just tried to pitch to contact. We played great defense tonight and Tucker Barnhart behind the plate was awesome. He called a great game.
"This was the last game of the series, so I had three games to watch them. [Throw] quality first-pitch strikes. If you groove one, it's probably going to be bad news."
The right-hander gave up a leadoff single to Eric Farris in the third inning, but Barnhart threw him out trying to swipe second base. James Beresford laced a one-out double to center field with one out in the fourth, but Axelrod didn't allow a hit the rest of the way. He retired 12 batters in a row before Aaron Hicks worked a one-out walk in the eighth.
The Red Wings got the potential tying run on base in the ninth when Beresford reached on a wild-pitch strikeout, but Axelrod fanned Josmil Pinto to seal the shutout.
"This season, this is my best start," Axelrod said. "Last start, I probably had better stuff. I got a lot of strikeouts last start, but obviously the results were great tonight. I've never had a [nine-inning] complete-game shutout."
It was Axelrod's second career shutout and third complete game. He threw a seven-inning, seven-hit complete-game shutout for the Class A Advanced Winston-Salem Dash on Aug. 25, 2010. His only other complete game came for the Charlotte Knights on April 24, 2012. He gave up two runs on four hits over seven innings in that contest.
Originally selected by the Padres in the 30th round of the 2007 Draft, Axelrod made 48 big-league appearances for the White Sox between 2011-'13. He went 7-13 with a 5.36 ERA and struck out 132 batters over 198 innings, but spent all of 2014 in Triple-A Charlotte.
"[The White Sox] thanked me for me my time there," Axelrod said of trade phone call. "I had been there a long time and they gave me a chance in the big leagues out of independent ball, so I'm nothing but grateful."
Axelrod got told of the trade when he was back home in Santa Barbara over the All-Star break. He promptly flew back to Charlotte, packed up his and his wife's belongings within five hours and drove to join his new teammates.
"This is a great clubhouse and we're having a lot of fun," he said. "It has been really easy to fit in. It's a breath of fresh air. If you're somewhere a long time you just ... I don't want to say go through the motions, but they know you. Being somewhere new motivates you.
"It's the first time feeling that way. I had been with the White Sox a long time, so this is just a wakeup call. I'm in a new place and I have to prove myself again."
Ashley Marshall is a contributor to MiLB.com. Follow him on Twitter @AshMarshallMLB. This story was not subject to the approval of the National Association of Professional Baseball Leagues or its clubs.
View More