Baby Bombers walk off with 10-inning no-no
Yankees prospects Finley, Roeder combine for record-breaking effort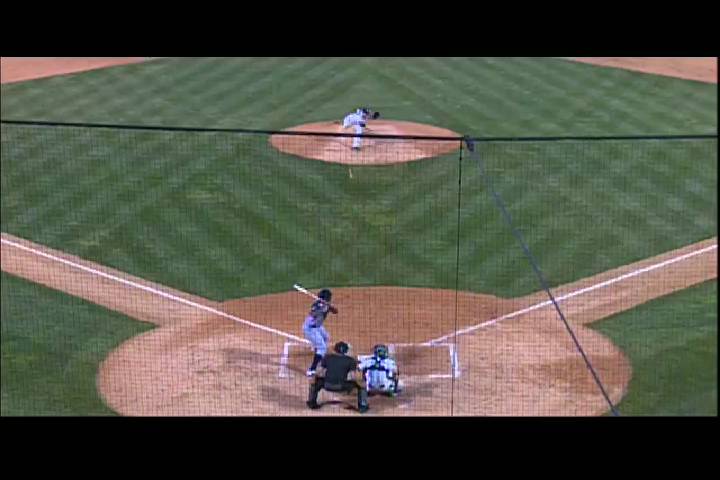 By Mack Burke / MiLB.com | June 19, 2016 12:55 AM
In the New York-Penn League season opener on Friday, Class A Short Season Staten Island bested Brooklyn, 3-2, after duking it out for 20 innings on Coney Island. Game 2 was even more historic on Saturday night on the other end of the Verrazano Bridge.
During Friday night's 5 1/2-hour marathon, Yankees pitchers Drew Finley and Josh Roeder sat behind the plate together, charting pitch locations and batters' tendencies. It's safe to say they figured out the Cyclones lineup.
"We were back there [the whole time], taking note," Roeder said with a laugh. "That gave us a good game plan in knowing how to attack those guys."
Finley, the Yankees' No. 16 prospect, combined with Roeder on a 10-inning no-hitter and Staten Island walked off with a 2-1 victory when Kane Sweeney delivered a one-out RBI single.
"We knew we could take advantage of getting ahead early," said Roeder, who came on in the seventh and struck out 10 of the 12 batters he faced. "They were aggressive late in the count and kind of in panic mode at that point. We thought expanding the zone with off-speed and working up in the zone with the fastball would be effective."
It was the first extra-inning no hitter in New York-Penn League history and the first for Staten Island since Jason Arnold's gem on July 27, 2001 against the Vermont Expos.
Finley and Roeder combined to retire the last 27 Brooklyn batters.
"Today just solidified our thoughts [on that lineup]," Finley said after allowing a run on a walk and two hit batters with five strikeouts. "[Friday], we got a good idea of how to attack each guy. We knew he had to throw strikes. Seeing yesterday, charting those guys and where they were in the box and what their approach is -- which was swing early, swing late and swing at fastballs -- we had to get ahead. We had to set a tempo."
Finley plunked leadoff man Enmanuel Zabala in the top of the first, walked Dale Burdick and uncorked a wild pitch that allowed the Cyclones' only run to score.
"The first inning wasn't ideal, but after that, I had to take a deep breath," said Finley, a 2015 third-round Draft pick. "I ended up getting out of it with just one run crossing, so I'll take it."
The 19-year-old right-hander also plunked the first hitter in the second but got Vicente Lupo to pop out, then struck out the next two Cyclones to get out of the inning. He settled in and faced the minimum over his final four innings.
Roeder (1-0) fanned the first eight batters he faced before Darryl Knight broke his bat on a dribbler back to the mound for the final out in the top of the ninth.
"[I struck out the side] again in the eighth inning. After the second strikeout [in the ninth], the rhythm set in," Roeder said. "The ninth batter was a broken bat and I was like, 'OK, I'm not dreaming anymore. This is real.'"
Roeder was a closer at the University of Nebraska before the Yankees took him in the 21st round of last year's Draft. While he's used to pitching in one high-leverage inning at a time, he said the four-inning stint was a breeze.
"In extended spring training, I worked on being stretched out into long relief and then to potentially start, so the four innings, I'm used to it now," he said. "It helps being at the end of the game, being a closer beforehand. You just mix together the mindsets of being a closer and a long reliever. It helped me stay focused and do what I needed to do."
Finley and Roeder watched Friday's game because they were scheduled to piggyback on Saturday due to Finley's pitch count and the Yankees efforts at moving Roeder into a long relief role.
"[Roeder] saw how I threw and knew what he had to do. Hats off to that guy for keeping it going," Finley said. "Next start we have where we're piggybacking, maybe it'll happen again."
Sweeney went 2-for-4 with a double and the walk-off single.
Brooklyn starter Harol Gonzalez gave up a run on five hits and two walks with six strikeouts in five innings. Bryce Beeler threw four hitless frames, walking one and fanning three, before Adrian Almeida (0-1) retired one batter in the 10th and surrendered Sweeney's walk-off hit.
Mack Burke is a contributor with MiLB.com. Follow him on Twitter @macburke18_MiLB This story was not subject to the approval of the National Association of Professional Baseball Leagues or its clubs.
View More