Baez belts two jacks in Iowa setback
Cubs' No. 2 prospect walks twice in first Triple-A multi-homer game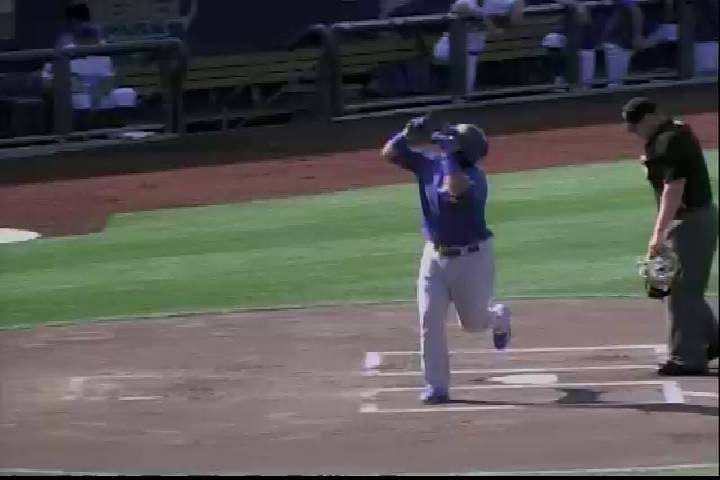 By Tyler Maun / MiLB.com | August 3, 2014 11:51 PM ET
Every month in Javier Baez's 2014 season has been better than the one before. On Sunday, he showed flashes of figuring out one of the final pieces to his developmental puzzle.
The Cubs' No. 2 prospect notched his first two-homer game of the season and drew two walks as Triple-A Iowa fell at Omaha, 7-5.
"Since the first month of the year, his approach has been much better," I-Cubs manager Marty Pevey said. "I don't know what his exact numbers are, I just know that he's been starting to drive the ball better. He's been a lot more patient, swinging at better pitches, giving himself a chance rather than chasing out of the zone. And he's being a better teammate."
Baez clubbed a solo shot in the first inning off Storm Chasers starter Aaron Brooks, then led off the sixth with his 23rd homer of the season. What impressed his skipper, however, were the walks he drew in the third and seventh.
"On a day-to-day basis with him, it's taking free walks," Pevey said of the next step in Baez's development. "I'm not talking about going up there and walking, I'm not talking about going up there and looking to walk. I'm talking about when they throw you out of the zone and continue to stay out of the zone, take those free walks. He'll find himself in the big leagues faster than he would otherwise."
Baez batted .172 in 15 games in April but hasn't posted a monthly average under .250 since. Coming off the heels of a .300 July, the middle infielder has three hits in his first 10 at-bats this month and seven homers in his last 13 games. His manager has seen incremental steps in the 21-year-old's continued education at the highest Minor League level.
"I think the numbers speak for themselves," Pevey said. "You can make your own conclusions."
Baez's first Triple-A multi-homer game came on a day when Cubs shortstop Starlin Castro said he believes MLB.com's No. 6 overall prospect isn't far from the big leagues.
"He has the ability, he has the talent," Castro told MLB.com. "I think he can do the same -- come here and keep playing, keep doing his job. I think it'll be good for him."
Behind Baez in Iowa's lineup, top Cubs prospect Kris Bryant and No. 6 prospect Jorge Soler both doubled. Soler drove in two runs with his extra-base hit in the seventh and is batting .256/.359/.647 with three homers and nine RBIs in 12 Pacific Coast League games.
"[Soler is] not chasing too much out of the zone, which is what Javy has had to really work at not doing, being a chaser," Pevey said. "He had a two-run double today on a 2-0 fastball and it was good to see. He got on top of a good, 91-, 92-mph fastball and drilled it into left-center."
Omaha raced to an early lead before holding off a late comeback. Carlos Peguero matched Baez's two-homer day for the Storm Chasers, while Matt Fields added his 22nd of the season.
Iowa's Dae-Eun Rhee (1-1) surrendered seven runs on 10 hits over five innings, striking out four batters and walking one.
Brooks (8-3) got the win after yielding three runs on eight hits and a walk while fanning five in 5 2/3 innings. Louis Coleman struck out Baez and Bryant in the ninth, then retired Soler on a fly ball to center field to record his fifth save.
Tyler Maun is a contributor to MiLB.com. Follow him on Twitter @TylerMaun. This story was not subject to the approval of the National Association of Professional Baseball Leagues or its clubs.
View More