Baez leads Iowa with bat, glove, legs
Cubs' top prospect doubles twice, flashes leather and steals base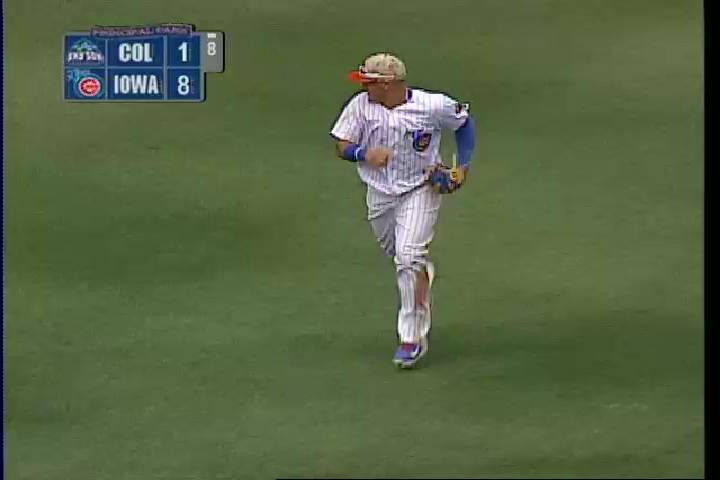 By Jake Seiner / MiLB.com | May 26, 2014 11:44 PM ET
Javier Baez's trademark as a prospect is his otherworldly bat speed, but the ways in which the Cubs' top prospect can win games are many. All of them were on display Monday afternoon.
The shortstop collected three hits -- including two doubles -- drove in three runs, added a stolen base and made a pair of highlight-reel defensive plays while helping Iowa beat up on Colorado Springs, 12-3, in Triple-A action.
"Great plays. Just outstanding," manager Marty Pevey told the Des Moines Register. "He's playing complete baseball right now."
The I-Cubs also got big days from second baseman Arismendy Alcantara and left-hander Eric Jokisch. Alcantara amassed four hits -- including a triple and a double -- while scoring four runs, driving in two, drawing a walk and stealing a base.
Jokisch (4-4) delivered 8 1/3 innings and allowed two runs -- one earned -- on three hits. The 24-year-old struck out four, walked one and slimmed his ERA to 3.59 for the season.
Baez was named the Pacific Coast League Player of the Week on Monday after hitting .400 (12-for-30) with six doubles and three homers last week. He didn't wait long to begin the defense of his crown, starting the game with an RBI double in the first and a sacrifice fly in the third. Baez singled with a man on in the fifth, struck out swinging in the sixth and ripped another RBI double in the eighth.
Baez and Alcantara both picked up their stolen bases on a double steal after Baez's fifth-inning single.
The shortstop also robbed Colorado Springs of two potential base hits in the top of the eighth. First, with one batter already retired on a 6-3 groundout, Baez ranged deep into the hole, made a sliding, back-handed stop then hurled the ball across the diamond to nab Paul Janish.
The next batter, Ryan Wheeler, then popped up into shallow left field. Baez tracked the ball straight back and made a sliding over-the-shoulder basket catch to end the frame.
"He's such a good athlete and he works so doggone hard on not only his offense, but his defense," Pevey told the Des Moines Register. "It's good to see. It's good for the Cubs, good for the Cubs' organization."
Alcantara -- Chicago's No. 6 prospect -- singled in the first and hit a leadoff triple in the third, coming around to score after both hits. The 22-year-old walked and scored in the fifth, hit a leadoff single and was stranded in the sixth, then drove in two and later scored after a double in the eighth.
The second baseman is batting .324 with three homers and a 1.131 OPS over his past 10 games. For the season, Alcantara is hitting .281 with 14 doubles, five homers and 10 stolen bases in 12 attempts.
Jokisch (4-4) picked up the win with his longest outing of the season. The hurler has a 2.08 ERA over his past three starts and a 51-to-10 strikeout-to-walk ratio over 62 2/3 innings this season.
Jake Seiner is a contributor to MiLB.com. Follow him on Twitter at @Jake_Seiner. This story was not subject to the approval of the National Association of Professional Baseball Leagues or its clubs.
View More