Barlow perfect into sixth for Great Lakes
Right-hander retires 15 of 16 batters, but Dayton wins pitchers' duel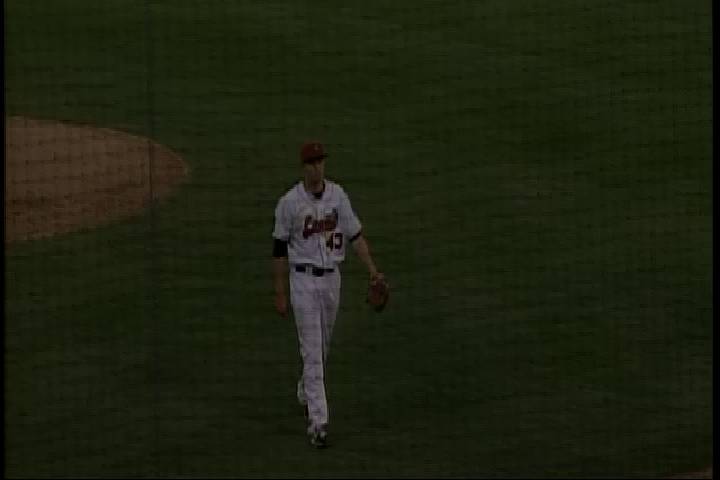 By Tyler Maun / MiLB.com | May 5, 2014 11:43 PM ET
Scott Barlow learned the most important lessons of his first 2014 start before he even set foot on the mound.
The right-handed Dodgers prospect allowed just one hit over six shutout innings, striking out six and not issuing a walk, but the Class A Great Lakes Loons fell to the Dayton Dragons, 2-0, on Monday night at Dow Diamond.
Barlow made his first appearance of the year April 30, arriving late from Arizona as part of Los Angeles' plan to limit his innings workload this season while still on the road back from 2012 Tommy John surgery. After allowing three runs over four innings out of the bullpen five days ago, Barlow got a chance to approach a game that would be his from the outset Monday.
"First time, I came out in relief, so I had to watch the game and see how it goes," Barlow said. "I didn't get to set it up or anything. The thing I learned [today] was mental preparation and studying hitters and how to start it off. I think that was the biggest change.
"Me and [catcher Kyle] Farmer went over the gameplan today. We looked at some video of the other team. We thought fastball command was the biggest thing for today. Luckily, I accomplished that and had some good defense behind me."
Barlow retired the first 15 Dragons he faced and struck out the side in the third. After Brandon Dailey broke up the budding perfect game with a leadoff single in the sixth, Barlow immediately rebounded to retire the Dragons in order.
"(Barlow) was great," Loons manager Bill Haselman said. "He threw so well that he was fairly low on his pitch count, but we weren't going to throw him past six innings."
A sixth-round pick of the Dodgers in 2011, Barlow struggled to a 6.20 ERA in 15 post-surgery starts for Rookie-level Ogden last season. The 21-year-old is starting to rediscover himself now, nearing the two-year mark since his surgery.
"The hardest thing to come back from that with is command with all your pitches," Barlow said, "not just with your fastball, but it's with your slider, your changeup and your curve. I'm starting to get a little used to that now and to the point where I can compete at a higher level."
Dayton's Nick Travieso matched Barlow with five shutout innings, striking out five and not walking a man while allowing three hits. The bullpens decided the game.
In the seventh, Phil Ervin tripled with two outs against Great Lakes reliever Greg Harris and came home on Daniel Mateo's double. Tanner Rahier added a leadoff homer in the ninth for the Dragons.
Harris (2-3) was charged with both earned runs on four hits, striking out two and walking one over three innings.
Farmer, the Dodgers' No. 20 prospect, led his team with three hits in the loss.
Dan Langfield (2-0) struck out four over two hitless frames. Evan Mitchell worked a perfect eighth, and Scott Brattvet worked around two hits in the ninth to pick up his fifth save for Dayton.
Tyler Maun is a contributor to MiLB.com. Follow him on Twitter @TylerMaun. This story was not subject to the approval of the National Association of Professional Baseball Leagues or its clubs.
View More