Barnes finishing season on a high note
Red Sox prospect allows two hits over 6 1/3 scoreless innings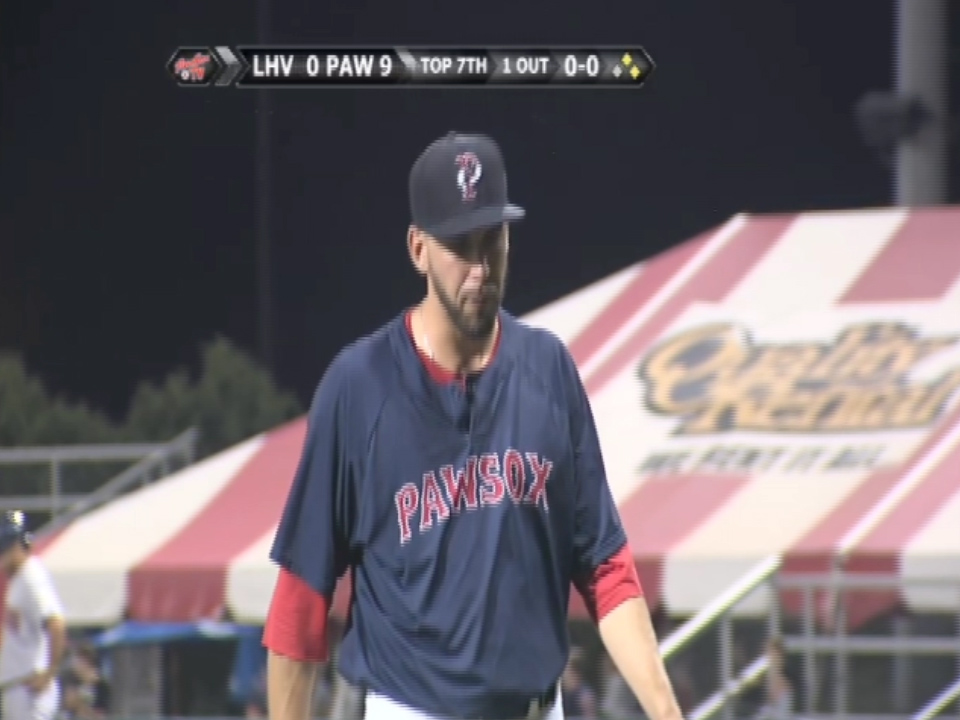 By Ashley Marshall / MiLB.com | August 20, 2014 11:41 PM ET
With Henry Owens enjoying a breakout season, Red Sox Nation might have forgotten about Matt Barnes, who not too long ago was the organization's third-best prospect.
While the 2011 first-round pick is unlikely to be considered among the best pitchers on the farm at year's end, he's making a case that he's still on the right track to the Majors.
Boston's 13th-ranked prospect allowed two hits and three walks while striking out seven over 6 1/3 innings on Wednesday night as Triple-A Pawtucket rolled to a 9-0 win over visiting Lehigh Valley.
After allowing a two-out single to Phillies No. 3 prospect Maikel Franco in the first, Barnes (7-8) retired 15 consecutive batters. The streak was snapped when Cesar Hernandez and Freddy Galvis drew consecutive two-out walks in the sixth, but Barnes struck out Franco to end the threat.
Russ Canzler walked leading off the seventh and Tony Gwynn Jr. singled to right field with one out, putting an end to Barnes' night. Jose Valdez set down Leandro Castro and Cameron Rupp to keep the shutout intact and finalize Barnes' line.
"It's awesome. Anytime you can string together some good outings, it's definitely a lot of fun," said the 24-year-old right-hander, who threw 64 of 105 pitches for strikes, reportedly hit 96 mph with his fastball and lowered his ERA to 3.89.
"But the big thing is being able to go out there and give quality starts and feel good about it and give the team a chance to win. I feel great. Arm feels great, body feels great. I'm just looking to keep going."
The shutout was the PawSox's second in as many days following a 7-0 blanking of the IronPigs behind six innings from No. 5 prospect Anthony Ranaudo.
Barnes has allowed two runs or fewer in six consecutive starts dating to July 22. Among those performances was a gem against Columbus on Aug. 2 when he fired seven hitless innings and recorded a season-high 10 strikeouts. He's 3-1 with a 1.63 ERA since the Triple-A All-Star break.
"I've felt good with my secondary stuff for a good stretch now, so keep riding that and focus on the fastball command for now," Barnes said. "I think being able to throw [secondary pitches] for strikes is definitely one big component [of improving]. I think I've just become more aware of when to use them in certain counts and to which hitters. And the execution of that pitch is one of the big components.
"Tonight wasn't one of the better nights in terms of command I've had with [my fastball], but those nights happen and I'll get back to the drawing board with it in two days in the bullpen and work on it."
Selected 19th overall in the 2011 Draft out of the University of Connecticut, Barnes led all Red Sox Minor Leaguers in ERA (2.86), strikeouts (133) and opponents' batting average (.225) in 2012 en route to a Futures Game selection. He began 2013 ranked third among the organization's prospects, but after a 5-10 season between two levels, he fell to No. 5 entering 2014.
Barnes' perceived stock has fallen since then, in part because of a shoulder injury followed by an ugly May in which he was 0-3 with a 5.93 ERA in six starts. Wednesday marked the first time since May 16 that his ERA fell below 4.00.
"He established his fastball. I thought his fastball was real crisp, explosive at times," PawSox manager Kevin Boles said. "Good finish with it with two strikes. Utilized his breaking ball, showed some feel with the changeup, but I thought the fastball at times was overpowering. Going through a lineup three or four times as a starter, you have to make sure you make the mix right and recognize what hitters are having trouble with on a particular night. And he does a good job with that.
"Recently in his outings, we've seen an uptick in velocity, but we've also seen the command. We've seen some angle and late life to his fastball. He's been really attacking the zone and been consistent."
The outing came at just the right time for Pawtucket, which moved 2 1/2 games ahead of Rochester in the International League Wild Card race and remained three back of leaders Syracuse with a dozen to play.
As well as the push for a postseason berth, the depth of pitching in the system is helping Barnes stay hungry.
"We're all trying to go out there and do the best that we can to try and get up to Boston as fast as we can to help the team win," Barnes said. "When you have somebody pushing you, it makes you work a little harder and know that you have to perform, too."
Valdez struck out three over 1 2/3 innings and Heath Hembree worked around a walk in the ninth the seal the shutout. Ryan Roberts homered, doubled, plated two runs and scored twice, while No. 4 prospect Garin Cecchini drew three walks and scored once for the PawSox.
Lehigh Valley's Brad Lincoln (6-10) allowed six runs -- five earned -- on six hits over five innings. He struck out five and walked three.
Ashley Marshall is a contributor to MiLB.com. Follow him on Twitter @AshMarshallMLB. This story was not subject to the approval of the National Association of Professional Baseball Leagues or its clubs.
View More