Barnes' power surge boosts Jacksonville
No. 15 Marlins prospect homers twice, one night after first Suns blast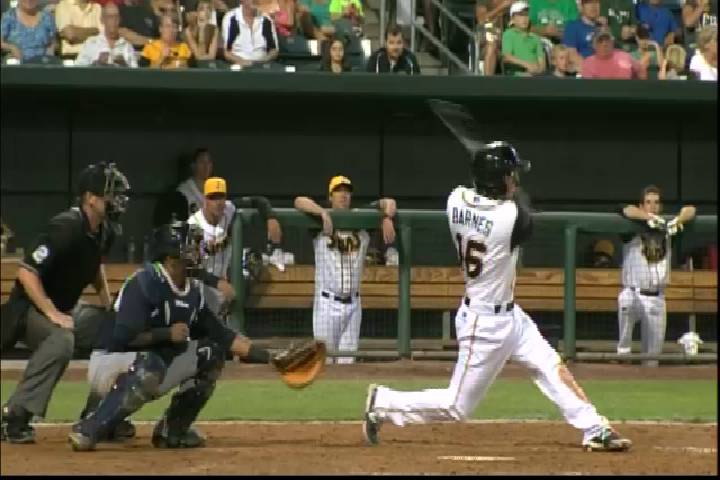 By Kelsie Heneghan / MiLB.com | July 20, 2014 10:41 PM ET
Sometimes the power goes out without warning. And sometimes, there's a surge.
Austin Barnes happily took the latter with two homers in Double-A Jacksonville's 5-2 win against Pensacola.
After not going deep since April 8 when he was with Class A Advanced Jupiter, the No. 15 Marlins prospect now has three homers over his last two games.
"Just one of those things in baseball, I had one earlier in the year and then I didn't hit one for a while," the 24-year-old said. "I was hitting good [Sunday], just put some good swings on the ball and it got to the barrel."
Barnes started off with a single in the first inning and then smacked a leadoff dinger to left field in the fourth that kick-started a three-run inning for the Suns.
"I was just trying to get on base, just get something going," he said of his second at-bat. "It was exciting. We started rolling after that."
An inning later, the right-handed hitter accomplished something that eluded him the first three-and-a-half years of his career -- a two-homer game -- when he took No. 4 Reds prospect Michael Lorenzen deep for the second time.
The Arizona State product was promoted to Jacksonville after 44 games with Jupiter and went homerless in his first 35 Suns games before Saturday's outing against the Blue Wahoos.
"I think baseball's just a funny game and I think it comes together sometimes," the catcher said. "I don't really hit for much power. I'm just trying to get good swings."
One explanation for the recent power swings might be adjustments in his approach suggested to him by Jacksonville hitting coach Kevin Randel.
"I just tried to stay back a little bit. I was falling forward for a while, and I've been seeing the ball well lately. … He just told me not to fall over and to let the ball come to me," the California native said. "I'm just trying to go out there and having a plan, getting my ABs and being disciplined in my at-bats."
Brady Shoemaker, Wilfredo Gimenez and Alfredo Lopez drove in a run apiece as the Suns took four of five against the Blue Wahoos.
Jacksonville starter Jose Urena (8-7) was the benefactor of the Suns' success at the plate after yielding one run on seven hits while striking out five over 5 2/3 frames. The Marlins' No. 7 prospect won back-to-back games for the first time since notching four straight victories in May.
"Urena is throwing the ball well. He's using a good fastball and his off-speed pitches are good," Barnes said of his batterymate. "He just goes out there and competes."
Kelsie Heneghan is a contributor to MiLB.com. Follow her on Twitter @Kelsie_Heneghan. This story was not subject to the approval of the National Association of Professional Baseball Leagues or its clubs.
View More