Barons' Beck delivers first win in a month
No. 8 White Sox prospect eliminates walks in seven shutout innings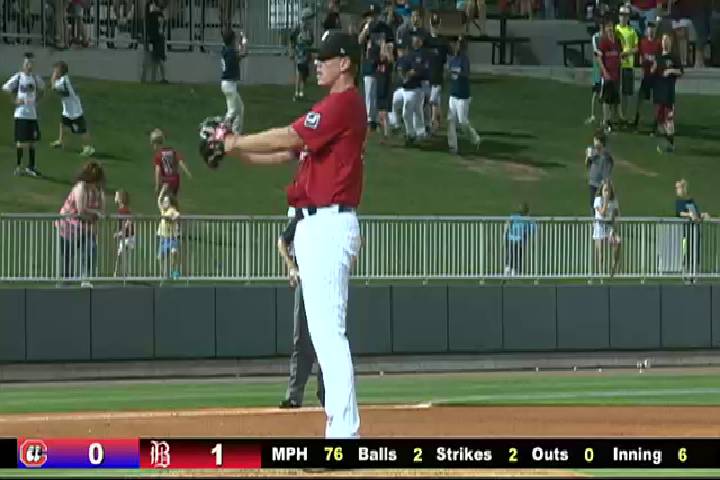 By Robert Emrich / MiLB.com | May 28, 2014 1:05 AM ET
Tuesday was the culmination of a season's worth of work for Chris Beck.
The No. 8 White Sox prospect allowed four hits over seven innings as Double-A Birmingham beat Chattanooga, 2-0.
Beck fanned a season-high six batters while not issuing a walk. The right-hander gave up four singles and hit one batter while throwing 68 of his 101 pitches for strikes for the Barons.
"Just keeping the ball down in the zone," the 23-year-old said of his game plan. "Attacking guys early, trusting everything. We had been working with the delivery lately to make sure the ball was able to be down in the zone, and I think that came together well tonight for the most part."
Beck's delivery has been something he and the team have been working on throughout the season.
"It's kind of been a little bit of a work in progress," the Georgia native said. "Just tinkering on a few things from outing to outing. When things were going good, everything was closed and stays back. I get in trouble when my front side leaks. Everything flattens out. When your stuff flattens out and you leave it up, you get in trouble."
Since earning his second win of the season April 15, Beck had gone 0-5 with a 4.30 ERA in his next seven Southern League starts. The most telling stat during that stretch was the 15 walks issued, including five straight starts with two or more walks. It was a problem the Georgia Southern University Product was aware of.
"I think just what my pitching coach [Britt Burns] and some of the coordinators worked on was me being able to attack the zone with quality strikes," Beck said. "Even when I had good games, I'd still walk three people because I'd leave the ball up in the zone and they're not going to call that at this level or any level above this."
Overall, Beck is 3-6 with a 3.79 ERA in 11 starts and Southern League hitters are batting .259 against him.
The six strikeouts were the most by Beck in a game since Aug. 25, 2013 while pitching for Birmingham. The 6-foot-3 hurler credited catcher Kevan Smith.
"It was really just executing the pitches where it was called and trusting Smitty," Beck said. "We played together at [Class A Advanced] Winston-Salem last year and he's called some of my outings here at Double-A. It's a well-established relationship. He's very studious with the lineups from night to night and knowing scouting reports."
Kevin Vance gave up two hits and struck out four over the final two frames to close out his second save.
Keenyn Walker slugged a solo homer and Rangel Ravelo added an RBI single to account for Birmingham's offense.
Tyson Brummett fell to 4-4 after allowing two runs on four hits over six innings for the Lookouts.
Robert Emrich is a contributor to MiLB.com. Follow him on Twitter @RobertEmrich. This story was not subject to the approval of the National Association of Professional Baseball Leagues or its clubs.
View More