Betts stays hot, fuels Red Sox win
No. 16 Boston prospect plates all four runs in Salem victory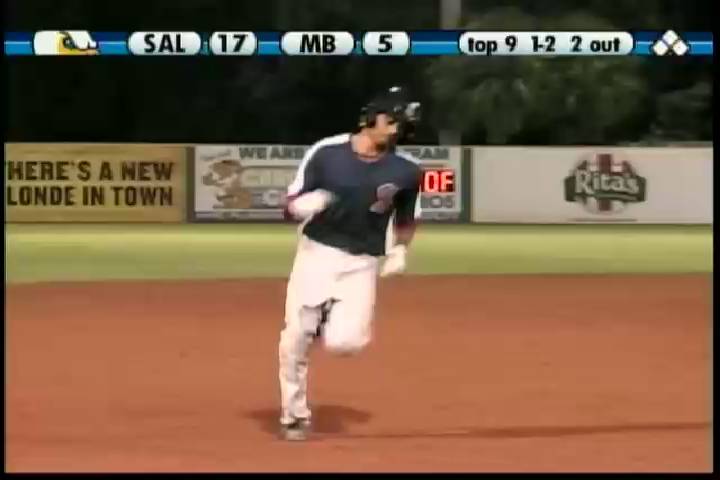 By Danny Wild / MiLB.com | September 2, 2013 4:13 PM ET
Mookie Betts knows he's produced at the plate this season, he's just a little hesitant to admit it.
The No. 16 Red Sox prospect is 46-for-110 (.416) with 32 RBIs, 16 walks and just nine strikeouts in his last 30 games, thanks in part to another big effort Monday.
"I didn't even know all of those numbers," Betts said. "I really try not to think about it."
Either way, the numbers add up for Boston's top second-base prospect. He went 2-for-4 with a pair of doubles and four RBIs in Class A Advanced Salem's 4-3 win over Lynchburg. The victory helped the Red Sox improve to 25-8 since July 30.
"I felt good at the plate. It was more important that we as a team got runners on and found a way to get them in," Betts said. "We played great defense and our pitchers kept us in it, so it was a good team win."
It was Betts, though, who found a way to get everyone home. The 20-year-old hit an RBI grounder in the second, laced a two-run double to plate Henry Ramos and Stefan Welch in the sixth and added another RBI double in the eighth before Salem survived a two-run rally in the ninth to hang on for its 76th win.
Salem's Will Cuevas allowed one run on four hits over six innings for his eighth win and Mike McCarthy survived a rocky ninth for his first save.
"My approach as a player -- I know what I'm looking for, I'm getting a little better," said Betts, whose production has led to improvement in both his numbers and prospect status this season. His 30-game on-base streak was the longest in the Carolina League this year.
"It's been a good season, but I always want to try and do well, I try not to think about [the numbers]," he said. "I just do my best, work on my hitting, my defense, base running, just try to get some wins."
Betts batted .341 in 51 games at Salem after hitting .296 with eight homers and 26 RBIs in 76 games with Class A Greenville. He's been even better since his promotion in July, with seven long balls and 39 RBIs in 185 at-bats with the Red Sox.
"It's like great camaraderie in the dugout, in the clubhouse ... we all like each other, so it's really fun," he said. "I can talk to everyone no matter how they're playing. We know we trust one another, so it's been really fun playing on this team."
Betts was the Red Sox's fifth-round pick in 2011 out of a Nashville high school and hit .267 with no homers, 20 steals and 31 RBIs in 71 games last season with Class A Short-Season Lowell. This year, he's added power to his game with 15 homers and 65 RBIs while stealing 38 bases. He's been caught stealing just four times.
"I feel like everything has gotten better," he said. "Defensively, I'm making plays. I want to continue to make the routine plays, and some things I was working on in Spring Training have paid off."
Betts is coming off an August in which he hit .383 in 29 games. Salem will hope to ride his hot bat into the Carolina League playoffs, but for Betts, the attention he's received as a Red Sox prospect is something he tries to keep at a distance.
"I try not to let that affect me," he said. "I can go out there and play no matter what prospect number I am. You have to go out and play, but it's important to not think about that and do what you have to do."
Betts admits he's improved since his promotion from the South Atlantic League, where he was one of the youngest players in the league.
"I definitely feel like I've gotten better," he said. "Being with this group of guys, that's helped me a lot. At Greenville, we had younger guys. I was on my own. I had a couple guys that helped me, so I applied things to myself that I was going to learn through experience. We have some more older guys here who will tell you things to think about, so I've gotten a lot of info from them and that's helped me get better."
The Red Sox clinched a trip to the Carolina League playoffs for the first time since 2009 on Aug. 29 and will host Game 1 of the Southern Division Championship Series against Myrtle Beach at LewisGale Field on Wednesday.
"We just need to go out there and win. We don't want to play more than we need to, we would like to get wins in the the first two games," Betts said. "We know that's our goal, but no matter what happens, we'll go out and play hard and try to win it."
Danny Wild is an editor for MiLB.com. This story was not subject to the approval of the National Association of Professional Baseball Leagues or its clubs.
View More