Bird taking flight after joining Trenton
Yankees No. 12 prospect homers twice, goes 4-for-4 in 7-3 win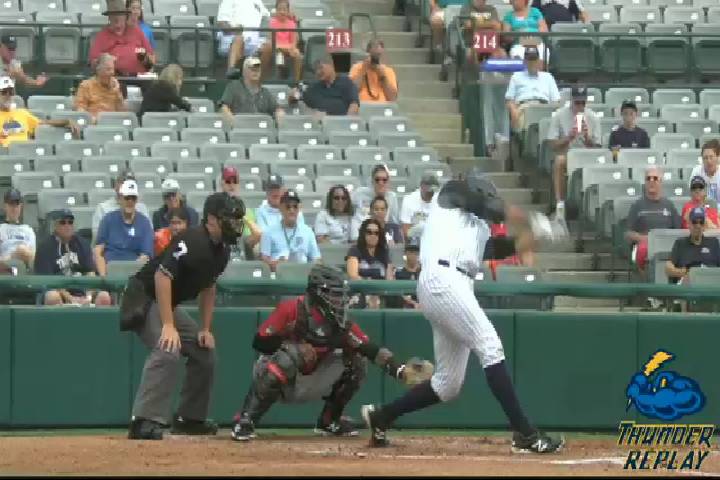 By Sam Dykstra / MiLB.com | August 6, 2014 5:20 PM
Talk about your bittersweet moments. OK, maybe it was more sweet than bitter.
Last Thursday, the Yankees traded catcher/first baseman Peter O'Brien, who had hit 33 home runs between Class A Advanced Tampa and Double-A Trenton at the time, to the D-backs for Major League utilityman Martin Prado. The deal created a hole in the heart of the Trenton lineup, and as such, the organization promoted No. 12 prospect Greg Bird -- a self-described friend of O'Brien's -- to fill it.
In the case of Bird, this provided a conundrum when it came to viewing the O'Brien trade. On one hand, his friend was leaving the organization. On the other, he had a chance to advance up the Yankees' ladder on his way, he hopes, to the Majors. Bird didn't think too hard about it, it seems.
"I was joking with him right afterward, saying, 'Thanks for letting me be here,'" he said. "Now that I'm here, I'm just going out and trying to help these guys win. There's not too much pressure to replace him or anything like that."
If he keeps hitting like he did Wednesday afternoon, Bird could make O'Brien's production a distant memory in Trenton.
The left-handed-hitting first baseman homered twice and finished 4-for-4 with a double, two RBIs and three runs scored in Trenton's 7-3 win over Altoona at Arm & Hammer Park.
His long ball in his first at-bat Wednesday -- a solo blast to right field in the second inning -- gave the game its first run, and his second -- another pulled shot to right in the sixth -- knotted the game at 3-3.
Bird also singled in the fourth frame and doubled and scored in the eighth.
After entering the day 1-for-9 in his first three games with the Thunder, Bird tied a career high with his four hits and notched his second career multi-homer contest. The last time he hit either milestone came July 19 last season when he went 4-for-5 with three homers for Class A Charleston.
The performance came a day after Bird broke an 0-for-8 start to his Eastern League career with his first Double-A homer in a 7-5 win over the Curve.
"Part of it was just settling in and getting back home here in Trenton," Bird said. "We were on the road in Florida, and I flew straight north to join the team [in Portland]. It was a long couple of days, so it was good to have the off-day [Monday], get some sleep, and then to come here and get the first knock out of the way yesterday was nice.
"I felt good in those first two games. It was just one of those things where some of the balls you hit are right at some people. Other days, maybe they fall in for hits. I'm just sticking to my approach. It's easy to struggle if you panic and try to do too much in a new place."
A fifth-round pick out of Grandview High School in Aurora, Colorado, in the 2011 Draft, Bird broke out last season when he put up a .288/.428/.511 slash line with 20 homers and 84 RBIs and led all of the Minor Leagues with 107 walks for Class A Charleston. Back problems at the start of this season kept him from making his Tampa debut until May 7, and even then, he wasn't quite able to match his 2013 production in the Florida State League, especially in the power department. He had respectable numbers in the average (.277) and OBP (.375) categories, but his seven homers and .442 slugging percentage were both down from their South Atlantic League totals.
After not even a week in Double-A, Bird already has just about half as many home runs in four games with Trenton as he did in 75 at Tampa. That type of power production might not be sustainable and, yes, even O'Brien's massive home run numbers are a stretch to consider for Bird. But if nothing else, his latest slugging display should be cause for optimism.
"Down in Florida, it can be a tough league to hit in," Bird said. "It took me a while to settle in after that late start, and the key has just been trying to get back where I was last year. ... Just get in a good count to hit, take my walks when they're there and everything else should take care of itself."
Pitching in his Double-A debut, 2014 second-rounder Jacob Lindgren (1-0) earned the win after striking out the side and allowing one hit in the seventh inning. The former Mississippi State left-hander, who has a plus fastball and slider, has fanned 33 batters and allowed one earned run on seven hits over 14 1/3 innings across four levels since signing in June.
"He's just got wicked stuff," said Bird. "I got to see a couple of his outings down in Tampa, and his stuff is really good, just electric. He's as good as his numbers look."
Sam Dykstra is a contributor to MiLB.com. Follow him on Twitter at @SamDykstraMiLB. This story was not subject to the approval of the National Association of Professional Baseball Leagues or its clubs.
View More