Blasts help May win 'Battle of Trevors'
Twins' No. 12 prospect notches rain-shortened shutout vs. Bauer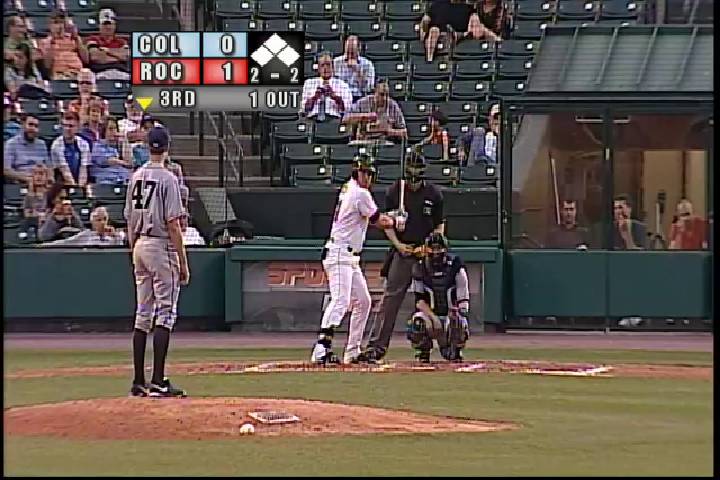 By Robert Emrich / MiLB.com | May 13, 2014 11:57 PM ET
Trevor May bore witness to one of the most exciting things he's ever seen on Tuesday, yet he had nothing to do with it.
The Twins' No. 12 prospect gave up three hits and struck out six over six innings as Triple-A Rochester blanked Columbus, 6-0.
May got credit for his first complete game of the year as the game was shortened to six innings because of rain. The 24-year-old right-hander threw 57 of his 85 pitches for strikes, walking two for the Red Wings.
"I started the game trying to mix it up a little bit," May said. "Kind of come out throwing everything, trying to get ahead. I think ultimately the success was making pitches in tight spots, keeping myself in counts and letting the fielders do their thing behind me."
With the Red Wings holding a 1-0 lead in the fifth, May (2-3) watched from the dugout as the club went deep four times, including three straight homers by Oswaldo Arcia, Deibinson Romero and Chris Herrmann. Eric Farris led off the frame with a long ball as well. The back-to-back-to-back homers proved to be one of the best things May has witnessed in his seven-year Minor League career.
"That's what makes baseball fun, having moments like that," the Washington native said. "That's gotta be a Top 10 for me, playing Minor League baseball, seeing something like that happen. Especially since we've been struggling as a team, we were unable to get a win on our last road trip and we were swept by this team a week ago. It was a lot of fun."
May squared off against Trevor Bauer, the Indians' No. 3 prospect. Bauer entered the start as one of the best pitchers in the International League, going 4-0 with a 1.12 ERA for the Clippers. Despite Bauer taking his first loss, May had nothing but praise for his opponent.
"He's definitely a special arm," he said. "He threw against us five days ago and put on a real good show. No question he's got some of the best stuff in the Minors right now."
In his last outing, May surrendered five runs -- four earned -- on eight hits over 4 2/3 innings on May 7 in Columbus.
"For me, there was some specific situations that I got myself in that I wasn't able to work out of," he said. "I didn't make the big pitches and I lost focus for a couple of hitters. That's all it takes for a guy to get a pitch he wants to see. They did a great job of getting me. That's when you tip your caps, I didn't execute my pitches and you did what you get paid to do.
"The difference was I made a few more pitches when I needed to today than I did the last time. A lot more times than not, that's the difference between a good outing and a poor one is less than 10 pitches."
Robert Emrich is a contributor to MiLB.com. Follow him on Twitter @RobertEmrich. This story was not subject to the approval of the National Association of Professional Baseball Leagues or its clubs.
View More