Brewers' Denson shifts focus to defense
After historic 2015 season, Milwaukee slugger moving to the outfield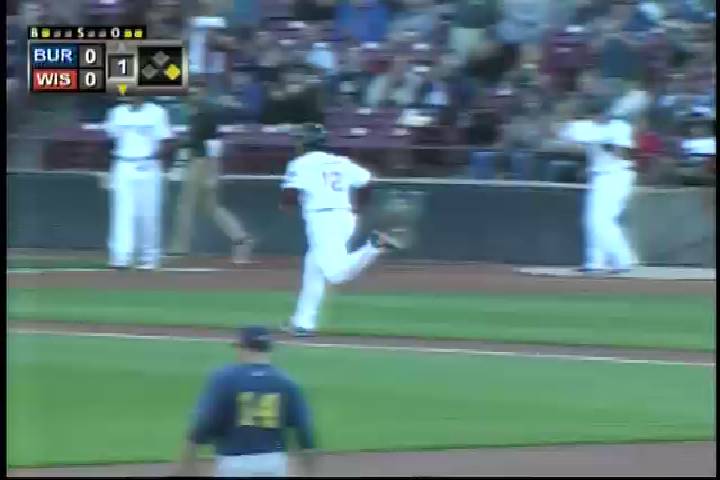 By Tyler Maun / MiLB.com | March 16, 2016 11:17 PM
PHOENIX -- Allow David Denson to reintroduce himself.
Denson arrived at Brewers Spring Training last week ready to tackle a new chapter in his career and embark on a road he hasn't seen regularly as a professional.
He's moving to the outfield.
"It's actually great," Denson said of being back at camp Wednesday outside his team's Minor League clubhouse building. "I'm loving it, loving being back on the field, being back around my teammates and just being back out here playing the game."
Yes, Denson made history last year when he became the first active professional ballplayer to come out as gay, but his groundbreaking story may have overshadowed the fact that Denson is a well-regarded prospect on the field too. The West Covina, California native ranked in MLB.com's Top 30 Brewers prospects list during the second half of last season. After the news, a common refrain from baseball fans went something along the lines of, "That's great. How good is he in games?"
Denson is out to give them and everyone else the answer to that question this summer and to define himself as a ballplayer by what he can do between the lines. The 6-foot-4, 254-pounder is in a vastly different place this spring as an athlete and as a person by virtually any measure.
Through his first 142 professional games over two and a half seasons, Denson had never been put into a lineup anywhere other than first base or as a designated hitter. On June 25 of last year, that changed when he went 1-for-5 with an RBI and a run scored in his first start in left field.
"If you're more versatile as a player, the more time you can have in any game," he said of the defensive change. "At the same time, with everything going on, [the stress] was on my face. You could completely see it. I think they wanted to give me an outlet where I could focus on my bat, just have a clear mind and focus on my hitting."
There was obviously much more going on behind the scenes early last summer with Denson than anyone realized at the time. The 2013 Draft selection struggled in his first taste of full-season ball with Class A Wisconsin, batting .195/.264/.305 in 24 games before being sent down to Rookie-level Helena. There, he felt more comfortable with the pace of the Pioneer League.
"It opened up my eyes a lot," he explained. "It allowed me to get there and zone in on what I needed to work on. Nobody wants to be sent down, obviously, but when that comes into play, all you can think is you've got to get stuff done. Go out there, take care of what you need to take care of and stop pressing so much. Just let your skills take care of themselves."
On Aug. 16, the Milawukee Journal Sentinel published his story. Denson's world changed. The personal torment of living a closeted life and not feeling fully himself began to subside. On the field, relief and burgeoning confidence started to show.
Denson went 2-for-4 on Aug. 18, bashed two homers on the 22nd, notched hits in four of his final six games with Helena to put his Pioneer League line at .242/.340/.412 and earned a promotion back to Wisconsin. With the Timber Rattlers, he finished strong. The 20-year-old registered knocks in three of his first four games back in the Midwest League and five of his last seven, posting a .280/.400/.440 line in his closing week's worth of games. In total, Denson batted .275/.383/.451 over his last 15 Class A contests.
"The only couple differences that I can say I experienced, one was mindset, two is consistency," he said. "When you get up to full season, your mindset has to be completely different. You have to get into the mindset that you're going to be doing this every day for a full season, and you've got to do whatever it takes to get your body into that shape. When it comes to consistency, you've got to be ready to go out there every single day and give 110 percent without constantly thinking, 'What if I take this off?' There's no taking days off. You've got to go at it 110 percent.
"It just shows me that if I can push that through that wall and make it back to where I started, then why can't I push forward and make it to the next level and the following level and continue all the way up to getting to my dream?"
The mental and emotional relief of his coming out is not to be understated either. Finally able to let go the strain of his looming decision to come out publicly, Denson was able to zero in on baseball.

"It takes the complete stress factor out of it," he said. "I know a lot of people say that when it comes to your personal life or your sexuality, it's away from the field, but when you're in a group of guys like this and you're around them for more than half the year, you guys become a family. The last thing you want to do is break up that friendship or that bond and that brotherhood. You don't want them to feel awkward or uncomfortable in the locker room. Personally, yourself, you don't want to be judged, so when my teammates embraced me for who I was, my mindset was completely different. I was able just to focus straight on my game."
Denson improved his plate discipline a bit in his second Class A tour of 2015, striking out 15 times against nine walks in 51 at-bats versus 34 K's and just eight walks in 82 first-half trips.
"In the offseason, I actually worked a lot on my weaknesses when it came to pitches and pitch counts in certain situations," he said. "I feel like last season when I got into certain counts, I was very passive. Even though I got on base here and there, I feel like I could've gotten on more if I would've taken initiative in those certain situations. Especially when it comes to my position in the lineup or when I'm hitting, certain pitches that pitchers are throwing me, you've got to focus on their routine. You've got to focus on -- in situations that they're in -- you've got to focus on their patterns.
"I did that a lot this offseason, watched some footage, and I took it all in. With everything, I'm able just to focus. I can see the ball out of the hand more and go from there, crush the ball."
After making 16 starts in the outfield in Helena, Denson made five of his final 12 starts there following his return to Wisconsin. The slugger got time at both corner positions and is working strictly with the outfield group this spring in Arizona.
A streamlined defensive workload and lighter mental approach is already paying dividends. Last spring when intrasquad games began at the Brewers' complex, Denson was so weighed down mentally that he struggled to find a groove at the plate.
In intrasquad matchups this week, facing many of the pitchers he saw a year ago, he said he could pick up on everything they were dealing. Spin. Movement. Angle. Velocity. It was all there in a way that was absent 12 months ago.
"There's nothing that's holding me back anymore," he said. "My mindset is to completely 'Go out there, give it everything you've got, and whatever happens happens. Go out there and' -- I hate to say it, but it's true -- 'Go beast mode. If nothing's holding you back and nothing's on your mind, focus on the game. Go out there, take care of business and show them what you've got.'"
Tyler Maun is a contributor to MiLB.com. Follow him on Twitter @TylerMaun. This story was not subject to the approval of the National Association of Professional Baseball Leagues or its clubs.
View More