Brewers' Haniger homers twice in Stars' win
Huntsville center fielder goes 3-for-4, plates four in comeback victory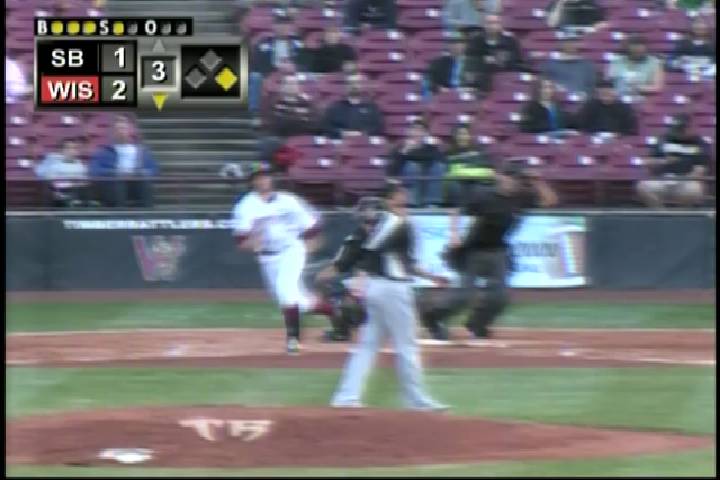 By Danny Wild / MiLB.com | June 4, 2014 6:17 PM ET
Mitch Haniger may be a middle of the lineup power threat for first-place Huntsville, but back in March, the outfielder was an afterthought at the end of the dugout bench.
"I got maybe two at-bats a game, so every time I got to the plate, I cherished every pitch," he said. "I didn't take anything for granted."
The Brewers outfielder got a taste of his dream in 10 Major League Spring Training games, where he was used as a pinch-hitter. He's taken the same mentality into the daily grind of his second full Minor League season.
"It just helps your focus level; when you get one at-bat a game or every couple days, your focus level is at all-time high," he said. "I've learned to bring that into every single at-bat and take the same approach into a full year."
Haniger showed off the results of that mindset, going 3-for-4 with a pair of homers, including a go-ahead three-run drive in the fifth inning, and four RBIs to help the Huntsville Stars past Jackson, 7-5, on Wednesday afternoon. The breakout game comes a day after eight of Haniger's teammates were voted to the Southern League All-Star Game and two days after he and the Double-A Stars clinched their division.
"It was good -- we've been scuffling a little bit the past few games," said Haniger. "We haven't been hitting as well as we should and we haven't been pitching as well as we've been, so it was good to get back and get a win. We came out swinging today."
Haniger and the Stars, in the team's final season before relocating to Mississippi, clinched the Southern League's first-half North Division crown June 2 thanks to a loss by Tennessee. Wednesday's victory moved the Stars to 20 games over .500 at 40-20 this year and also snapped a three-game losing streak.
"It's been good, baseball is fun, especially when you're winning a lot," he said. "We want to be looser at the plate and on the mound, we've been having a fun year so far, we've got a lot of good players in our clubhouse."
Haniger, the Brewers' No. 5 prospect, hit a solo shot in the second inning off Jackson starter Trevor Miller to give Huntsville a 1-0 lead. After the Generals rallied for five runs in the bottom of the third, Haniger capped Huntsville's response in the fifth on a go-ahead three-run drive to left, moments after Cam Hobson came in to relieve Miller (4-6).
"[It was a] 3-2 slider, just got out in front a little bit, I hit it to left, hit it pretty good," he said of the first home run.
Huntsville's bullpen then did the rest, with Tanner Poppe and David Goforth combining for four scoreless innings after starter Andy Moye (2-0) was charged with five runs on eight hits over five innings. Goforth struck out two for his 13th save.
"It was good -- [Moye] gave up a few runs, but he still pitched pretty good. He kept us in the game, and that's what we needed," Haniger said. "I was looking for a fastball, and it was a fastball middle-in, hit it well. It put us up by two I believe."
Haniger, the Brewers' supplemental first-round pick in 2012 following the loss of Prince Fielder, saw action in 10 Spring Training games earlier this year, hitting .500 with a pair of homers and seven RBIs in 16 at-bats for the Brewers. He faces a challenge of reaching Milwaukee with center and right fields currently occupied by Carlos Gomez and Ryan Braun, though. With just one full season in the Minors under his belt, he was one of three non-roster outfielders who received invitations to big league camp, joining Kentrail Davis and Kevin Mattison.
He's transitioned from that atmosphere, of being a 23-year-old prospect surrounded by veterans, to one of the leaders on a Stars roster full of young All-Stars.
"It was awesome, I just learned to cherish every pitch I have at the plate," he said. "It's been the same here. We have a really loose clubhouse, a lot of down to Earth guys, a couple goofballs, but it's real good, it's been fun. It's good to see some of those guys' hard work pay off, and clinching the first half was fun -- that was the first time I've been a part of that. But we just got back to work the next day, and we're looking to win the second half too."
June 3, 2014
Danny Wild is an editor for MiLB.com. Follow his MLBlog column, Minoring in Twitter. This story was not subject to the approval of the National Association of Professional Baseball Leagues or its clubs.
View More