Cal notes: A's Olson showing power, poise
Ports slugger moves up Athletics prospect list after blockbuster trade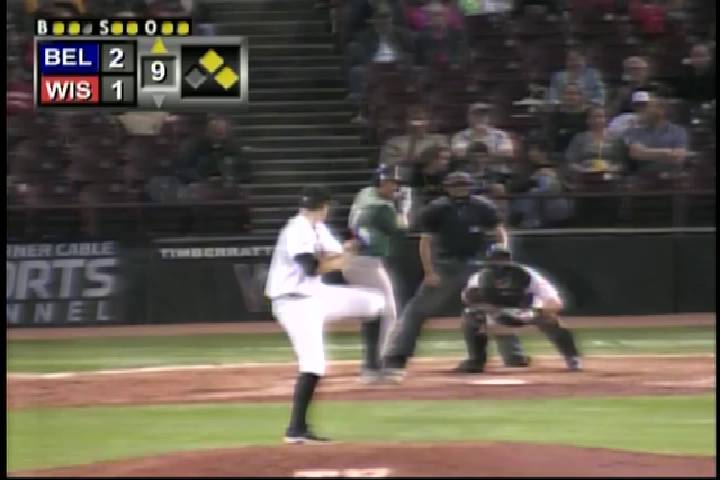 By Alex Espinoza / Special to MiLB.com | July 16, 2014 10:00 AM ET
The entire Oakland A's organization received a major shakeup earlier this month when top prospects Addison Russell and Billy McKinney were shipped to the Chicago Cubs for Major League right-handers Jeff Samardzija and Jason Hammel.
Despite losing a talented Double-A shortstop like Russell and a developing Class A slugger like McKinney -- both recent first-round picks -- Oakland still has plenty of prospects to be excited about in the lower levels of their system.
Look no further than Stockton, where three of the organization's elite prospects are playing for the Ports: No. 1 Daniel Robertson, No. 3 Matt Olson and No. 4 Renato Nunez. Robertson might be getting most of the headlines now that he's taken over Russell's role as top prospect and A's shortstop of the future, but don't forget about Olson.
Entering play Wednesday, the 20-year-old first baseman leads the Cal League in home runs (26) and walks (82).
"Both have been impressive," Stockton manager Ryan Christenson said of Olson's patience and power. "With his approach, he's been trying to cut down his strikeouts a little bit from last year, and he's been a bit more selective. I think the biggest difference with him combining the discipline with the power, is that when he does get his hits up there, he's doing damage with them."
Stockton's coaching staff hasn't had to do much to help train Olson's eye at the plate. He racked up 72 walks last year at Class A Beloit but also had 148 strikeouts. By comparison, Olson has 93 strikeouts this year, a clear sign of his improved pitch selection.
Though the high walk rate has helped Olson post a healthy .392 on-base percentage, his batting average sits at a less-than-stellar .239. It's up from the .225 mark Olson posted in 134 contests last year, but Christenson still sees room for Olson's improvement as a contact hitter. In all, Olson has a .239/.392/.522 slash line with 26 homers, 63 RBIs and 66 runs scored.
"The average is a number that I don't really look at a ton because he is able to go up there and get on-base via the walk," Christenson said. "But I do think there's a lot more he can do. He's starting to use the left side of the field more so he's not just a guy that's up there trying to jerk balls out to right. I think he has a line drive stroke in him that is going to play out for some high doubles numbers. Plus, all that comes with the power that he already has."
Listed at 6-foot-4, 236 pounds, Olson is quick to make fun of himself for being slow around the basepaths. Even with his big frame, though, Olson has impressed his manager as a defender.
"He's a tremendous athlete," Christenson said. "One of the best first basemen I've ever been around. He's been unbelievable at first base, and we even put him out in the outfield a couple of games. I think he could play both the corner positions -- his hands are that good."
In brief
Bright lights: Several stars from the Cal League represented their organizations at the All-Star Futures Game in Minnesota on Sunday.
Rancho Cucamonga lefty Julio Urias opened eyes with his scoreless fifth inning for Team World while Quakes teammate Corey Seager started for Team USA at shortstop but went hitless in his only at-bat. High Desert outfielder Gabby Guerrero served as Team World's starting designated hitter and went 0-for-2 along with Inland Empire shortstop Jose Rondon, who subbed in as a Team World second baseman off the bench.
Rehabbing Reddick: A's outfielder Josh Reddick went a perfect 4-for-4 with a double, a homer, three RBIs and three runs scored in Stockton's 11-1 victory over San Jose on Monday. Reddick is eligible to rejoin Oakland after the All-Star break on Friday, but told reporters he wants to feel confident playing in back-to-back days before returning from the disabled list.
Home cooking: San Jose Giants southpaw Matt Lujan struck out a career-high 13 batters over 7 1/3 innings on Sunday in front of his friends and family in a 4-1 win at Stockton. It marked Lujan's first time pitching at his hometown since being promoted from Class A Augusta. Lujan, 25, is now 3-1 with a 3.60 ERA and 27 strikeouts in 25 innings for San Jose, after going 6-2 with a 2.19 ERA and 66 strikeouts in 70 innings at Augusta.
Alex Espinoza is a contributor to MiLB.com. This story was not subject to the approval of the National Association of Professional Baseball Leagues or its clubs.
View More