Cal notes: Dodgers not rushing young Urias
Quakes' teen phenom meeting high expectations under strict limits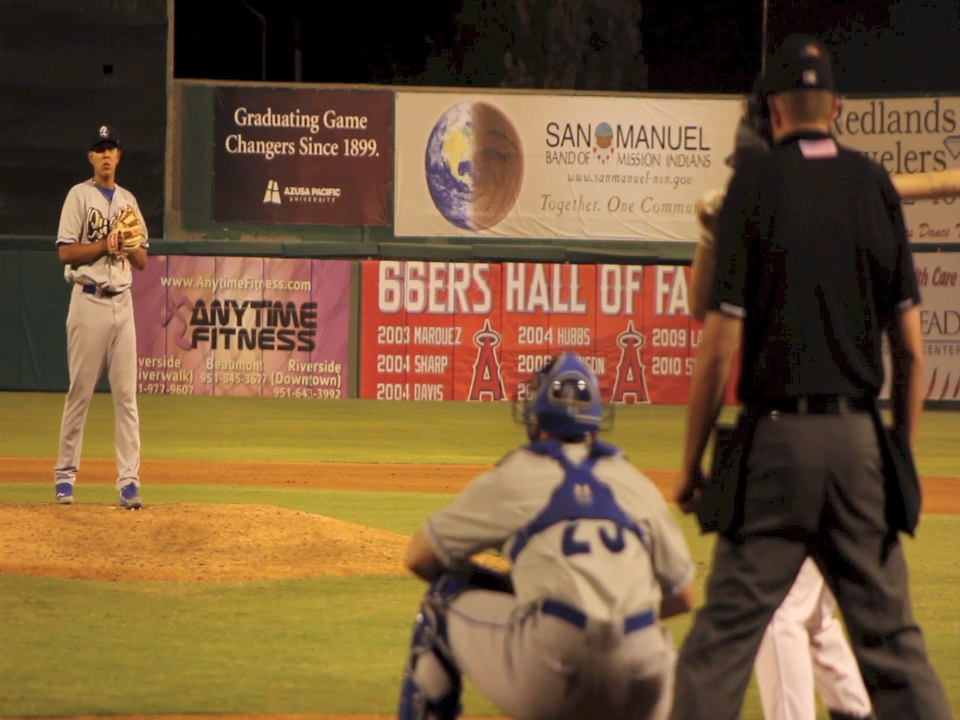 By Alex Espinoza / Special to MiLB.com | July 9, 2014 10:00 AM ET
When baseball's next wave of top talent does battle Sunday during the All-Star Futures Game in Minnesota, the Rancho Cucamonga Quakes will be well-represented. Along with top Dodgers prospect Corey Seager, who will play shortstop for the United States, left-hander Julio Urias will represent his native Mexico for the World team.
"I think the organization should take a lot of pride in that we have two guys going from different backgrounds," Quakes manager P.J. Forbes said. "It says a lot about our scouting and our development. I think everyone can take pride in that."
Urias, the Dodgers' No. 3 prospect, has the makings of a baseball phenom and the moxie to back it up. When he isn't busy with his bullpen sessions, Urias sits and watches his teammates. And then the 17-year-old gives them pointers.
"The Latin players who get up there on the mound, he watches," pitching coach Matt Herges said. "I understand enough [Spanish] to understand what he's saying to them, and it's good stuff. He's got a feel that you just don't see in a young ballplayer, especially in a kid that should be a junior or senior in high school."
There's no doubt that Urias has the stuff on the mound, too.
"Julio throws as fast as he needs to," Herges said. "He has a different gear, and he can reach back and hit 96 [miles per hour] and it's not that big of a deal to him. It's a smooth throw."
Herges said Urias also has great command of his above-average curveball and slider, while his changeup has the potential to be "devastating" as his career unfolds. With so much ability at a young age, a lot of hype and expectations have followed Urias since the Dodgers signed him for $450,000 last year.
That also means a lot of responsibility for Dodgers Minor League pitching coordinator Rick Knapp, who maps out Urias' workload for each start. Take a look at Urias' game-by-game log and you'll notice he'll work anywhere from one inning to five innings with about a 70-pitch maximum on days he's stretched out.
For now, the Dodgers are hoping this limited workload will allow Urias to pitch until the end of the season. Through 16 appearances, including 13 starts, he's logged 51 1/3 innings, posting a 3.51 ERA and 55-to-24 strikeout-to-walk ratio.
"We want to keep him healthy while he's still developing," Herges said. "The tough part is not rushing him along. You saw what happened to Doc Gooden -- he made it to the big leagues at 19 and dominated. I'm not saying that's what's going to happen with Julio, but that's going to be tough to resist."
Urias is hardly the only notable pitcher on the Quakes' staff, which also features an impressive bullpen and has helped the team post a 16-2 record since the All-Star break. He is joined by No. 5 Dodgers prospect Chris Anderson, No. 7 prospect Tom Windle and recent Cal League Pitcher of the Week honoree Lindsey Caughel.
"[Caughel] is a kid who may have been under the radar," Herges said. "He didn't get drafted high, but since he came back from his injury [in late June], he has upped the level of healthy competition in the pitching staff. Chris Anderson keeps making stride after stride after stride, and Tom Windle is a little more polished. He's an ex-hockey player and I love ex-hockey players because they have the toughness about them."
In brief
Sixes for Stockton: On the same night top A's prospect and fellow shortstop Addison Russell was shipped to Chicago in the blockbuster Jeff Samardzija deal, new No. 1 Oakland farmhand Daniel Robertson went 3-for-4 with a homer, double and six RBIs for Stockton in a 17-6 win on the 4th of July. Fellow Ports infielder Renato Nunez matched Robertson's effort with two homers and six RBIs of his own in Monday night's 7-0 shutout of San Jose.
Big week for Buckley: Just hours after being named Cal League Player of the Week, Bakersfield Blaze designated hitter Sean Buckley took part in a back-to-back-to-back home run display. After Jeff Geliach hit a three-run homer Monday night, Buckley and Sebastian Elizalde followed up with consecutive shots. In 15 games since returning to the field after sitting out nearly a month, Buckley is batting .426/.444/.754 with five homers, 19 RBIs and 15 runs scored.
Alex Espinoza is a contributor to MiLB.com. This story was not subject to the approval of the National Association of Professional Baseball Leagues or its clubs.
View More