Cal notes: Shipley balancing three pitches
D-backs' No. 2 prospect ironing out his approach with coach Heredia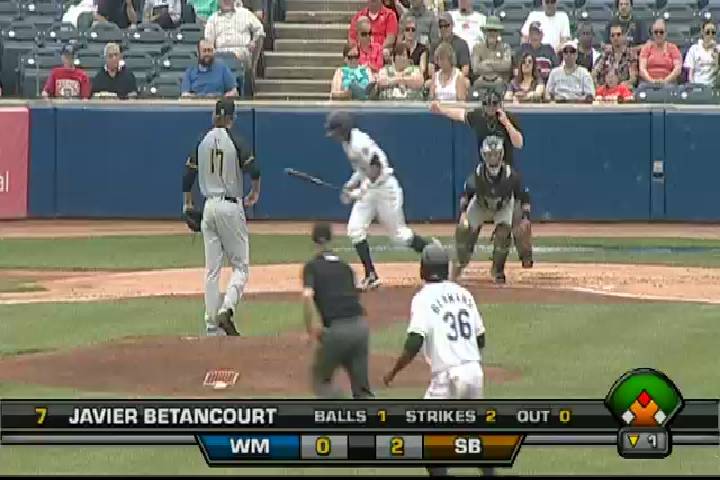 By Alex Espinoza / Special to MiLB.com | July 30, 2014 10:00 AM ET
Braden Shipley is trying to do a balancing act for the Visalia Rawhide.
While it's great to have three above-average pitches -- his fastball, changeup and curve -- the 20-year-old righty knows it can also work against him at times.
"I'm excited about the fact that I can throw three pitches for strikes when I want to," said Shipley, who has become Arizona's No. 2 prospect since being taken 15th overall in last year's Draft. "I'm trying not to fall in love with my changeup or my breaking pitch. I know they're good pitches for me, but I also want to keep them in my back pocket a little bit and really use my fastball. I've been trying to find that balance."
Shipley developed a curveball during his junior and senior years of high school in Medford, Oregon, but once he got to the University of Nevada-Reno, he was able to dominate simply by using a fastball-changeup combo. So as he got his feet wet in pro ball with Class A Short Season Hillsboro, Shipley had to find the feel for his curve once again.
Visalia pitching coach Gil Heredia, a 10-year Major League veteran, said the organization has focused on helping Shipley develop his pitch selection at the Class A Advanced level, and it looks like it's paying dividends. Shipley has finished at least six innings in seven of his nine starts for the Rawhide, matching his career high with seven frames last Friday against San Jose.
Shipley (1-4) has a 4.39 ERA, 1.35 WHIP and 59 strikeouts in 53 1/3 innings of work in Visalia after going 4-2 with a 3.74 ERA for Class A South Bend to start the year. Save for two rough outings he had about a month ago, he's looked like the power pitcher the Diamondbacks hope to see.
"When he does make a mistake, he does it by overusing his secondary pitches," Heredia said. "That little rough patch he went through, he was pitching behind in counts, pitching defensively and not being as aggressive."
Shipley is clearly held in a high regard as he was selected to represent Arizona with Team USA in the All-Star Futures Game earlier this month. The D-backs righty retired the only two batters he faced.
"It was a great event and I was fortunate enough to participate in it and have a really good time," Shipley said. "The two outs that I did get, it made me better."
If he stays on the same trajectory, Shipley has the makeup to contribute to the big league club as early as 2015, according to Heredia. There are a lot of expectations that come with being a first-round pick and a poster boy of the farm system, but Shipley doesn't seem to be affected by the added attention.
"He's handled it pretty well," Heredia said. "He's got a good head between his shoulders. He's pretty realistic as far as understanding how he has to develop. We're not going to try to rush him at all, but you never know what could happen at the big leagues as far as the need for pitching. Who knows what that could bring for him?"
In brief
Astros promote Appel: Despite struggling with his command all year, 2013 No. 1 overall pick Mark Appel has been promoted to Double-A. The Houston Astros also hosted Appel at Minute Maid Park for a private workout after they decided to call him up to Corpus Christi. Appel started the season with Lancaster before being sent back to extended spring training. He put together his best outing of the year Thursday against Stockton, allowing two runs over six innings while striking out a season-high seven. In 12 starts with Lancaster, he was 2-5 with a 9.74 ERA, 1.92 WHIP and 40 strikeouts in 44 1/3 innings.
Back-to-back Lara: After earning his second straight Cal League Player of the Week honor for High Desert, Jordy Lara has been promoted to Double-A. The 23-year-old batted .353/.413/.609 with 22 homers and 80 RBIs in 102 games for the Mavericks.
Lamb on fast track: Southpaw Chris Lamb has made the jump all the way to Triple-A after starting the season with Oakland's Class A affiliate at Beloit. Lamb began the season as a reliever but was moved to a full-time starting role once he reached Stockton in mid-May. In 13 starts with the Ports, Lamb went 3-2 with a 3.46 ERA and 1.32 WHIP.
Alex Espinoza is a contributor to MiLB.com. This story was not subject to the approval of the National Association of Professional Baseball Leagues or its clubs.
View More