Cardinals Prospect Primer: Taveras adjusting
St. Louis outfielder looks to make up for lost time after injuries in '13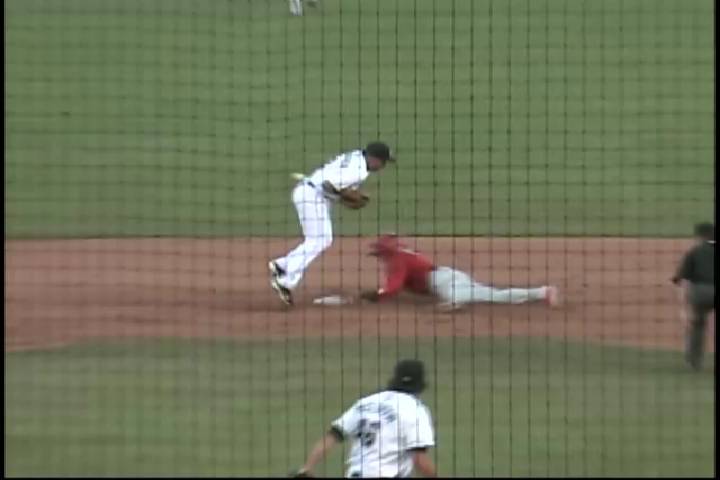 By Ashley Marshall / MiLB.com | March 28, 2014 10:00 AM ET
Some players are on the verge of stardom, others are entering a crucial phase of their development and still others are getting their first tastes of full-season ball. With the 2014 season approaching, MiLB.com takes a look at the most intriguing prospects from each MLB organization.
Shining star: Oscar Taveras, OF
Top Cardinals prospect Oscar Taveras injured his ankle last May and was only able to play 47 games in his fifth season of pro ball. Close to "100 percent" entering camp, expectations are once again high for the toolsy outfielder.
Taveras has hit above .300 in each of his past four years and his strong arm projects well in either right- or center field. His wheels are good and his range is good wherever he plays, but it will be his left-handed bat that help him get to the Majors and stay there.
"Oscar has distinguished himself over the last three seasons," Cardinals director of player development Gary LaRocque said. "He has shown he can adjust quickly as he moved through the system jumping over the High-A level to Springfield in 2012 before going to Memphis last season.
"He has shown he can handle the pitching at each level he has been at, quickly coming up to the level of each league. He shows great confidence at the plate. Although his bat is his carrying tool, he has also worked hard to improve his defense, and last season he gained more experience moving from right field to center field in Memphis to increase his versatility."
Major League-ready: Kolten Wong, 2B
After three years in the Minors, Kolten Wong got the call to St. Louis last year. Selected in the first round of the 2011 Draft, Wong hit .153 in 32 regular-season games and was then added to the postseason roster.
A two-time Futures Game selection, the 5-foot-9 second baseman is an aggressive hitter and capable defender. Mark Ellis could get the Opening Day nod at second in St. Louis, and utility infielder Daniel Descalso could keep Wong off the initial 25-man roster, but if the 23-year-old hits in Memphis -- and there's no reason to think he won't -- then it should be just a matter of time before the Cardinals are forced to make the native of Hawaii a permanent part of their plans.
"Kolten appreciates that the work at the Minor League level has given him the chance at the Major League role, but he takes nothing for granted. He's handled every challenge through the Triple-A level with consistency," LaRocque said.
"The consistency stands out. Watching him every day throughout his Minor League career makes the staff and his teammates appreciate how focused he is. He has hit at every level, he knows his strike zone and, as with most players, once he has gained an understanding of the pitchers at each level, he has produced offensively."
Full-season debutant: Rob Kaminsky, LHP
Kaminsky was able to make eight appearances -- including five starts -- with the Cardinals' Gulf Coast League affiliate after signing with the team June 18.
St. Louis took Kaminsky 28th overall out of New Jersey's St. Joseph Regional High School, and the Cardinals are expected to challenge him with a full-season assignment in Peoria.
"We have always emphasized to our players that where they start in April is not as important as where they can end up in July and August," LaRocque said. "As with most young pitchers, [he must] develop consistency as his workload starts to increase on the professional level. He has great desire and is very capable of a solid season.
"Along with a solid fastball, Rob's curveball is a plus pitch for him. He has confidence using it at any point in counts. Rob is still developing the confidence in pitching off his fastball. ... As with all our pitchers, gaining the understanding of how their secondary pitches factor in, being able to use their off-speed pitches deeper in counts, brings them a better understanding of how to set up hitters at the higher levels."
More to keep an eye on: Southpaw Marco Gonzalez could use additional seasoning in the pitcher-friendly Florida State League, but it would not surprise anyone to see him quickly move through the system to Springfield. Teenage third-base prospect Carson Kelly is expected to start in Peoria along with shortstop-turned-hurler Samuel Tuivailala. Third baseman Patrick Wisdom, arguably the best defensive infielder in the organization, is likely to open in Palm Beach. Seth Blair is the Cardinals' Minor League wild card heading into 2014. A suspension marred the end of his 2011 season, and his 2012 campaign was cut short after doctors discovered a tumor in his pitching hand. He struggled in the Texas League (3-9, 5.07 ERA) last year but is expected to be one of the top arms in Springfield's rotation this April.
Ashley Marshall is a contributor to MiLB.com. Follow him on Twitter @AshMarshallMLB. This story was not subject to the approval of the National Association of Professional Baseball Leagues or its clubs.
View More