Cards' Carpenter builds on big league success
Milestones continue to keep promise of baseball alive for the All-Star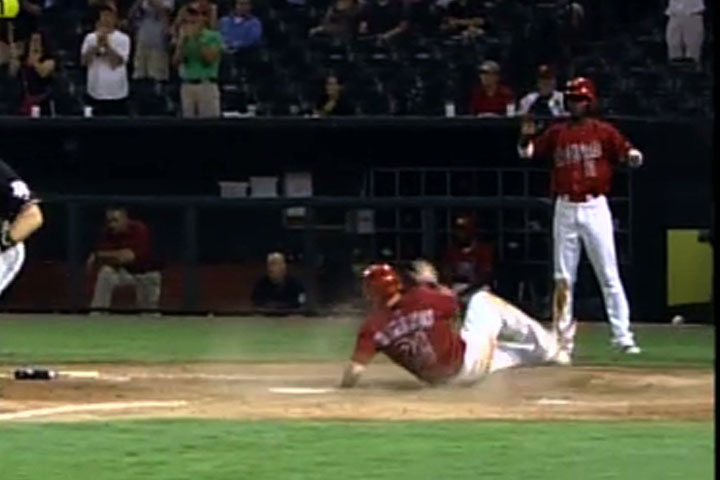 By Kelsie Heneghan / MiLB.com Staff | March 30, 2014 10:00 AM ET
In our feature series, I Knew I Would Make It, Major Leaguers talk to MiLB.com about the defining juncture that signaled to them that they were on the way to a career in "The Show."
We all have that list. That running tab of the checkpoints we've hit and the milestones we want to reach. Beside each checkmark on Matt Carpenter's is a step toward Major League success.
Baseball was always a part of the Cardinals' infielder's life.
His father, Rick, -- a former college player -- coached at the local high school, his mother, Tammie, previously played softball, and his brother, Tyler, played two seasons in the Mets organization.
"I have the unique opportunity where not only is he my dad and my role model, but he was my coach and the guy who taught me how to play baseball and a guy who has been a big part of my entire career," said the Cardinals third baseman of his father, who coached him at Elkins High School in Texas.
With guidance from Dad, Carpenter was selected by the Cardinals in the 13th round of the 2009 Draft. He quickly advanced across three levels in his first campaign, but it wasn't until he spent time at Double-A Springfield that he began to be reassured.
After beginning the season with Class A Advanced Palm Beach, the 6-foot-3 third baseman joined Springfield and things started to click. Across 133 games between the two teams, Carpenter's .309 average and strong defense -- just nine errors at the hot corner -- led to him being tapped as the Cardinals' Minor League Player of the Year.
"That was the first time I felt like maybe I can do this at a high level," the Texas native said.
His success and confidence earned him his first invitation to big league camp. The left-handed hitter compiled a slash line of .333/.414./510, battling for a spot on the Opening Day roster.
He didn't make the final cut, as he was beat out by Daniel Descalso and eventual World Series MVP David Freese, but coming close to his debut produced another check mark.
"I realized that I could really do this and possibly [have] a chance to make the team one day," Carpenter said.
In June, he got the phone call he was hoping for, but seven games and one hit later, he was back in the Minor Leagues. He didn't return to the Majors in September, nor was he put on the postseason roster, but at 25 years old, Carpenter received his first World Series ring after St. Louis toppled the Rangers in the 2011 World Series.
With a new year came new opportunities. Albert Pujols and Nick Punto left the Cardinals and Allen Craig would begin the season on the DL. Carpenter took advantage and worked at first base and in the outfield during the spring, making himself as versatile as possible for his club.
Again, he came up short of the Opening Day roster, but it wasn't long before he worked his way into St. Louis manager Mike Matheny's lineup.
"Just hitting those checkmarks and thinking along the way, 'Hey, if I make it up there, I think I could be a good player,'" the 2013 Silver Slugger remembered thinking. "Then when I was a decent bench guy, I thought, 'Man, if I could play every day, I think I could be a good player.'
"And I did."
Carpenter continued to be versatile for St. Louis over the next two seasons, seeing action at six different positions, with most of his time coming at second base. His reliable bat gained national attention in 2013 when he led the Majors in hits (199, along with Adrian Beltre), doubles (55) and runs (126), while finishing fourth in the NL MVP race.
Entering a new season, the 28-year-old is expected to be the Cardinals' starting third baseman (with Descalso as his backup). He is where he wanted to be, and with a six-year, 2 million contract extension, it appears he can settle in as a Major Leaguer.
But no matter how much success he has or how many milestones he reaches, two things remain constant for Carpenter: his dad will be there with advice and he will never stop trying to improve.
"The moment that you think you've arrived as a baseball player is the day you'll stop growing," the 2013 All-Star said. "This is the kind of game where every day you have an opportunity to learn something and get better.
"That's how I look at it."
MLB.com's Jenifer Langosch contributed to this report. Kelsie Heneghan is a contributor to MiLB.com. Follow her on Twitter @Kelsie_Heneghan. This story was not subject to the approval of the National Association of Professional Baseball Leagues or its clubs.
View More