Carolina notes: Anderson a White Sox 'steal'
Dash shortstop, 2013 first-rounder praised by manager for instincts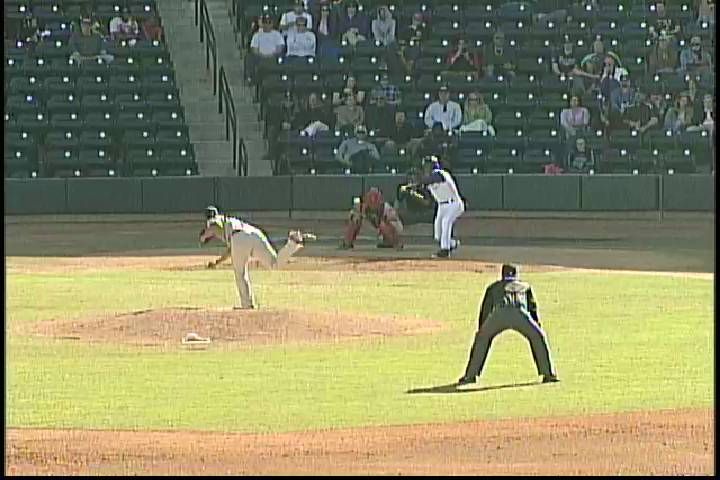 By Jeff Seidel / Special to MLB.com | June 11, 2014 10:00 AM ET
Tim Anderson wasn't drafted after high school or following his first year at East Central Community College in 2012, but everything started changing a year later.
That's when Anderson led all junior college players with a .495 batting average. The White Sox noticed and picked him in the first round last year, No. 17 overall. He had a good half-season with Class A Kannapolis of the South Atlantic League in 2013 and is off to an even better start this year at Winston-Salem.
The shortstop, now listed as the White Sox's No. 2 prospect, ranked fourth in the Carolina League with a .306 average through Monday's games. He's accomplished a lot in a short amount of time and certainly made a believer out of Winston-Salem manager Tommy Thompson, who isn't shy about his thoughts on the White Sox picking Anderson in the first round despite not getting much notice beforehand.
"I believe it's a steal," Thompson said. "The jewels are there."
Anderson didn't play much high school baseball at first because he spent a lot of time with basketball -- the schedules often overlapped -- and injuries. He broke both of his legs at different points, costing him most of the first two years on the baseball field.
He helped Hillcrest High School to an Alabama state title in basketball and hoped a college might notice him for that sport. But when that didn't happen as a senior, Anderson focused completely on baseball.
"I kind of grew up playing baseball," Anderson said. "I just got back into baseball again. [Not getting attention] kind of motivated me."
He found a place to play at East Central in Mississippi, and everything took off his sophomore year. Along with his .495 batting average, Anderson had a .568 on-base percentage that was also tops among junior college players. The White Sox picked him, and he signed for $2.1 million last year before hitting .277 with a homer and 21 RBIs in 68 games with Kannapolis.
The numbers look even better this spring. In 52 games, the infielder already has four homers and 22 RBIs. Everything seems to be improving, although Anderson said he's needed to make adjustments.
"The game is a lot different here," Anderson said. "It's faster and I'm still learning a lot about it, [since] this is just my first full season."
One of the main things he's working on now is defense -- he's already made 26 errors this season, but Thompson brushed that off, saying most are correctable mistakes and he sees Anderson having a bright future.
"His instincts for the game are off the charts," Thompson said. "He's very coachable, and he's doing a tremendous job."
In brief
Rally time: Lynchburg fell behind by seven runs in the first inning Sunday and trailed Salem, 11-3, in the third, but the Hillcats scored the game's final nine runs, capping it with Kevin Ahrens' walk-off single in the ninth for a wild 12-11 victory.
Turn on the power: Jason Coats hit two homers and drove in five runs to help Winston-Salem edge Carolina, 8-7, on Sunday. He hit a game-tying two-run homer in a four-run fifth as the Dash recorded the game's final four runs.
One big inning: Wilmington got plenty of help in a nine-run fifth inning that helped lift it to a 10-4 victory over Potomac on Sunday. Michael Antonio and Mark Donato crushed back-to-back homers as the Blue Rocks notched six consecutive RBI hits in the eight-hit frame.
Jeff Seidel is a contributor to MiLB.com. This story was not subject to the approval of the National Association of Professional Baseball Leagues or its clubs.
View More