Carolina notes: Hefflinger gets relaxed
Hillcats slugger captures home run lead with steady approach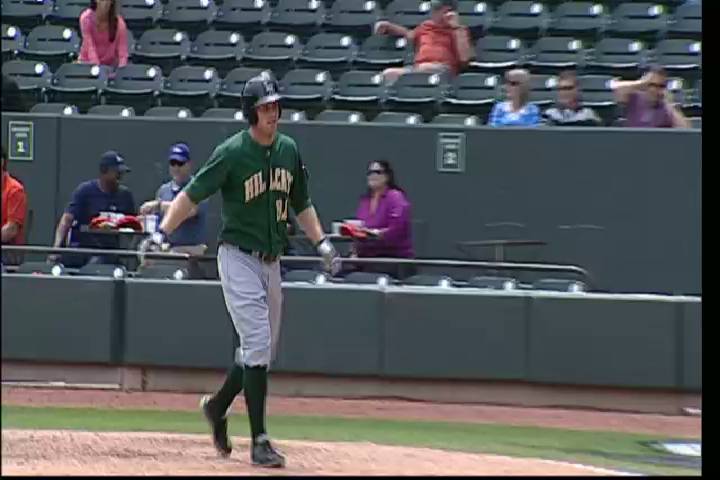 By Jeff Seidel / Special to MLB.com | June 12, 2013 6:00 AM ET
It's just over two months into the season, and Lynchburg outfielder Robby Hefflinger already has matched his career high for homers.
The 23-year-old leads the Carolina League with 16 long balls and is hitting .283 with a team-high 39 RBIs in 62 games. When asked why his power numbers have improved so much this season, Hefflinger said there's been no magic change. Instead, it's all about growing as a hitter.
"I don't really have one particular answer," said Hefflinger, who was selected to play in this year's Carolina-California League All-Star Game. "I just think it's getting experience. It's just a learning thing."
Hefflinger's taking a lot from the lessons he's learned. The Braves picked him in the seventh round of the 2009 Draft, and he's slowly been improving each year. He said he's learned to adjust his thinking, not put as much pressure on himself and relax more -- lessons that took time to understand.
"I think it's learning yourself as a hitter instead of going and jumping on the first pitch you see," Hefflinger said. "It's knowing the situation, knowing what you have to do to help your team win. When you're accomplishing those things, and you're getting those things done to help your team win, in the end everything's going to take care of itself as far as numbers."
Hefflinger said he's grown more relaxed when coming to bat. The Lynchburg players often talk offense, and Hefflinger said bouncing ideas around helps him feel more confident at the plate. He also had a good talk with former teammate and current Major Leaguer Evan Gattis about hitting and strategies.
All of these things probably went into his fast start this year -- he hit .326 with eight homers and 20 RBIs in 23 games in April and added more of the same in May, batting .274 with seven homers and 18 RBIs.
However, all of that success could bring a different test. Lynchburg batting coach John Moses said Hefflinger's going to need to adjust because pitchers won't come at him the same way now.
"He's seeing the ball [well], which is the main thing, but right now we're trying to get him to concentrate on how the pitchers are going to pitch him in certain situations," Moses said. "He's leading the league in home runs, and he's going to be pitched a little bit differently."
That will be just another thing for Hefflinger to learn about baseball and hitting. Learning doesn't seem to bother him. It seems that the more the outfielder learns, the better he does.
"I've [learned] that there's a bigger picture at the end," Hefflinger said. "I think I've come a long way."
In brief
Big night: Lynchburg's David Rohm went 3-for-6 with four RBIs in Monday's 10-9 win over Winston-Salem. Rohm had a single, double and triple to help the Hillcats bounce back from 4-0 and 7-2 deficits.
Grand game: David Renfroe of Salem hit a grand slam and drove in five runs during his team's 7-4 win over Lynchburg on Sunday. Renfroe went 2-for-4 in the seven-inning contest, also contributing an RBI double.
Complete effort: Chris Beck went the distance for Winston-Salem in a 5-0 victory over Wilmington on Friday. He struck out seven, scattered five hits and didn't walk a batter in his first complete game as a pro. Beck improved to 6-6 with the win.
Jeff Seidel is a contributor to MLB.com. This story was not subject to the approval of the National Association of Professional Baseball Leagues or its clubs.
View More