Carolina notes: Rodriguez adjusts on the fly
Lynchburg slugger looking to stay productive as pitchers grow wary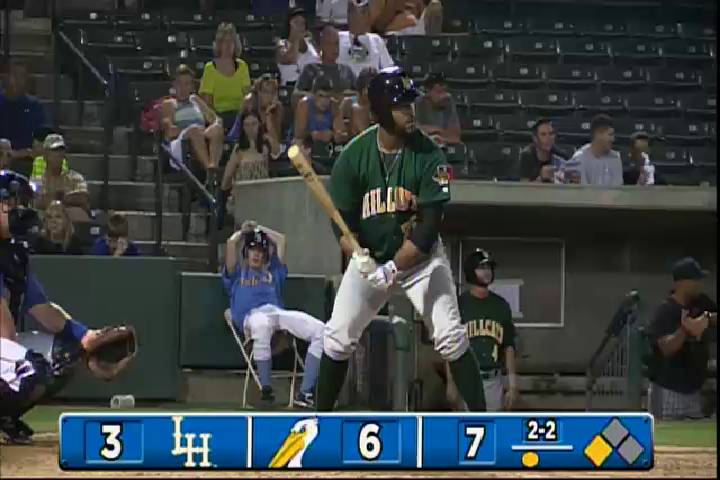 By Damien Sordelett / Special to MiLB.com | August 5, 2015 10:00 AM
Nellie Rodriguez has developed an important habit during his first season in the Carolina League. The 21-year-old stands behind the batting cage with Lynchburg hitting coach Bobby Magallanes and picks his brain about what he sees when Rodriguez is at the plate.
The conversations usually vary, but many of them focus on how Rodriguez can continue to develop at the plate as opposing pitchers become well aware of his propensity to drive in runs.
But one thing has remained consistent as he continues at the Class A Advanced level -- he's maintained an aggressive approach early in the count when he sees a pitch in his zone. That type of mentality has been essential for the Cleveland Indians' No. 24 prospect as he continues to drive in runs.
"Just talking to my hitting coaches and knowing the situation, knowing the type of pitches they're throwing and trying to sit on that pitch in the location I'm looking for," Rodriguez said. "If it's there, put a good swing on it."
The numbers speak for themselves when describing the impact Rodriguez has made on a Hillcats club that has moved to the top of the Northern Division second-half standings. The New York City native leads the Carolina League with 16 home runs, 31 doubles, 79 RBIs and a slugging percentage of .499.
What has also stood out is how well he hits with runners on base -- .299 with 10 home runs and 73 RBIs.
"Just keeping the same approach and locking in more with runners on base," Rodriguez said, "because that's hopefully what I'm going to get paid for in the big leagues."
Rodriguez developed his approach last season with Class A Lake County, when he topped the Midwest League with 88 RBIs and tied for the lead with 22 homers. An essential aspect for him to continue driving in runs this year is adjusting to how pitchers find ways to work around him. His on-base percentage of .356 is higher than his mark last year (.349), and he is on pace to draw more walks than last season's total of 60.
"The aggressive mind-set is the No. 1 thing for him," Hillcats manager Mark Budzinski said. "He kind of smells blood in the water with runners on base and puts some good at-bats together and doesn't let too many pitches go by. I'm really proud of him and what he's been doing so far this year."
Rodriguez was the Indians' 15th-round pick in the 2012 Draft out of George Washington High School in New York City, the same school Manny Ramirez attended. He's hoping for the same type of success, of course, and his frame has filled out well to stay at first base as he moves up the ladder. The 6-foot-2, 225-pound Rodriguez has the size and the power to continue hitting home runs, and more importantly, driving in runs.
"Just staying confident and focused knowing that I'm going to have runners on base," Rodriguez said, "and knowing the situation of the game and putting the ball in play when it counts.
"We haven't really talked too much about [moving up]," Rodriguez added. "Just staying focused on what I'm doing here and keep doing what I'm doing and hopefully everything will work out."
In brief
Second-half turnaround: Something clicked for Frederick right-hander David Hess after he was able to rest for a week in between appearances during the All-Star break. He entered the break with 12 straight starts in which he allowed two earned runs or more, resulting in an ERA of 5.83. The second half has been a different story -- the Keys starter has allowed seven earned runs in eight second-half starts and limited Myrtle Beach to five hits over seven scoreless innings in Sunday's victory. He is 4-0 with a 1.35 ERA in the second half.
Man of the People(s): Lynchburg starter Michael Peoples had arguably one of the worst starts of his professional career May 7 at Carolina, allowing 10 earned runs on 13 hits in three innings. His ERA jumped to 9.00 as his record fell to 1-3. A change in mechanics and some helpful insight from new pitching coach Rigo Beltran have proven beneficial -- Peoples has not lost since that day, a span of 14 starts, improving his record to 7-3 while dropping his ERA to 4.30.
Welcome to Braves country: Right-hander Rob Whalen was assigned to Carolina after being acquired by the Atlanta Braves in a trade that sent Juan Uribe and Kelly Johnson to the Mets, and he made a good impression Friday on an organization that is stockpiling young pitching prospects. Making his second start for his new club, the Braves' No. 23 prospect allowed a run on three hits and struck out six in seven innings against Wilmington.
Damien Sordelett is a contributor to MiLB.com. This story was not subject to the approval of the National Association of Professional Baseball Leagues or its clubs.
View More