Ciriaco's perfect night paces Grizzlies
Giants farmhand ties career high with five hits, including four doubles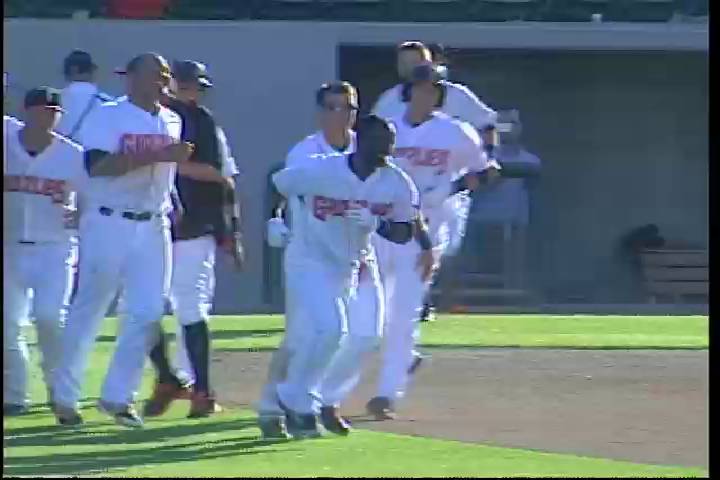 By Robert Emrich / MiLB.com | June 7, 2014 1:46 AM ET
Every hitter has at least one night to remember. For Juan Ciriaco, that night was Friday.
The Giants farmhand went 5-for-5 with four doubles and three runs scored to lead Triple-A Fresno to a 10-1 thumping of Las Vegas at Cashman Field.
Batting seventh in the lineup, Ciriaco tied the career high for hits in a game he established on May 21, 2006 for Class A Advanced Lake Elsinore. He also stole his 11th base of the season and his hits in his last six at-bats, going back to a pinch-hitting appearance on Thursday.
"He didn't miss a whole lot," Grizzlies hitting coach Andy Skeels said. "He got pitches he could handle tonight, he didn't try to do too much, used the whole field and was right on everything. He prepares well and he's ready to play. Anytime you can get that kind of production out of that part of the order, things are going good."
The 30-year-old infielder is batting .500 (13-for-26) with seven runs scored over his last seven games. Six of those 13 hits have gone for extra bases and he's driven in six runs during that stretch.
"He's been doing a much better job of not trying to do too much," Skeels said. "I think one of the things that gets you into trouble up here is either trying to do too much or going out of your zone. He's been good about getting his pitch to hit and staying on it.
"Again, I think it's one of those streaks, where he prepares really well, he's always ready to go. He's been getting a lot of good pitches to hit and he hasn't been missing them. It's a credit to him and how he worked."
Ciriaco has raised his average 59 points since May 30 to .278 and has three homers and 20 runs scored in 46 games. The five-hit outburst hiked his OPS by 65 points.
Gary Brown, the Giants' No. 16 prospect, contributed three hits, including a two-run homer, out of the leadoff spot. He's batting .300 with an .883 OPS since the calendar turned to June.
"Gary's been trying to get comfortable in the box," said Skeels. "He's put together a couple of good nights. I think over the course of the season, every hitter goes through that. You tend to have a few weeks where you're not feeling connected and everything is a little out of synch. He had a week of that, came through it, made a few small adjustments, a little bit of setup, a little bit of balance.
"Essentially, he's been doing the same thing [as Ciriaco] -- he's been swinging at better pitches, trying to stay flat through the zone, trying to stay in the middle of the field. He's been doing a better job of staying on the breaking ball and not missing his fastball when he gets it."
Darren Ford and Adam Duvall also went yard and drove in two runs apiece for Fresno.
Grizzlies starter Chris Heston improved to 5-3 after allowing a run on three hits over seven innings. He walked three batters and struck out five.
Las Vegas counterpart Darin Gorski (0-1) was reached for four runs on seven hits and two walks with five strikeouts in five innings.
Robert Emrich is a contributor to MiLB.com. Follow him on Twitter @RobertEmrich. This story was not subject to the approval of the National Association of Professional Baseball Leagues or its clubs.
View More