Colon, Pena help Chasers clinch
Omaha to face Oklahoma City in first round of PCL playoffs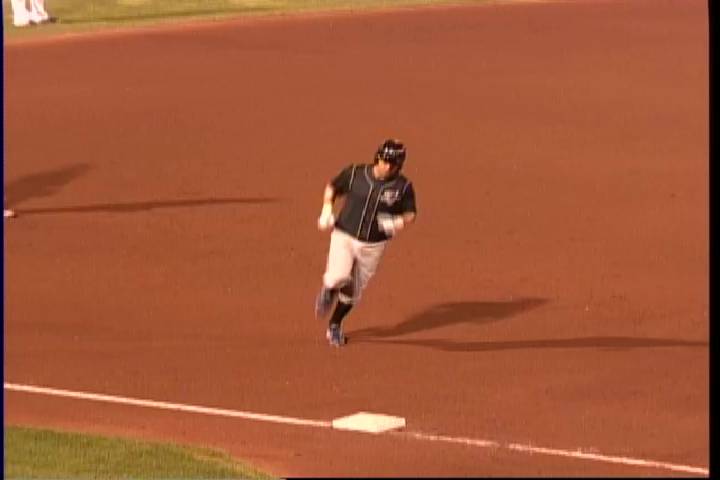 By Danny Wild / MiLB.com | September 2, 2013 2:00 PM ET
After a day of drama and scoreboard watching, the Storm Chasers held their destiny in their own hands by the middle of their Monday afternoon tilt. It was the team's newest bat, though, that gave a happy ending to an unlikely regular season.
Veteran slugger Carlos Pena homered and drove in four runs and Royals top second base prospect Christian Colon added two hits and an RBI to help Triple-A Omaha beat Round Rock, 8-4, and clinch the Pacific Coast League's American Northern title on Monday.
"It feels great," Colon said. "It came down to the last four or five innings or whatever. It's been a crazy season -- It's fun to play hard down the stretch."
Pena, playing in just his fifth game with Omaha, homered in the first and finished 3-for-4 as the Storm Chasers (70-74) advanced to the playoffs after the Memphis Redbirds (69-75) lost, 2-1, in the bottom of the ninth inning at Oklahoma City earlier in the day. Omaha needed to win the division outright, since Memphis owned the tiebreaker after winning the season series, 9-7.
Omaha pulled back into a first-place tie with Memphis a day earlier when Paulo Orlando's inside-the-park homer, the first ever at Werner Park, helped the Storm Chasers to a 6-1 win over Round Rock on Sunday -- Memphis blew a 4-0 lead with two outs in the ninth and ended up losing in 11 innings to Oklahoma City, setting the stage for Monday's drama on the season's final day.
Pena hit a two-run homer in the first and added an RBI single in Omaha's four-run fifth. Colon began that rally with an RBI single and Anthony Seratelli capped it with a two-run double. Pena added another RBI single in the seventh and Orlando doubled home Pedro Ciriaco in the eighth before Michael Mariot earned his 11th save. John Lamb started for Omaha and allowed four runs on four hits and three walks over five innings, picking up his first win.
Monday's victory means Omaha, winners of three straight division titles, will cease rooting for the RedHawks and instead play Oklahoma City (82-62) in the first round for the American Conference title beginning Wednesday. Las Vegas will battle Salt Lake in the Pacific Conference.
Both Omaha and Memphis finished the regular season with losing records as all teams in the PCL's American Northern division finished below .500. Oklahoma City owns the league's best mark.
For Pena, a playoff run is just another chance for him to produce and prove himself again. The Royals inked the 2009 American League All-Star to a Minor League contract on Aug. 27 after the 35-year-old hit .209 with eight homers and 25 RBIs over 277 at-bats with Houston this season. The Astros had designated him for assignment on July 21 and released him 10 days later.
Since joining Omaha, the veteran first baseman is batting .333 with two homers, six RBIs and four walks.
"He's an unbelievable person," Colon said. "He's a great teammate. He comes to the field ready. It's always cool to have a guy like that who's been to the big leagues come to park with such a positive attitude."
Colon also credited Omaha manager Mike Jirschele with holding the team together during a challenging season.
"He's a great guy, he lets you do what you gotta do to get ready," Colon said. "That's the reason why he's been so good. He's a guy that teaches you a lot of things, especially on the infield -- he was an infielder. His style is laid back. He'll get on you when he needs to, but if you show up and give your best effort, you won't have a problem with him."
Colon has done just that in his second year at Triple-A. Once considered among the Royals' top-10 prospects, Colon's stock slipped a bit after he finished the 2012 season with six homers and 36 RBIs in 85 games. He's bounced back this season, with a dozen homers, 58 RBIs and 15 stolen bases in a full season with the Chasers.
"I figured out a few things on the mental side, just to show up and be ready to play," he said.
Colon overcame a cold June to hit .314 in July and .324 in August as Omaha made a playoff push all while losing talents like Will Smith, David Lough and Danny Duffy to big league promotions.
"[Royals general manager] Dayton Moore and his staff and everybody, they've been doing a great job," Colon said. "It's not easy to turn a franchise around."
The second baseman isn't too worried about when his time will come, though.
"I think it's just the timetable. It's just getting out there and getting experience, getting some at-bats and playing some games at this level," he said. "I don't have to force it."
For now, he will focus on the next task, an Oklahoma City team that features two of the Astros' top sluggers in Jonathan Singleton and George Springer. Singleton, Houston's No. 2 prospect, lined a walk-off double in Monday's win over Memphis, while Springer fell three homers short of becoming the fifth player in Minor League history with 40 homers and 40 steals -- he finished with 37 long balls and 45 stolen bases.
The teams split their regular seasons series, each going 8-8.
Danny Wild is an editor for MiLB.com. Additional reporting by Brendon Desrochers. This story was not subject to the approval of the National Association of Professional Baseball Leagues or its clubs.
View More