Cozens, Hoskins, Lively nab Phillies' kudos
Trio of Philadelphia prospects receive club's top Minor League awards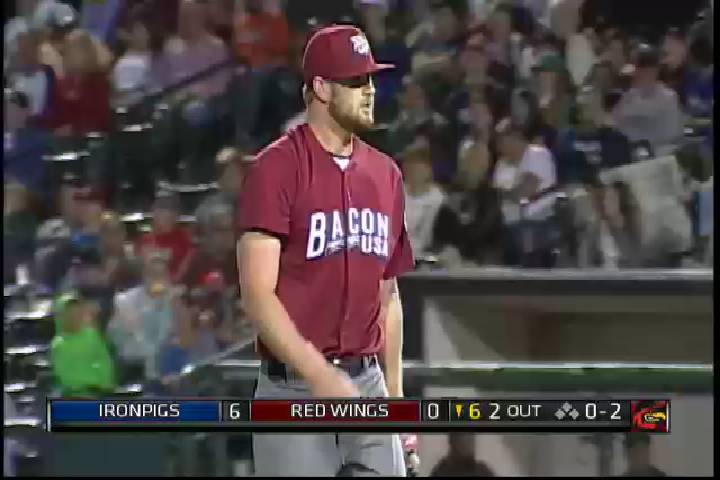 By Chris Tripodi / MiLB.com | September 20, 2016 8:32 PM
Double-A Reading dominated the Eastern League during the regular season, and the players who led the charge also scored Philadelphia's offseason awards.
Philadelphia's No. 7 prospect Dylan Cozens, No. 13 Rhys Hoskins and No. 24 Ben Lively received the Phillies' Paul Owens Awards, given annually to the organization's best Minor League players and pitcher. The trio received their honors Tuesday at Citizens Bank Park.
Cozens was named Eastern League MVP on Sept. 7 and went on to lead all of the Minors with 40 home runs -- a Reading single-season record -- and 125 RBIs this season. His overall slash of .276/.350/.591 ranked him first on the circuit in slugging and second in OPS (.941).
The league's leader was OPS was Hoskins at .943. The first baseman sported a .281/.377./566 slash line and ranked second in slugging and fifth in OBP. He finished second in the Minors with 38 long balls -- the Fightin Phils led the league with 790 runs scored, 146 more than eventual EL champion Akron.
"It's pretty surreal," Hoskins told MLB.com about seeing former Reading teammates Roman Quinn and Jorge Alfaro up with Philadelphia. "It's pretty cool. Starting to see these guys here and guys we've played against coming up through the Minor Leagues that are with other organizations in the big leagues. Hopefully we're next."
"I wish I was on that side right now instead on this side getting interviewed," Cozens told MLB.com. "But it's definitely probably not too far away. I'm excited to hopefully be here next year."
Meanwhile, 24-year-old Lively twirled his way to top pitching honors. The right-hander topped the Triple-A International League with a 0.94 WHIP and .192 batting average against after his May 27 promotion. The Lehigh Valley hurler finished second on the circuit with a 3.06 ERA, while his 1.87 ERA in nine starts for Reading would have led the league if he qualified.
Lively previously was the Reds' Minor League Player of the Year in 2014, months before he was traded to Philadelphia in exchange for outfielder Marlon Byrd that December.
"If you pitch your butt off down there in the Minor Leagues, you'll get your opportunity up here," Lively told MLB.com. "Even if you have a couple of rough games up here, they know you're going to get yourself figured out and get you ready for big league hitters up here."
Chris Tripodi is an editor for MiLB.com. Follow him on Twitter @christripodi. This story was not subject to the approval of the National Association of Professional Baseball Leagues or its clubs.
View More