Crick working to find fit in Giants system
Righty vying to reestablish self as starter after taking on relief role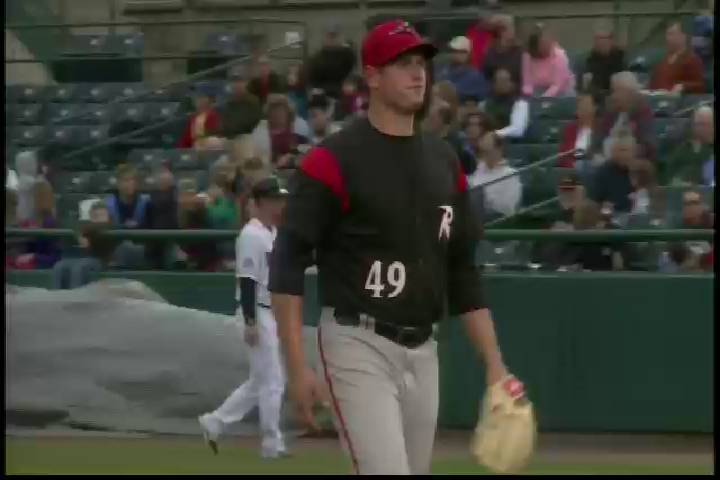 By Josh Jackson / MiLB.com | March 17, 2016 10:00 AM ET
SCOTTSDALE, Arizona -- From where Kyle Crick is sitting, there's no need to be obsessive about his high walk numbers.
"I think I've been everything about it at this point in my career, so right now the biggest thing for me is to try and be nothing about it," the Giants' No. 18 prospect said last week, perched in the nearly empty home dugout at Scottsdale Stadium, where the 23-year-old righty is relaxed in his third Spring Training in big league camp.
"I don't really think of them as negatives anymore. It's not like, I walk a guy, 'Darn,' or something like that. More than anything, I'm just trying to get people out."
San Francisco picked Crick out of a Texas high school with the 49th overall selection of the 2011 Draft, and since then he's posted a 2.88 ERA and a .212 average-against while piling up 415 strikeouts over 340 1/3 Minor League innings. From the outside, though, his career has not gone as smoothly as those numbers suggest.
---
"He has definitely got that certain something that a lot of guys pray to have."

-- Dave Righetti, Giants pitching coach
---


Entering the 2014 season, Crick was the Giants' top prospect and MLB.com's No. 32 overall. He was coming off a campaign in which he struck out 95 in 68 2/3 innings and put up a 1.57 ERA in the California League, where prized young arms and seemingly sound pitching mentalities are regularly exposed as far less advanced than people around baseball may have thought. He was 21 years old, and there was no reason to believe he wouldn't cruise in the Double-A Eastern League, maybe even pitch his way up to the Pacific Coast League.
"We've been there with a lot of guys, and it's kind of tough on a young guy regardless of whether they handle it well or do not handle it well," Giants pitching coach Dave Righetti said. "It's always tough, because they're going to get a lot more attention than they probably should get at that point. Not only him, but any pitcher, they just try to act themselves and in the meantime guys are getting on them, guys are having fun with them. Now here comes the pressure of being supposedly the top prospect."
Making 22 starts and one relief appearance for Double-A Richmond that year, Crick was 6-7 with a 3.79 ERA. The major statistical blight, though, was in the base-on-balls department: 61 over 90 1/3 innings. Although he'd allowed 67 walks in 2012, that was his first full season, and he'd thrown 111 1/3 innings and been so effective in doing so (fanning 128 and holding on South Atlantic League hitters to a .193 average) that taking note of his walks would have seemed like nitpicking.
Repeating the Eastern League in 2015, he'd allowed 36 walks over 41.1 innings through his first 10 starts, On June 25, he gave up four walks to Trenton and recorded only two outs. It would be his last start of the season. While he continued to walk batters (he finished with 66 over 63 innings), Crick was otherwise dominant. He allowed runs in only seven of 25 relief appearances, and only twice in that role did he allow more than one run -- and never did he allow more than two.
It's not surprising that Crick can get himself out of trouble. He features a 70-grade fastball that's been clocked at 99 mph with strong movement, and his arsenal also includes a slider, a curveball and a changeup.
"[His fastball] sinks, and it takes off when it's up the zone. He has definitely got that certain something that a lot of guys pray to have. He definitely has that," Righetti said.
"Being nothing" about the walk numbers may be exactly what he needs in order to cut them down. Giants director of player development Shane Turner assured MiLB.com's Tyler Maun that the right-hander is "still very much in our plans," and that he'd like to see Crick worry less about his mechanics.
Former top #SFGiants prospect Kyle Crick takes mound. SF farm director Shane Turner told me today Giants still very much believe in Crick.

- Tyler Maun (@TylerMaun) March 12, 2016
This spring, Righetti has noticed that Crick seems more at ease, and he believes that will help the hurler with his command.
"He's concentrating on the hitters, which he should be concentrating on instead of worrying about all his mechanical stuff that he's probably dealing with," he said. "I'm seeing he knows what he wants to do a little bit more [than previous years]. I just see a little bit more mature, a calmer guy."
There's still plenty of time for Crick to prove that he can develop as a starter, even though so far this spring, he's worked exclusively out of the bullpen.
"It'd be the same for everybody else: you've got to have your command and go through lineups over and over and make all those starts, pile up innings," Righetti said. "They tried to do that last year, I know, in Double-A, and he was really having a tough time getting through the lineup a couple times, so they wanted to back him off, I guess.
"Once he gets here, my job is make sure he's in shape, which he always is, and just gradually build him up and let him get out there in different circumstances. We'll see how it is toward the end, but to be honest at this point in time, I'm not sure exactly if he'll be starting or relieving."
---
• More on Giants pitching prospects on the blog »
---
Crick's not reading into his Spring Training bullpen assignment, although he is aware that his fastest route to the big leagues may be as a reliever.
"Actually, I've always been in a relief role in Spring Training. This is my third year in a row to be in a relief role, so it's nothing new," he said, although he didn't officially pitch in a 2014 Cactus League game. "I've been pretty relaxed in the role, because the Giants have prepared me for it.
"I think that happens a lot with guys who they might want to start. I can think of several cases where some guys came up, threw out of the 'pen for a year or halfway, or whenever they got called up, and then they started the next year or something like that. I'm not saying that's ideal for me, but that's something I've seen happen quite a bit."
However things work out for Crick, though, he's already demonstrated an ability to adjust to shifting expectations and circumstances at a high level of play. He believes that quality, perhaps more than his overpowering fastball or swing-and-miss breaking pitches, will help him develop into a successful Major Leaguer.
"I read a quote the other day," Crick said. "It was by Darwin, something out of one of his books. It said, 'The strongest don't survive and nor do the smartest. The animals and the people who are most adapted to change are the ones that survive,' so that's what I've been modeling after a little bit. I like that. If you can adapt to change and be consistent with it, you can play."
Josh Jackson is a contributor to MiLB.com. Follow and interact with him on Twitter, @JoshJacksonMiLB. This story was not subject to the approval of the National Association of Professional Baseball Leagues or its clubs.
View More