Cunningham leads Gwinnett with bat, glove
Braves' No. 15 prospect collects four hits, makes game-saving catch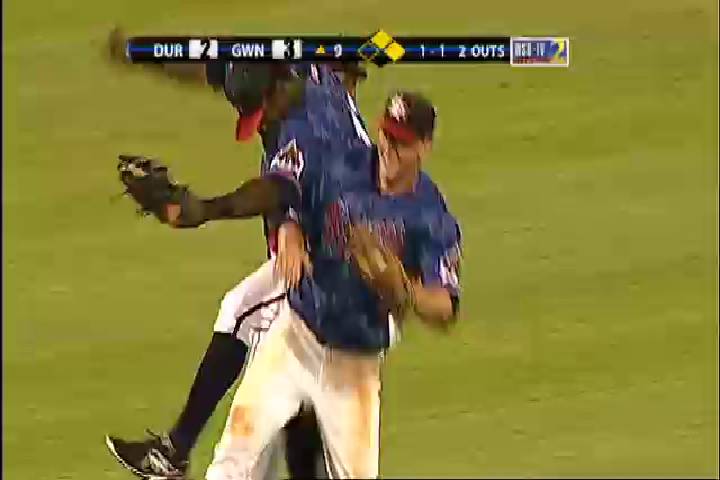 By Robert Emrich / MiLB.com | July 4, 2014 11:50 PM ET
Todd Cunnigham may have made a splash with his bat, but it was a flash of his glove that saved the day.
The Braves' No. 15 prospect went 4-for-4 with two runs scored and made a game-ending diving catch Friday night as Triple-A Gwinnett held on for a 3-2 victory over Durham.
Cunningham started quickly, leading off the game with a double and scoring on Phillip Gosselin's ground-rule double. The 25-year-old center fielder tripled to start the third, then came home on a sacrifice fly by Gosselin to give the G-Braves a 2-1 lead.
Cunningham singled in his final two at-bats, finishing a homer short of the cycle.
"Well, I've been kind of scuffling lately and I've been trying to make adjustments and doing some work in the cage," he said. "It was nice to see it pay off. Fourth of July, big crowd, close ballgame, having those hits helped make the difference tonight. It's always nice when it reflects a win."
Cunningham may have made his most significant contribution in the top of the ninth. With runners on first and second and two outs, Durham's Justin Christian hit a liner to the right-center field gap, but Cunningham laid out and made a game-ending catch.
"It was just a good time for a diving catch," he said. "Up by one, no one likes to go into extra innings and everyone is excited about the fireworks. Closer in, guy hit a line drive; came in, laid out and tried to make the play to end the game."
A night after going 2-for-4, it appears the Alabama native has snapped out of a 6-for-31 funk that dropped his batting average to .268, the lowest it had been in two months. Part of the reason behind the slump was the fact that Cunningham was working his way back from a thumb injury that forced him to miss the first two weeks of June.
"I've just been playing catchup with my swing," he said. "A little bit of body was getting in there, so I've been working on taking that out and trusting that things will come back if I get set. Working on getting back on top of the ball and not missing the fastball. It was nice to see results when you've been working."
Cunningham has spent time in different spots in the Braves' batting order, with leadoff being his most productive spot. The Jacksonville State product is batting .338 with an .818 OPS in 17 games at the top of the lineup.
"I've always hit at the top of the order and it's where I've felt comfortable," Cunningham said. "This year, I've hit in the five- or six-hole, which is an RBI spot, and I feel like I've been productive there. It's good to see that I can hit in different spots. The leadoff spot is where I feel most comfortable, being the spark plug for a team -- getting on balls, spraying it all around the field and creating some space so you can run."
Braves No. 14 prospect Aaron Northcraft gave up two runs -- one earned -- on five hits over six innings but did not figure in the decision for Gwinnett. Terry Doyle (1-1) struck out three in 1 1/3 hitless frames for the win and Juan Jamie notched his 14th save with a hitless ninth and an assist from Cunningham.
Mike Fontenot singled, walked and drove in a run for the Bulls.
Robert Emrich is a contributor to MiLB.com. Follow him on Twitter @RobertEmrich. This story was not subject to the approval of the National Association of Professional Baseball Leagues or its clubs.
View More