Curve's Kuhl breezes through seven innings
Pirates No. 18 prospect allows two hits, lowers Double-A ERA to 2.50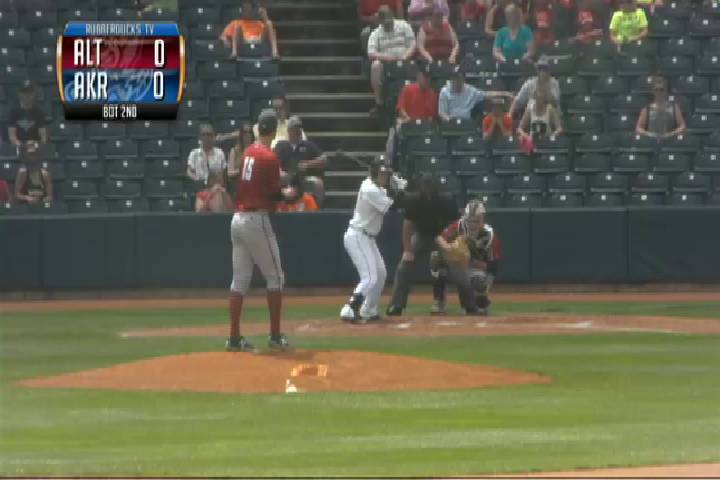 By Sam Dykstra / MiLB.com | August 23, 2015 10:08 PM
Chad Kuhl has pretty basic standards for what he's looking to do in any start.
"I think it varies a little, but I think every time out, the goal is to get a quality start," he said. "Go at least six innings; if you get more, that's great. But if you can give the team six or seven innings with three runs or fewer, you're going to give the club a good shot to win that day."
On Sunday afternoon in Bowie, he blew those standards out of the water.
The Pirates' No. 18 prospect allowed two hits and no walks while striking out four over seven innings as Double-A Altoona blanked Bowie, 2-0, at Prince George's Stadium.
Kuhl served up a double to rehabbing Orioles utlityman Steve Pearce in the first inning but settled in nicely. After Pearce was picked off and caught stealing, he retired 13 in a row between the second and sixth, when Drew Dosch singled.
"That was a nice point for me," said the 22-year-old right-hander, who improved to 10-4 with a 2.50 ERA that ranks sixth in the Eastern League. "I was getting in a nice groove where I could locate my fastball in and out, wherever it needed to go, really. I was getting ahead a lot, and you don't get 13 out in a row without some plays behind you, so I've gotta give them some credit."
Kuhl retired the final five batters he faced following Dosch's base hit and was pulled after 66 pitches, including 52 for strikes. The Curve starter, who typically sits 91-95 mph with his fastball with plenty of sinking action, was able to reach be incredibly efficient by throwing 18 first-pitch strikes. As is his style, he relied heavily on the ground game, inducing 10 groundouts compared to three flyouts.
"The majority were sinkers, that's really my go-to pitch," he said. "Especially in those counts when you need a ground ball, I like to use it. There weren't too many of those today, but if a guy's on first and I need a double play, that's a big pitch for me. It comes down to trying to be efficient and get outs as quickly as possible."
Well away from the century mark for pitches, he admitted a first career shutout was on his mind, but that organizational limitations held him back.
"I think it's all innings and is regulated that way," said Kuhl, who hasn't given up a run in his last 17 2/3 innings. "The limit was seven innings or 100 pitches and once I hit the first one, that was it. ... I always want [an extra inning]. I wanted two more tonight. I always want to be out there as a competitor and go as deep as I can, especially when the pitch count's low. But I have full confidence in our bullpen and let those guys get the work in and get the sweep."
John Kuchno and Jhondaniel Medina each tossed a hitless inning to nail the Curve's league-leading 14th shutout.
Sunday's victory completed a thre-egame sweep for the Curve (68-59), who climbed within 3 1/2 of the first-place Baysox in the Western Division. Altoona also sits two games ahead of Akron for the division's other playoff spot, but Kuhl said the club has its eyes on the top spot and the home-field advantage that comes with it.
"Of course, it's become the elephant in the room," he said. "Those are the guys we wanna get, and it's great because we still have four more games with them. Being in third before and now being in second, we're still the hunters. They're the hunted. ... We have to embrace these four games we have left with them."
Sam Dykstra is a contributor to MiLB.com. Follow and interact with him on Twitter, @SamDykstraMiLB. This story was not subject to the approval of the National Association of Professional Baseball Leagues or its clubs.
View More