'D'-Listers: Top second and third basemen
Red Sox's Betts, Cubs' Villanueva top elite defenders at second, third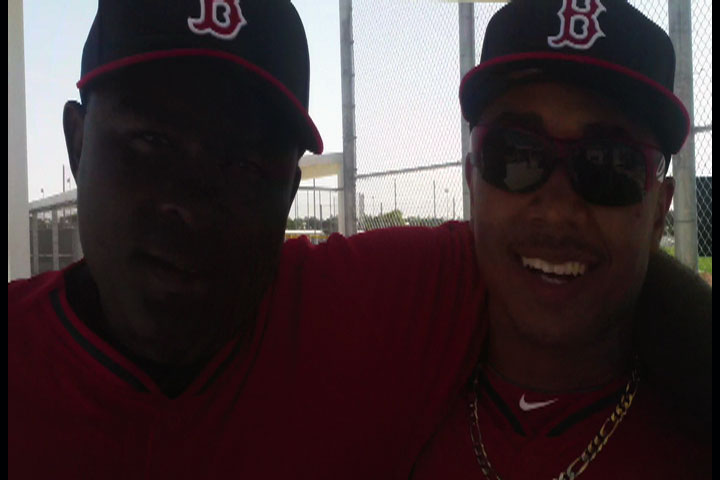 By Jake Seiner / MiLB.com | March 10, 2014 10:00 AM ET
In recent weeks, we've highlighted the Minor Leagues' best defensive catchers, shortstops and center fielders. Today, we turn to second and third basemen.
You'll notice these lists are more concise than the other up-the-middle positions already highlighted. There's a reason for that: in the Minors, like in high school and college, the best defenders tend to gravitate toward the middle of the field. Shortstop is the most difficult of the infield positions, requiring the greatest combination of quickness, arm strength, soft hands and instincts. Often, a third baseman is a converted shortstop lacking the lateral quickness required up the middle. Similarly, second basemen are generally shortstops without the arm strength or polish to play on the left side.
That doesn't mean, however, that second and third baseman can't make an impact defensively, even if they play lower on the defensive spectrum. Here are some of the prospects considered top-notch defenders at second and third -- we'll tackle first base and right field later this week.
Second Base
Mookie Betts, Red Sox: Betts became more than just a notable moniker on the prospect scene in 2013, primarily because of his bat, but what the Tennessee native accomplished with the glove was no small feat. A shortstop since being selected in the fifth round of the 2011 Draft, he transitioned to second during the 2012 season. By the end of 2013, he'd already turned himself into one of the Minors' sharpest defenders at the keystone.
Betts had the athleticism and arm strength to make it at short, but the accuracy of his throws was generally poor -- he committed nine errors in 13 games from 2011 to 2012. The move to second made it easier for him to hit his target, both because the throws are shorter and he generally has more time to make plays.
"Coming into the season, there was a little history there about his throwing," said Carlos Febles, who managed Betts last year at Class A Greenville. "I expected him to make a lot of throwing errors, but I think he only made two or three all year. That was the part that stood out to me."
Betts has proven a quick study at second. Febles and others rave about his makeup and work ethic, and it was those intangibles, paired with his athleticism, that made the transition a smooth one. An opposing manager referred to Betts as "fundamentally sound," a testament to how quickly he adjusted.
That doesn't mean the 21-year-old is a finished product. The 5-foot-9 infielder's biggest task is to master the art of the double play. He played a role in 82 twin-killings in 2013 but could be quicker catching and releasing from stage left of second base.
"Starting and turning double plays is one of the harder things to do, and he has to get it done," said Febles, who will manage Class A Advanced Salem this season. "He works hard and he definitely gets it. When he does that, that's when he's going to become the guy we're all expecting him to be."
Gosuke Katoh, Yankees: It's a little uncommon for a high school infielder to earn rave reviews for his defense at second base, but that was the case with Katoh. The 2013 second-round pick played second for Rancho Bernardo High School in San Diego and remained there as a pro, primarily because of lackluster arm strength.
A below-average arm is the only thing holding him back from shining at short, but the tool is adequate enough to let him excel at second. The rest of Katoh's defensive package is sterling. He can scoot at an elite level -- Perfect Game timed him at 6.42 seconds in a 60-yard dash in 2012. The quickness translates to the infield, where Katoh's feet and hands are both quick and quiet. The 19-year-old is a long way from the Majors and may not hit enough to become an elite prospect, but his glove work at second at least makes him a name worth watching.
Jorge Polanco, Twins: Polanco has spent most of his Minor League career split between second and shortstop but profiles better at second. At the keystone, his quick hands can be untarnished by his mediocre arm strength.
Kolten Wong, Cardinals: Wong's tools lag behind those of some top prospects, but he excels due to makeup and instincts. That's especially true at second, where he's ready to be an above-average big league defender.
Hernan Perez, Tigers: Though he may never hit enough to hold down a starting Major League job, Perez is a stellar defensive second baseman, thanks mostly to his fast-twitch athleticism and strong instincts.
Rougned Odor, Rangers: Opinions on Odor's defense vary. Supporters point to his tremendous instincts and attentiveness, while detractors are a little skeptical about how his athleticism plays at the position. Most agree he's a more-than-capable defender at second -- the difference is that some see adequacy and some see greatness.
Third Base
Christian Villanueva, Cubs: Acquired from Texas in the 2012 Ryan Dempster trade, Villanueva gets lost a bit in the logjam of stellar infield prospects in the Cubs system. Defensively, though, there might not be a player who fits his position better.
---
"He can go in every direction. He's outstanding on the backhand play and at charging in and making throws."

-- Smokies manager Buddy Bailey on the Cubs' Christian Villanueva
---
What stands out most about the 22-year-old Mexican is his first-step quickness. He can accelerate in every direction and boasts a quality arm and quick release.
"He has good side-to-side," said Buddy Bailey, who managed Villanueva at Double-A Tennessee. "As a good third baseman, you have to have that first-step quickness, have to have a lot of quick reactions. He has that."
Bailey began his Minor League managerial career 31 years ago, and when he first saw Villanueva last year, he noticed the third baseman was better going to his right than his left. Bailey and the Smokies staff worked with Villanueva on moving better toward the shortstop hole and, by the end of the season, he was every bit as capable going into the hole as up the line -- and he's as good as it gets at ranging to his right.
"He can go in every direction," Bailey said. "He's outstanding on the backhand play and at charging in and making throws."
Patrick Wisdom, Cardinals: At 6-foot-2 and 210 lbs., Wisdom is a below-average runner but has the first-step quickness and instincts to cover the hot corner with excellent range. He has good hands and solid footwork, allowing for quick releases that let his plus arm do the rest of the work.
"Third base is more reactionary," Class A Advanced Palm Beach manager Jonathan Rodriguez said. "You don't have to have the sort of range you do at shortstop, but you have to have quick reactions, that first-step quickness to get to balls to your left and right.
"Patrick has a lot of skills. He has good range and he definitely has the arm. He plays smart over at third base. I think definitely he's a great defensive player."
Wisdom's best tool is his arm. While the strength is good, what really stands out is the accuracy of his throws. The 2012 first-round pick (52nd overall) is especially adept throwing on the move, an ability that speaks both to his raw athleticism and the effect his work ethic has had on his footwork and consistency.
"He's well-rounded at third base," Rodriguez said. "I think what I could see from him at Palm Beach -- he's good at charging balls and making running throws with accuracy and strength, throwing and running."
Wisdom should advance to Double-A Springfield this year. If his bat catches up to his glove, he could challenge for Major League playing time in 2015.
Kaleb Cowart, Angels: The 2010 first-round pick (18th overall) has one of the Minors' best arms and pairs it with above-average fielding skills to create a stellar defensive package.
Joey Gallo, Rangers: Gallo is something of a one-trick pony at third, boasting one of the game's strongest arms but lacking the requisite range and actions to shine there. Still, his arm strength and general athleticism provide promise that he could develop into a stud defender at the hot corner.
Hunter Dozier, Royals: Drafted eighth overall in 2013, Dozier moved from shortstop to third base after signing. He's plenty athletic to shine at third, with an above-average arm to go with good range and reactions.
Jake Seiner is a contributor to MiLB.com. Follow him on Twitter at @Jake_Seiner. This story was not subject to the approval of the National Association of Professional Baseball Leagues or its clubs.
View More